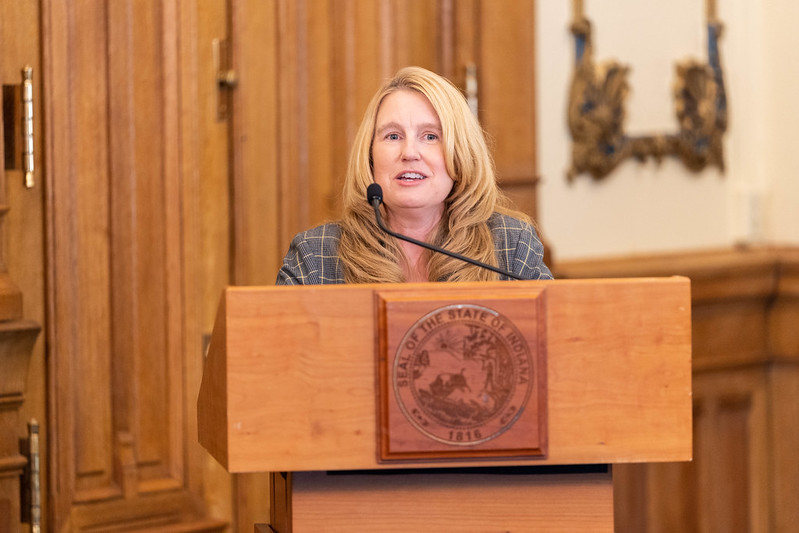 In law school, now-Judge Leanna Weissmann was a geek.
At least, that's what she told well-wishers Tuesday when Gov. Eric Holcomb announced her appointment to the Indiana Court of Appeals. Asked during a virtual press conference about her interest in appellate law, Weissmann recalled her time at the Indiana University Robert H. McKinney School of Law in Indianapolis.
"I guess I was one of those geeks in law school — I did like to write memorandums and briefs," she explained. "I liked having the opportunity to dig deep and do research and read cases and see where the law was going. I'm innately curious, so I liked seeing how the law went from Point A to Point B."
It was this trait in Weissmann that ultimately led Holcomb to select her as the successor to now-senior Judge John Baker.
"Leanna Weissmann is a legal scholar who will bring her keen intellect and wide range of expertise to the court," the governor said. "She is a dedicated practitioner with a deep commitment to her community and all Hoosiers. She will serve honorably and justly on the Court of Appeals."
Weissmann's appointment to Indiana's second-highest court is a milestone for the court in multiple ways, Holcomb said. Her ascension to the bench marks the first time in roughly two decades that a private practitioner has joined the court, and the first time in the same two decades that a southeastern Indiana attorney has been selected. Like Baker, Weissmann was born in Aurora, and she still resides in southeastern Dearborn County.
Also, Weissmann was part of only the second group of all-female Court of Appeals finalists in Indiana's history, the governor said. Vigo County Judge Lakshmi Reddy and New Albany attorney Lisa Reger also advanced to the final round of consideration to fill Baker's seat.
The governor similarly noted that Weissmann's appointment comes as the nation celebrates the 100th anniversary of the 19th Amendment giving women the right to vote. With her appointment, the COA moves for the first time to a 7-8 breakdown between women and men.
As a longtime appellate practitioner, Weissmann has gotten to know those men and women well. Her career in appellate litigation began with her clerkship for then-Court of Appeals Judge Robert Rucker, and she's since gone on to argue before the COA, the Indiana Supreme Court and the Supreme Court of the United States.
"What a star," Indiana Chief Justice Loretta Rush said of Weissmann. "I will miss you standing before me arguing cases. … I always knew it would be a whale of an argument."
Rucker himself praised Weissmann, offering a statement through Rush saying his former clerk is "imminently qualified" with the right temperament and demeanor to be a judge.
Weissmann was equally praised for her commitment to the law outside the courtroom. Rush noted the new jurist has served as a court referee for eight years and as a member of the Indiana Supreme Court Disciplinary Commission for seven years.
Holcomb also pointed to Weissmann's nonlegal work, including time spent as a literary coach, an aerobics instructor and a half-marathon competitor.
Weissmann credited her success thus far to a strong support system, including her husband and her three children. She offered specific thanks to her husband for enabling her to transition to a home practice when they started their family, and to her children for being her "biggest cheerleaders" during the appellate selection process.
The mom of three recalled instances throughout her career when she had to tell her children to wait "just one more minute" as she finished writing a brief. Now that she's transitioning to reading briefs and ruling on them instead, the new judge made a special promise to her children.
"Even though mom has a new job," she said to laughs, "I'm still going to be up in your business."
Please enable JavaScript to view this content.