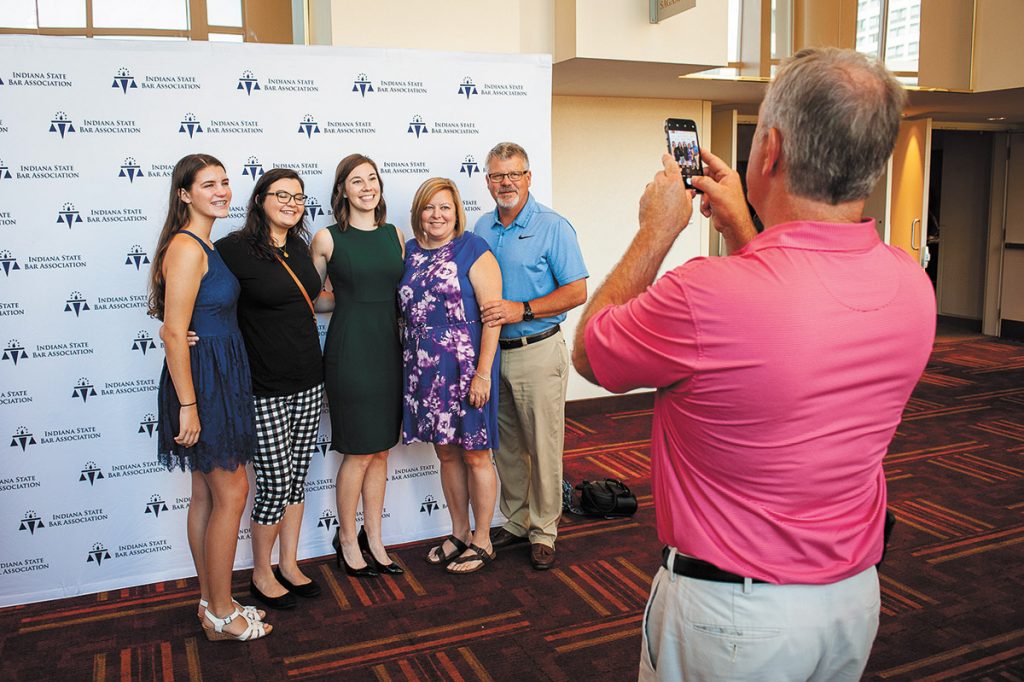 Stephen Rollins II said his path to becoming a lawyer started as a third grader when his mother gave him a biography of the late U.S. Supreme Court Justice Thurgood Marshall.
His mother, Dianne Rollins, had a slightly different recollection, saying she suggested he consider a career in the law because "he had a mouth on him. He could convince you of anything."
Whatever planted the seed, it was nurtured and given room to grow by his family. They focused on what he wanted to do, cheered his academic achievements and never doubted he would accomplish his goal.
Perhaps most importantly, when Rollins enrolled in law school, they did not step away. His parents supported him financially so he could devote his time completely to his classwork instead of having to get a part-time job. Also, his father, Stephen Rollins I, in particular, would call to encourage him and often sent videos about following dreams and overcoming trials and tribulations.
Fittingly, the Rollins family was in Indianapolis earlier this month to see Stephen raise his right hand and become a licensed attorney during the Indiana Supreme Court Admission Ceremony. Afterward, they gathered around him at the reception, smiling and enjoying his success.
"I'm proud of him and I support him no matter what," said Rollins' father.
The support of family and friends that Rollins received while he was in law school is not only common for a majority of law students, but also necessary. Law professors and counselors say students need a supportive network to rely on inside and outside of law school to help them master the material, tamp down any discouragement or despair and ultimately become successful attorneys with good mental health.
Students are aware and grateful for their personal booster sections. But in case in the excitement of finally becoming a lawyer they forget, Indiana Chief Justice Loretta Rush will often offer a reminder at the admission ceremonies that they did not arrive there by themselves.
Rollins had no problem detailing the support his family gave to him. The money from his parents erased his worries about how he was going to buy food or pay rent. And the comforting phone call when his best friend passed away right before final exams fortified him emotionally.
"Those things people don't really appreciate sometimes, but I really appreciated it because it helped me get to the next step," Rollins said.
Outside reminders
When Terry Harrell returned to her hometown of Bloomington to attend Indiana University Maurer School of Law, she included some distinctly nonlawyer activities in her schedule. She took horseback riding lessons every Thursday afternoon, ate Sunday dinner at her grandmother's and followed her father's advice to control stress by going to the gym.
The executive director of the Indiana Judges and Lawyers Assistance Program said by not losing herself completely in her studies, she did not get ensnared in the frenzy of her classmates as they approached their first semester finals. Harrell studied as normal, did well and realized later she had bypassed the exasperation and anxiety of others who were panicked about copying their outlines three times.
Harrell and JLAP deputy director Loretta Oleksy said hobbies and short breaks from studying, along with support from family and friends, are vital for law students. They can keep students grounded and provide the perspective that, contrary to what future lawyers may think, everything does not depend on writing perfect essays and being ranked top in the class.
"We need outside reminders that the whole world does not revolve around what grade we got in our law school classes," Oleksy said.
For California attorney Dolan Williams, those reminders came every weeknight when he ate dinner with his wife and children, and every Saturday when they time at SeaWorld, the movies or Chuck E. Cheese. The break from the books helped him remember his life was much broader than law school and filled with important things.
Williams, now a solo practitioner in San Diego, studied at Concord Law School, the online institution that is part of Purdue University Global. As he continued working full-time, he kept his laptop close to watch lectures and review course materials during his elliptical workouts in the early weekday mornings, lunch breaks at work and the 6-11 a.m. study sessions each Saturday.
Williams did the work, but he credits his family with providing the inspiration and support. They were the impetus he needed to push himself to realize his potential, he said, and his wife, especially, was a constant source of confidence and solace.
When he first broached the idea of law school, his wife, Amber, was immediately on board. She took over the household, doing the daily chores, caring for their then-very young children and juggling the family calendar so he could focus on his studies.
"She never ever doubted that I could do this," Williams said. "I think if anybody had doubts, it was me."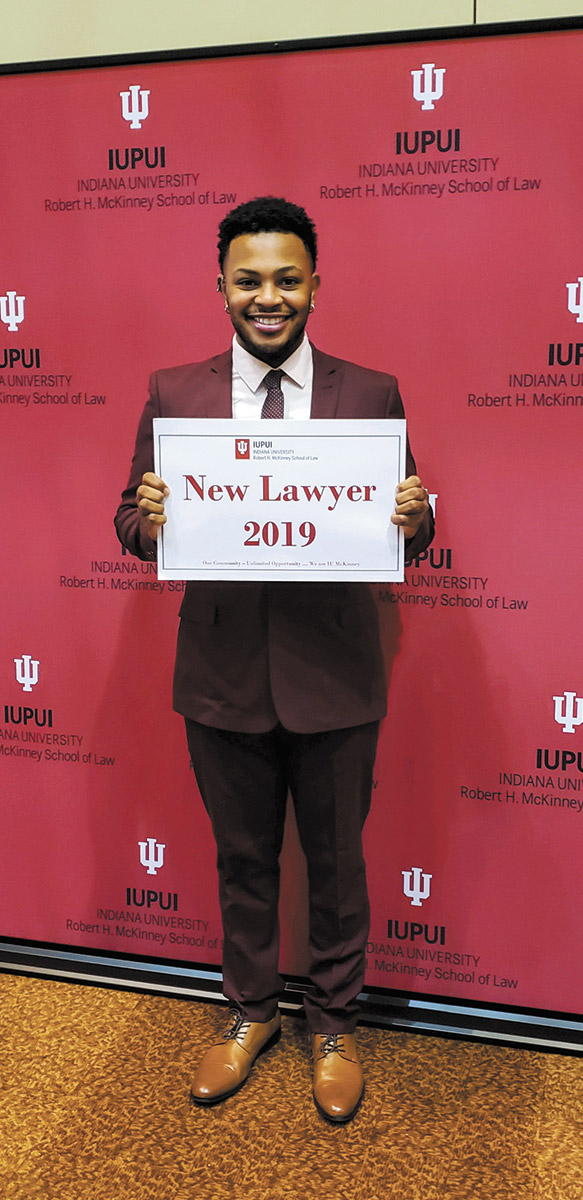 Chicken and noodles
Harrell and Oleksy said maintaining support and cultivating other interests while in law school will have benefits long after graduation. Legal work is a lonely occupation, and without a cushion of friends and family to fallback on, lawyers can get into deep trouble with professional and personal consequences.
A mistake made on a case might be ignored and allowed to fester because the lawyer does not have anyone to turn to for help. Or depression might go unchecked because no one feels close enough to the attorney to hold up a mirror and have an honest conversation. Even retirement can become a problem when the lawyer has nothing else to fill the day with except work.
IU Maurer bolsters first-year students through the small practice group initiative. Led by upper class members, each group offers a space where the new students can feel comfortable asking questions, learn how to take law school exams and form friendships or strong relationships with other students.
Both IU Maurer dean Austen Parrish and associate dean of students Aviva Orenstein noted many students find themselves in a different, sometimes unsettling environment when they enter law school. Suddenly high-achieving individuals are in a room with many others who have stellar academic accomplishments, and they might find themselves in the unfamiliar position of being very challenged and not readily understanding the material.
Law school, Orenstein said, is notoriously stressful, and students can get overwhelmed, wondering if they have the ability to learn to be a lawyer or even if a legal career is the right choice for them. Being surrounded by friends and family who love them in spite of flubbing an answer in class or bungling an objection in moot court gives the students some emotional stability and encouragement to try again the next day.
Families do have to be understanding, Parrish noted. They might be used to their loved one doing incredibly well in school, so they could toss a dismissive, "Oh, you'll do fine," when their student confesses to being worried.
Instead parents, siblings and friends should be sensitive. They should understand the level of academic rigor their student is facing and be prepared to take on some extra duties around the house or provide some additional quiet time during breaks and holidays so the student can study.
Angie Griffin supported her daughter, Elaine, with a hot meal of chicken and noodles, "homemade, of course, from scratch with mashed potatoes."
A 2018 graduate of IU McKinney, Elaine Griffin was encouraged by her mother to study the law. Angie recalled telling her daughter, who was 5 years old at the time, that she needed to be a lawyer because she was arguing constantly. Mom and daughter were at the October admission ceremony, where Angie's pride was apparent.
As Elaine explained her trajectory of taking the California bar immediately after graduation, then returning home to take the Indiana bar in July, Angie interjected that the California bar is not an easy exam and her daughter passed it on the first try.
Elaine started at the Lafayette firm of Bennett Boehning & Clary LLP a few hours after she took the oath of admission. Where she goes in her career is up to her, Angie said. "She's an adult. I'm stopping giving her advice now. I think she's proven herself to be able to make great decisions, so I'm just going to support her."
Click here for a list of new lawyers admitted earlier this month to practice in Indiana.•
Please enable JavaScript to view this content.