Frost Brown Todd has named Kandi Hidde member-in-charge of its Indianapolis office, succeeding longtime local office leader Heather Wilson.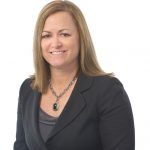 "Kandi's understanding of the needs of both the Indianapolis business community and one of FBT's largest offices makes her the perfect person to move into this leadership position," said firm chairman Robert Sartin. "In the past several years, our Indianapolis office has enhanced its robust litigation practice with talented corporate attorneys in the areas of finance, labor and employment, and intellectual property. We look forward to Kandi continuing that growth."
Wilson, who served as member-in-charge of the Indianapolis office for six years, will continue to practice as a member of the firm's labor and employment practice group and mobility and transportation industry team.
Hidde joined Frost Brown Todd in 2015 as a member of the business litigation team. She works with the firm's health care innovation industry team and serves in numerous community leadership roles, including as a board member of the National Association of Women Business Owners, Indiana Conference for Women and Make-A-Wish Foundation.
Frost Brown Todd counts more than 500 attorneys in 14 markets in Indiana, Kentucky, Michigan, Ohio, Pennsylvania, Tennessee, Texas, Virginia and West Virginia. According to Indianapolis Business Journal research, the firm is the seventh-largest in central Indiana, counting 72 attorneys locally as of May 2020.
Please enable JavaScript to view this content.