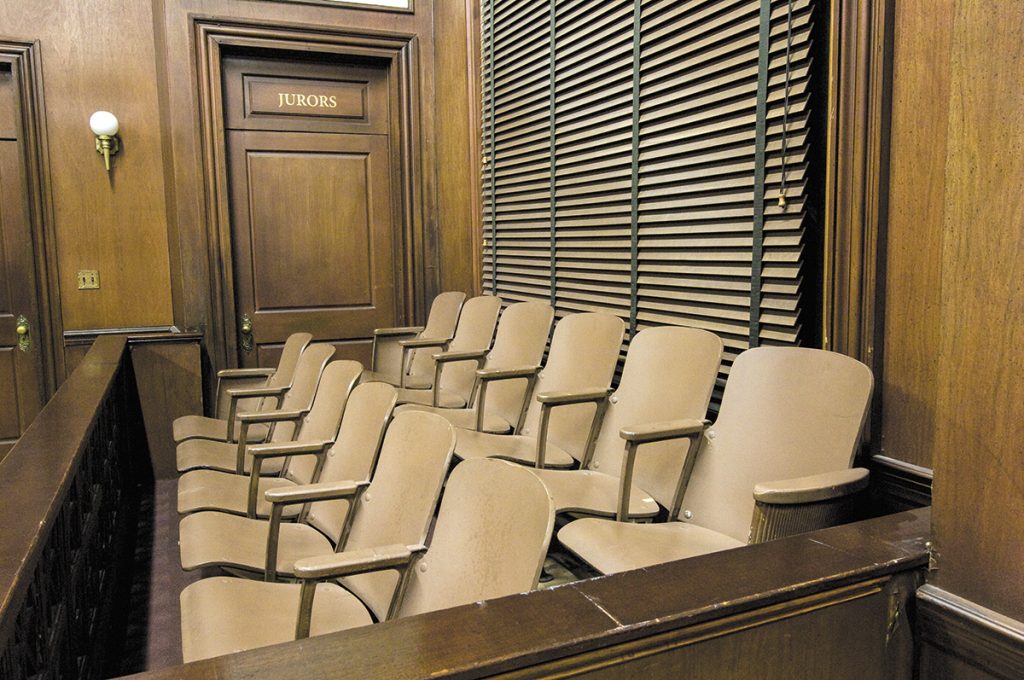 As Hoosier trial courts prepare for the return of in-person proceedings with COVID-19 precautions, many unanswered questions remain about the best practices for safely conducting jury trials.
Marion Superior Judge Heather Welch earlier this year joined a panel of judges from across the country during an American Bar Association webinar to confront the issue, discussing ideas on how to best reintroduce jury trials. The panel also addressed major concerns courthouses currently face in doing so.
Closer to home, Indiana trial courts were instructed in a May 13 Indiana Supreme Court order not to resume jury trials until at least July 1 without prior approval from the high court upon the conditions established in an April 24 order.
Justices at the end of June approved the first such request, authorizing Lake Superior Civil Division 7 to conduct a two-day civil jury trial that started July 1. The Indiana Supreme Court found that the trial court had substantially met the required conditions. Welch said the Marion County court system hoped to start a jury trial during the week of July 6.
Marion County courts began reopening some in-person proceedings on June 15, while continuing to maintain social distancing and other public-safety measures. As a jurist in Indiana's largest court system, Welch said Marion County plans to socially distance its jury pool members at 6 feet or more and require everyone wear facemasks.
"It's is our intent to take people's temperatures, because these jury trials can last three or more days," Welch said. "We want to make sure we have the safest environment for our citizens to serve as jurors, for our staff, the judge, the lawyers, and the litigants."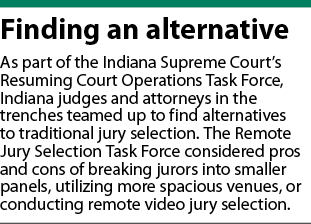 One challenge, the judge noted, is knowing how much personal protection equipment to have on hand. With more than 5,000 individuals coming through the court's home in the City-County Building on an ordinary day, anticipating those needs will be tricky. But Welch said the court system has enough PPE for its employees.
But not every state court is equipped with enough PPE, although they are working hard to get there, said Indiana Chief Justice Loretta Rush. In the meantime, there are 92 different solutions to safely bring Hoosiers back to Indiana courthouses, Rush said, depending on the range of county resources.
Adopting modifications
As part of the Indiana Supreme Court's Resuming Operations Task Force, a team of judges and lawyers was asked to recomend how Indiana courts can safely start jury trials after July 1, even with the help of technology.
"We have some judges starting to look at remote, some counties looking at using other facilities, maybe school gyms, maybe theaters, so we can socially distance jurors," Rush said. "… I will say jury trials are the toughest piece to crack because you look at jurors deliberating, eating meals together — can they be social distanced?"
One way Welch's court is preparing to address difficulties that could stem from social distancing measures is by ordering clear shields for witnesses on the stand. The shields, she said, would allow lawyers, litigants and the jury to see a witness's face and judge their credibility. Her court is also considering whether Plexiglas would be appropriate for a courtroom where a jury trial would take place.
Lake Circuit Civil Division Judge Marissa McDermott said she has been very pleased with how easily her court has been able to transition to remote operations. While the switch is neither perfect nor preferable, she said the desire to protect public health far outweighs those concerns.
Her court has not been closed, though, McDermott noted. Necessary in-person proceedings are still occurring for emergency cases such as mental health commitments and protective order requests. But her court has certainly pivoted toward virtual modifications.
"We have platforms like Zoom and Court Call and the plain old telephone being very helpful to keep cases moving forward. We see that as being something that we are probably, at least in the foreseeable future, going to continue to do," she said.
The same is true for Franklin Circuit Judge J. Steven Cox, who said his small-town courthouse in Brookville never closed. If parties wanted to appear, Cox said he met with them telephonically and worked out the logistics of how that would happen.
Cox's court continues to promote social distancing measures and provide hand sanitizer and masks, but the judge said his court isn't making any special plans yet to address how to safely conduct jury trials.
"That has been so fluid, it doesn't do you any good to prepare for something that may be different by the end of the week anyway," Cox said in June. "If we are permitted in July to have jury trials, Franklin County will develop a system of protocols to see if social distancing is still being desired, observed, required, recommended — what the lay of the land is at that time — and how to adapt to that."
The jury rooms in his court are large enough for people to maintain a proper distance away from one another while staying in the same room. If need be, he said the courtroom could be modified to allow for six jurors to be socially distanced within the normal jury box, leaving the remaining jurors to sit on the opposite side of the room.
But one concern Cox anticipates is needing to call larger numbers of potential jurors to get enough people to show up.
"I have no doubt the pandemic issues will be tested to the limits in terms of people being concerned about being in close quarters of each other," he said. "The harder thing for us to do — unless the rules change — is where do you put 70 or 80 people when you are calling more because you can't get as many people to show up?"
On a similar note, Welch said that while it is common for less than half of Hoosiers summoned for jury duty in Marion County to actually show up, she's unsure how to predict those numbers in light of COVID-19.
"Our hope is that it's many and they know how important that is. I think that will be our biggest challenge," Welch said.
Into the unknown
As courts continue to navigate how to operate during COVID-19, McDermott said her court is trying to remain as nimble and flexible as possible.
"We are all learning and feeling our way through this. None of us have been through a pandemic before," she said. "The things that we are doing right now might have to change in the future just as we are now changing from what we were doing in the past."
Welch gave an exhausted laugh when considering all of the safety precautions and measures that must be taken for her court.
"I never thought I'd be doing this," she said. "But things happen."
With the hundreds of considerations that go into safely returning to jury trials and in-person hearings, Rush said she doesn't know what normal is going to look like six months from now.
"But we have so many important issues that come before us, we just have to keep moving forward," she said.•
Please enable JavaScript to view this content.