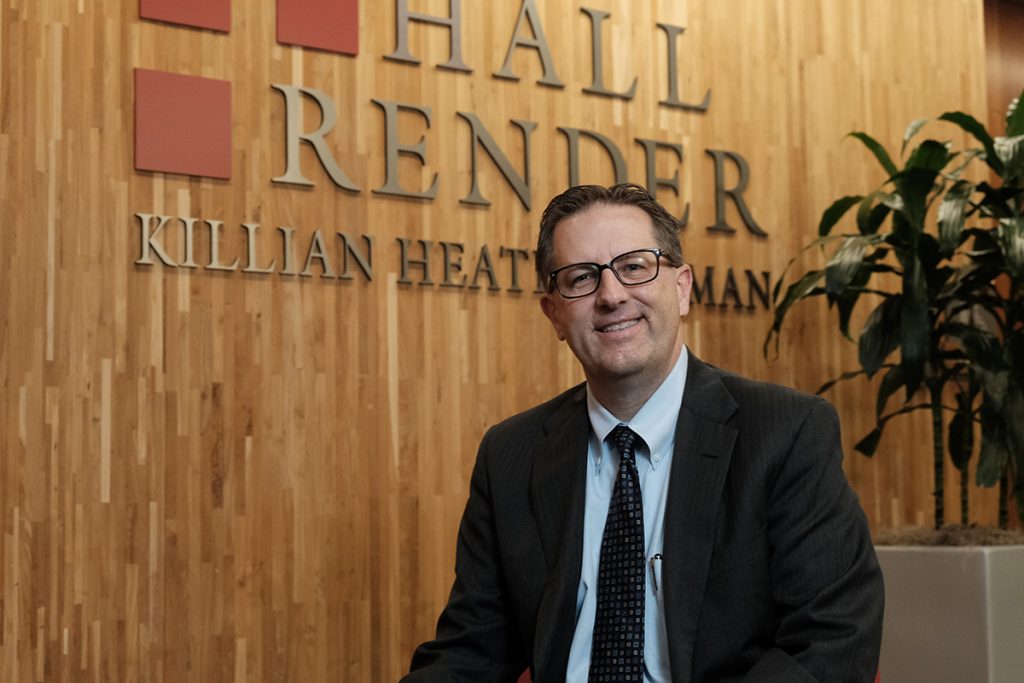 Stretching his arms out and tapping his index fingers on the table, Gregg Wallander talked about the "continuum of health care" that is requiring Hall Render attorneys to join their clients in looking beyond the traditional visit to the doctor's office.
The medical industry is shifting from doing a large volume of services to providing the services that are of value to the individual patients. For the Indianapolis-based firm that focuses solely on health law, that means discussions about social determinants of health. Also, the impact of health care on minorities and residents of rural areas are getting mixed in with the regulatory and transactional work that the attorneys have always done.
Wallander said the shift has mandated the nearly 150 Hall Render attorneys change the way they practice even from 10 years ago to keep meeting the needs of their clients. As he prepares to become the president and CEO of the firm while the health care industry is still being transformed, he will have to ensure his organization remains nimble to adjust and meet client demands.
"We're constantly engaging with our clients about what they need and what their issues are," Wallander said, explaining how Hall Render is able to adapt. "Our dedication to this entire industry means that we are in constant contact with them, not just about their legal needs but about what they want to achieve strategically. That's a key component for us is that we have to provide value for them strategically for them to want to engage us."
Keeping talent
Although he began his work life as a banker, Wallander's journey to health care law might have been dictated by his genes. His father held a Ph.D. in biochemistry and was one of the developers of the baby formula Enfamil, while his mother was a speech pathologist.
He claims he did not get the "science brain," so he completed his undergraduate degree in finance at the Indiana University Kelley School of Business, then moved to Cincinnati to work at Fifth Third Bank. Through his job, he discovered he liked what lawyers did better than what bankers did, which propelled him to move his family to Indianapolis and enroll in Indiana University Robert H. McKinney School of Law.
Wallander began clerking for Hall Render while still a student and, he said, "I've loved it ever since."
His leadership experience in the firm includes serving almost 20 years on the board of directors and 16 years as health counsel practice group leader.
Bill Thompson, chair of Hall Render's board of directors, said he sees Wallander's work in leading the firm's regulatory practice and helping to implement the strategy that positioned Hall Render to be a leader in health care law as making him the right leader for this time.
"He's always taken a solution-oriented approach both to advising clients and to leading the firm," Thompson said. "I think all of those attributes bode well for him in being successful in this new role."
Wallander said he knows to keep Hall Render's reputation as a preeminent health law firm, he must maintain the focus on nurturing and sustaining good talent. If the firm is not a place where top attorneys want to practice, any plans for new initiatives or growth will not matter.
"Culture eats strategy for lunch," Wallander quipped.
The incoming leader said he views the work of Hall Render as being infused with the culture. He said attorneys are attracted by the culture of the firm, which is focused on hiring and supporting good people and using a compensation system that ensures the work is being handled by the appropriate subject-matter experts. On top of this, the singular attention to health care, he continued, helps get the attorneys excited about their jobs.
"Everybody's health care is personal," Wallander said. "And this is an area of law where Hall Render attorneys can call upon their own experiences and diverse backgrounds to help our clients make a difference."
Seeing the continuum
Wallander knows well the personal impact.
In 2005, with four young daughters, his wife was diagnosed with brain cancer. In recounting that time today, Wallander fidgets, leaning forward and back, rolling his chair away from the table, folding his arms across his chest and swiping at the corner of his eye with his index finger.
More than 15 years later, his wife is healthy and working as the librarian at St. Joan of Arc School.
"That experience helped me see the continuum of health care," Wallander said. "It's not how I wanted to see it. It gave me an even greater appreciation for how integration and collaboration and coordination can save lives. It absolutely saves lives."•
Please enable JavaScript to view this content.