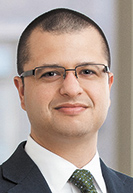 By Alexander P. Orlowski
A few weeks ago, I put on a suit and tie for the first time in six months. My oral argument scheduled for March had been delayed until May and — because the parties all agreed the argument needed to be done in person — delayed again until September. Excited to feel like a real litigator again, I gathered my notes and outline, drove to my downtown office and logged in to Zoom to conduct the argument … via videoconference.
Let's face it, litigation today looks very little like it did seven months ago. Even though courts are beginning to resume in-person proceedings and jury trials, most civil matters are still being conducted remotely. And even if a matter is heard in person, masks, social distancing and other health and safety procedures detract from many of the benefits in-person proceedings once afforded. Unfortunately, it does not appear that is going to change anytime soon. In a recent CLE hosted by the Southern District of Indiana Court Historical Society, Chief Judge Jane Magnus-Stinson explained that the court is preparing for perhaps years of interruptions from COVID-19.
To be sure, our judges and court staff have undertaken a Herculean effort to keep the courts open and proceedings moving. But even as courts continue to fully come back online, lawyers and litigants are, understandably, still balancing the need for in-person proceedings with health and safety considerations. As my experience shows, even when the court and parties agree that proceedings for a particular matter would best be conducted in person, there is no guarantee that will actually happen.
Is arbitration the answer?
As a result, the civil litigation world has turned to alternative dispute resolution (ADR) options in recent months out of necessity. It may, however, be time to assess whether remote ADR proceedings should become a more frequent tool to resolve civil disputes. Even in the best of times, litigation is a long and expensive endeavor, and while every litigator likes to think they shine brightest in front of a jury, if we are honest with ourselves, jury trials are not necessary for every matter.
One alternative to consider is expedited arbitration. While I have arbitrated a number of cases in my career, they tend to look a lot like — and cost nearly as much as — litigation in front of a traditional court. Both the American Arbitration Association (AAA) and the International Institute for Conflict Prevention & Resolution (CPR), however, offer an "expedited" or "fast track" option for dispute resolution that truly accelerates the proceedings. Essentially, the arbitration looks much like a summary judgment proceeding, with limited (if any) discovery and the goal of progressing from arbitration demand to award in just 90-180 days.
For example, I filed an arbitration under the AAA's Commercial Expedited Procedures right before COVID-19 began to shut things down and found it to have a number of benefits:
1. It is fast. I tell clients that from case initiation to trial, they are typically looking at no fewer than 12-18 months at best. In my expedited arbitration, we went from filing our demand to receiving our award in about 120 days. The expedited procedures require an arbitrator to issue an award within 14 days after the close of proceedings. In our case, the arbitrator issued our award just seven business days after the submission of all of the evidence and briefing.
2. It is inexpensive. Experienced litigators know that the amount of work required on any particular case seems to fill the amount of time allotted between initiation and decision. Motion practice, jurisdictional fights, discovery, pretrial conferences, interlocutory appeals and trial are all very expensive and — if an opposing litigant is dead set on driving up costs — difficult to rein in. One way to allay a client's concerns about costs spinning out of control is to fix the scope of discovery and shorten the time to resolution from the outset. Moreover, the AAA Expedited Procedures feature a fixed compensation for the arbitrator and fixed administrative fees due to the AAA.
3. It is private. Many commercial disputes necessarily require the decisionmaker to assess trade secrets, confidential information or other facts the litigants would prefer to keep out of the public realm. And while both state and federal courts permit certain matters and filings to be sealed, the presumption that publicly funded proceedings will be, well, public, makes sealing them a cumbersome procedure and sometimes an uphill battle. With expedited arbitration proceedings, the parties can limit or preclude discovery and even keep the fact of the entire dispute out of the public eye.
Obviously, expedited arbitration is not the right choice for every matter. When a dispute involves complicated factual issues or requires assessment of witness credibility and conflicting testimony, traditional litigation or arbitration may likely be the best choice. However, in an era when virtual proceedings, masks and social distancing make litigation even more unwieldy, consider balancing the incremental benefits gained by traditional litigation against the benefits of a fast, inexpensive and private expedited proceeding. For your relatively routine civil matter or business dispute, it may be the right fit.•
• Alexander P. Orlowski is a partner with Barnes & Thornburg LLP, where he concentrates his practice on complex business and commercial litigation. Opinions expressed are those of the author.
Please enable JavaScript to view this content.