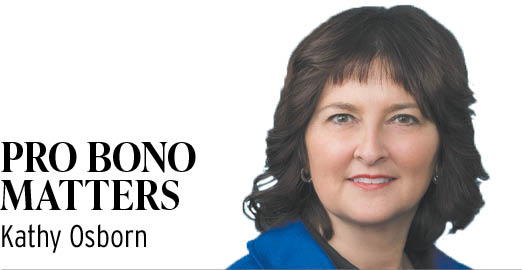 Law firms play a critical role in ensuring that low-income people in their communities have equal access to civil legal assistance and the courts. Every year, thousands of low-income Hoosiers grapple with legal problems that often involve basic needs such as safe housing, access to health care, child custody, protection from abuse, and immigration and asylum protections. A 2022 study from the national Legal Services Corporation found that low-income Americans do not get any, or enough, help for 92% of their substantive legal problems. Indiana's 2019 economic impact study showed that everyone benefits when law firms commit to this work: For every dollar spent on pro bono and civil legal assistance, the state enjoyed $6.70 in short- and long-term economic benefits.
Lawyers have a distinct responsibility to support the pro bono and legal aid systems, and leading law firms must advance that effort. In doing so, we strengthen our communities and improve our firms in a number of ways.
This column explores my perspective as Faegre Drinker Biddle & Reath's Indianapolis office leader, a practice area leader and a strong believer in the importance of pro bono service.
Service to others
Service to others is a core Faegre Drinker value, and pro bono is deeply embedded in our culture.
We provide billable hour credit for pro bono, employ a professional team to support the firm's pro bono practice, and have a firmwide pro bono committee as well as office-level pro bono liaisons. Our pro bono staff and leaders work closely with attorneys, professionals and clients to help them engage in pro bono service that reflects their passions and helps achieve their personal and professional goals.
In Indiana, Faegre Drinker dedicates thousands of hours annually to pro bono service. Our services span brief advice on hotlines and at clinics, individual representation and high-impact litigation. We work in a variety of practice areas including, e.g., guardianships, housing, veterans' benefits, civil rights, immigration, asylum, domestic relationship protective orders and intellectual property for emerging entrepreneurs.
Our longstanding commitment has allowed Faegre Drinker to develop meaningful partnerships with pro bono and legal aid nonprofit organizations, law schools and — as a bonus — our corporate clients. For example, almost 15 years ago, along with local legal aid organizations, we partnered with what is now the Sidney & Lois Eskenazi Hospital to establish Indiana's first medical-legal partnership, allowing physicians and social workers to refer patients to needed legal assistance, including families needing to establish guardianships for adults with disabilities and patients with cancer needing assistance with end-of-life documents. This work is ongoing, and additional firms and organizations have joined the effort. We have also partnered to develop advice clinics to serve rural communities and launched other projects that reach people in need.
In addition to providing direct legal service and project development, our attorneys lead in the community by serving on legal aid boards, bar association committees and court bodies that are working to improve our civil legal system.
Finally, Faegre Drinker and its attorneys support pro bono and legal aid organizations with direct financial assistance. This is essential to supporting our pro bono practice and to fulfilling our unique responsibility as legal professionals to ensure that all people have access to quality legal help.
Strengthening our firm
Our pro bono work also strengthens our firm and our people. It helps us attract and retain talent, develop our associates' skills, connect to colleagues in Indiana and across the firm, and cultivate leadership opportunities. For example, the Southern District of Indiana's pro bono program has offered opportunities for associates to gain trial experience while addressing important civil rights issues. In addition, Faegre Drinker's Indiana attorneys have partnered with attorneys across the firm to address racial injustice through the Jim Crow Juries Project, to help veterans seek the benefits they are entitled to receive, and to represent Afghan families seeking safety in the United States after working alongside our military in Afghanistan.
Leading on pro bono
As an office and practice leader, I support pro bono in many ways. In my personal pro bono practice, I handle guardianship matters and have represented clients with disabilities, including in situations where vulnerable adults have been mistreated by family. I have assisted Holocaust survivors in applying for and obtaining reparations from Germany, secured protective orders for women and their children in abusive domestic situations, represented prisoners in prisoners' rights lawsuits, and represented a death row inmate in post-conviction relief proceedings. I, and other partners, supervise large matters, mentoring senior associates to lead teams and develop management skills. I also am a board member of Indiana Legal Services and a former member of the Indiana Protection and Advocacy Services Commission. Additionally, my Faegre Drinker colleagues serve on boards for organizations such as the Indianapolis Legal Aid Society, Neighborhood Christian Legal Clinic, the Indiana Bar Foundation and Pro Bono Indiana; we also are active in statewide access efforts. My service brings me great satisfaction, and I know that when I and other partners lead by example, we encourage and affirm, or generate, enthusiasm for others to engage in these important efforts.
A diverse pro bono program with strong firm leadership benefits the community and individual pro bono clients. It also creates a stronger firm and better, happier lawyers. Please join us in continuing this important work.•
__________
Kathy Osborn is Faegre Drinker's Indianapolis office leader and co-chair of the firm's antitrust & trade regulation practice. Opinions expressed are those of the author.
Please enable JavaScript to view this content.