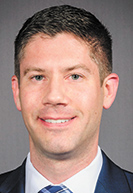 By Mitchell Osterday
Apologies to the late Paul Harvey — and to farmers everywhere — for drawing this pained parallel. Hear me out, though: My generation has been under-appreciated, accused of destroying every cherished tradition of a bygone era and branded with the term "snowflake." In my view, however, millennials in the legal profession are uniquely positioned to lead the charge during the coronavirus pandemic and pull our law firms, government and nonprofit entities into a new, modern age.
I can sense the irate response: "Now wait just a minute. Millennials killed the chain restaurant! What about avocado toast? They still live in their parents' basement!" In some ways, I can't blame our boomer and generation X friends for their astute observations. Among other things, millennials set the stage for social media influencers to become a phenomenon of gilded lifestyles and for slacktivism to became more desirable than good old-fashioned volunteerism.
Admittedly, we're a bit coddled. But what preceding generations — and especially the legal profession — fail to appreciate is a millennial's we-can-do-this-better attitude, particularly where technology is concerned. And arguably, that attitude should win the day right now.
Our present global pandemic has crippled many industries. As a result, we have had to alter our language and vocabulary to include new terms such as social distancing, Zoom, Teams, Slack and Joe Exotic. I, for one, have had to quickly adjust my own workflow and find better ways to communicate with my team.
Given our sudden shift to a bold new digital world, I can't help but think about the contributions of millennials to the modern workplace. As it turns out, millennials preferred to have flexible workspaces before it was cool (or mandated). Millennials witnessed the dawn of the digital age and grew up with the internet. My generation understands the power of social media, can harness collaborative applications such as Zoom and Teams, and can retool in-person workflows for the cyber workspace.
Our new normal mandates flexibility, and millennials are positioned to deliver results.
Why am I writing to defend an entire generation during a pandemic? Candidly, it's out of my own frustration. I am frustrated because I want to help fight this thing. I want to ensure our country and our local communities remain intact and continue the drumbeat of American progress. I want to do something. Talking through this frustration with my peers has revealed a common theme: we want to help, we can help and we need to step up to seize opportunities. So what does this look like in the legal profession?
For my fellow millennials, have you taken stock of just how much you know about technology and computers? This goes beyond the basic proficiencies that take up room on a resume. At the surface level, it includes utilizing collaborative software, setting up group chats and finding ways to simply "do it better." But under the surface, we as a generation need to also extend grace to our employers and those around us. Have you offered a helping hand to those who are frustrated with this new digital normal? Have you taken a deep breath before explaining basic-to-you ideas to an older generation? Leaders rarely complain and always find a way to make things work, even in the midst of a pandemic.
To my friends in older generations: Have you given your millennial employees appropriate opportunities to lead? Do you have the humility to ask for help or to seek input on a "better way" rather than "the way we have always done it"? I can almost guarantee you have an associate, deputy or volunteer attorney who is hungry to help and could thrive in this environment. Some of them may be too intimidated to step up right now. Can you open the door to opportunity? What do you have to lose in a time like this?
In the end, I have faith we will all make it through this pandemic because we always do. My grandparents have told me horror stories of war, the Great Depression and other diseases such as polio and smallpox. Americans are resilient. I may only have 30 years of life experience, but I am not so naive as to ignore opportunity when it is in front of my face. Uncertain times demand bold action, and millennials are positioned to deliver results.
Thirty years ago, few could have foreseen our present predicament, let alone saw the need to empower an entirely new generation of leaders.
So God made a millennial, and not a minute too late.•
• Mitchell Osterday is legal adviser to Indiana Supreme Court Justice Steven David. Opinions expressed are those of the author.
Please enable JavaScript to view this content.