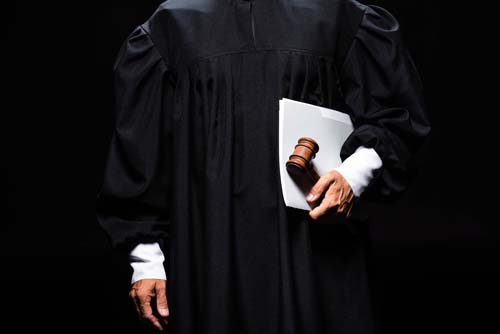 The Noblesville school district and a student suing the school each took home wins and losses in a discrimination suit centered around a Noblesville High School anti-abortion group.
Senior Judge Sarah Evans Barker of the Indiana Southern District Court on Friday partially granted and denied the school district's motion to dismiss the wide-ranging discrimination complaint filed by E.D., a student who in August 2021 received approval to create an organization known as Noblesville Students for Life.
The club's school approval was revoked about a month after it was granted, leading to the 19-count complaint filed in December.
According to Barker's order in E.D., et al. v. Noblesville School District, et al., 1:21-cv-03075, the trouble began in August 2021 when E.D., who was then a freshman, created a callout flier for Noblesville Students for Life. The student emailed two assistant principals, Daniel Swafford and Janae Mobley, asking what could be included on the flier but received no response.
Thus, E.D. created a flier that contained a photo of students standing in front of the U.S. Supreme Court holding signs reading "We are the pro-life generation" and "Defund Planned Parenthood." Mobley then responded and told E.D. that fliers should not include photos.
Meanwhile, E.D. had asked the high school's dean of students, Jeremy Luna, to confirm that she could hold a callout meeting on Sept. 6, 2021. Luna did not respond to E.D.'s emails but instead called a meeting with her on Sept. 3.
E.D.'s mother also attended the meeting because the family has a policy against allowing E.D. to meet alone with a male adult. According to Barker's order, "beyond simply attending the meeting, E.D.'s mother did not participate and no NHS administrator raised any concern regarding her presence at the meeting."
During the meeting, Luna told E.D. and her mother that the flier would not be approved because of the photo. E.D., however, pointed out that other student clubs posted fliers with photos, including a flier that "contain(ed) the 'raised fist' logo 'associated with the Black Lives Matter organization and Marxism, both of which promote political ideologies.'"
In response, Luna said there was an issue specifically with the sign in the photo that read "Defund Planned Parenthood," adding that the school was "already walking on eggshells."
Within three hours of the meeting with Luna, Principal Craig McCaffrey emailed E.D.'s mother and informed her that Noblesville Students for Life's status as a student club had been revoked because he was "not confident that [Noblesville Students for Life] is a student-driven club."
Then on Sept. 14, Luna pulled E.D. out of class and "demanded a meeting right away." According to the court order, Luna "stood in close proximity to E.D., even after he was told that she was uncomfortable, and … 'spoke firmly, raised his voice, and intimidated E.D.'"
Mobley joined the meeting, and she and Luna questioned E.D. about taking a photo of a PowerPoint presentation featured at a meeting of the high school's Peonies Club, described as a "feminist group." They told E.D. that the law prohibits the taking of photos at school and insisted that E.D. show them her phone. The student was "distraught," "visibly shaking" and "nearly in tears" during the meeting, according to the court order.
Meanwhile, two local Facebook groups began conversations about Noblesville Students for Life. One conversation posted an email that E.D. had sent to her city councilman after the group's status was revoked.
Multiple school district employees engaged with the posts, writing and/or "liking" comments that were "demeaning" to E.D. and the group. Then, when E.D.'s pastor wrote an op-ed criticizing the school, McCaffrey sent a rebuttal to all NHS students and parents saying E.D. had disregarded school policy and had not actually initiated the club herself.
E.D., her parents and Noblesville Students for Life eventually filed a lawsuit alleging 19 federal and state-law violations. They also unsuccessfully sought to move the case out of Barker's court before the defendants moved to dismiss.
A total of eight of the claims will proceed against some or all of the named defendants. That includes a litany of First and 14th Amendment allegations and an alleged violation of the Equal Access Act, although Swafford and Superintendent Beth Niedermeyer will not have to face those claims in their official capacities.
A claim for injunctive and declaratory relief under the Indiana Constitution will also proceed.
But Barker ordered the plaintiffs to show cause within 30 days why the remaining official-capacity claims under 42 U.S.C. 1983 should not be dismissed as duplicative of claims against the municipal entities.
Those official-capacity claims are against McCaffrey, Mobley, Luna, Alexandra Snider Pasko, Alison Rootes, Allison Schwingendorf-Haley, Elizabeth Kizer, Emily Patterson-Jackson, Grace Tuesca and Stephanie Eads. Except for McCaffrey, Mobley and Luna, those defendants were allegedly involved in the "demeaning" Facebook conversations.
Liberty Roberts, the partner at Church Church Hittle & Antrim who is representing the school defendants, told Indiana Lawyer that the defendants do not plan to appeal and "anticipate the remaining claims will be addressed on a motion for summary judgment."
Marnie Cooke, director of marketing and communications for Noblesville Schools, also sent Indiana Lawyer a statement saying, "We've been notified that the majority of claims in this case were dismissed and look forward to the court's final ruling on the remaining claims."
Zac Kester, CEO and managing attorney of Charitable Allies, which is representing the plaintiffs, said they are "pleased that the Court is looking closely at this effort to silence pro-life student voices," adding that they have not yet determined whether they will appeal.
But Kester also said E.D. has "suffered immense harm."
"This young girl was not allowed the same opportunities to talk with her fellow students that others enjoyed," he wrote in an email to IL. "There were student groups that were permitted to utilize political messaging both in their activities and their flyers (sic), so when this student asked why a photo of students on the steps of the U.S. Supreme Court could not be used she was told inconsistent reasons. There was then a retaliatory closure of the public forum."
Kester also provided a statement from E.D., who said, "I thought that forming my club might come with some backlash, but I never expected Noblesville Schools staff to write and support disparaging social media comments, and I never expected a legal issue to arise.
"Overall, I'm disappointed that my school opposes pro-life students to such an extreme and thinks it is OK to defame me on social media," E.D. said in the written statement. "I'm disappointed that my school was deceptive, discriminatory, and disparaging towards me.
"… I have no intention of giving up fighting for my club and its members, and I will never give up the fight for life."
In a footnote to her 42-page order, Barker wrote, "It is possible that Plaintiffs' request for permanent injunctive relief may now be moot based on events that have transpired since the filing of Defendants' motion to dismiss, but that is not clear on the record currently before us."
Noblesville Students for Life appears to be an active organization, as it has a website listing officers for the 2022-2023 school year  as well as an Instagram account that shows the organization participating in the 2022 homecoming parade.
Please enable JavaScript to view this content.