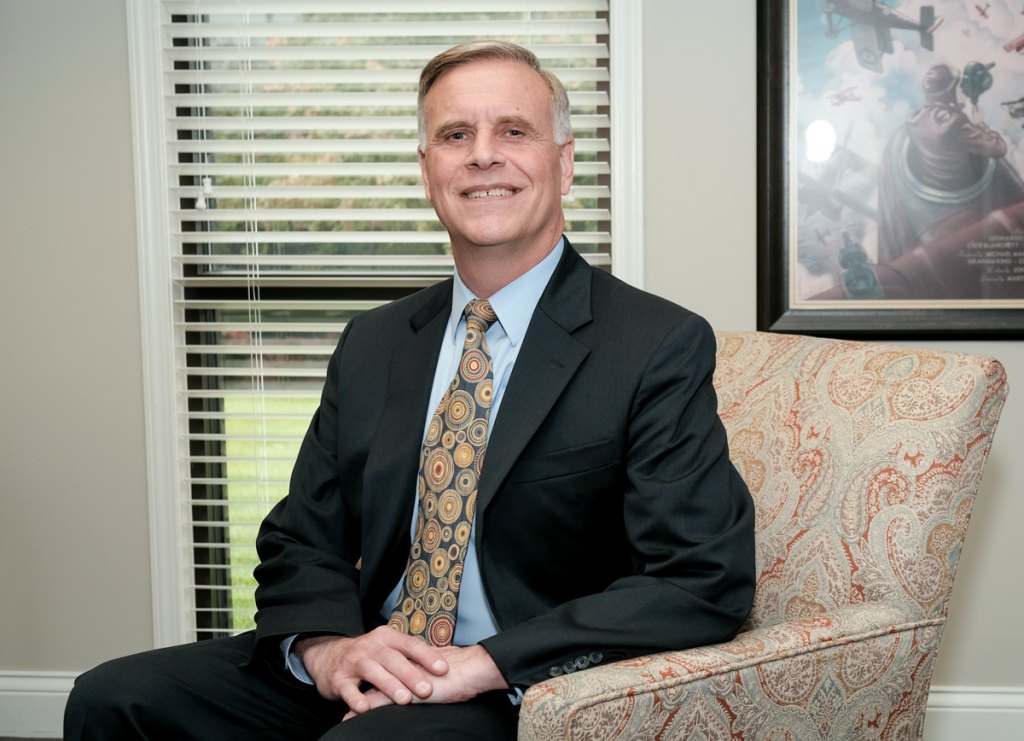 The Indiana Trial Lawyers Association's newest president, Daniel A. Ladendorf, is equally as passionate about seeking justice for his clients as he is promoting public service efforts.
Born and raised in Hammond to a diesel truck mechanic and a not-for-profit fundraising professional, "Dan" Ladendorf describes himself as someone who is "all in or not in at all" in everything he does.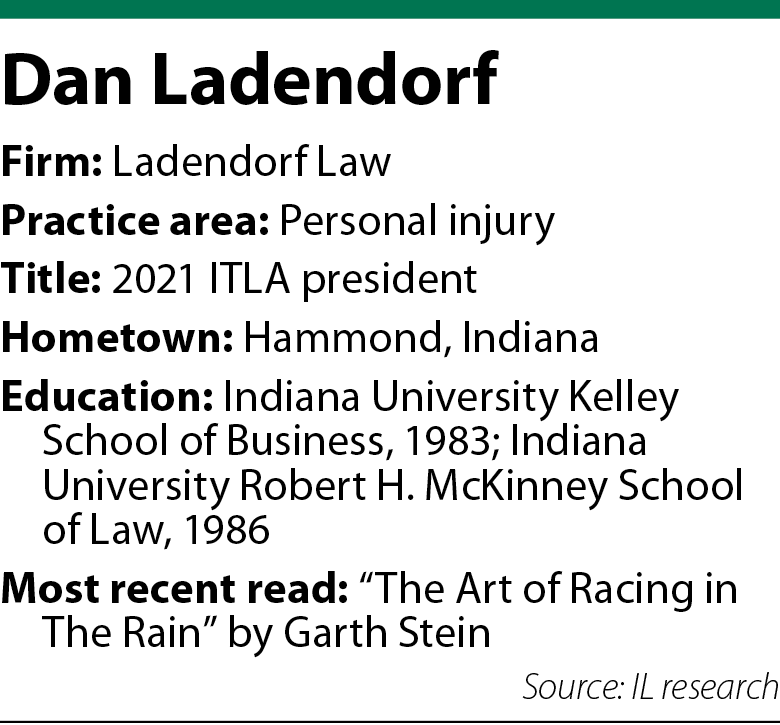 As a child Ladendorf imagined himself becoming a priest, but that idea diminished during high school when he became interested in life sciences and thought he might pursue a medical career. A biology class during his undergraduate studies at Indiana University changed his mind, however, and his third plan to become the CEO of Exxon bit the dust.
At the encouragement of his brother, Ladendorf enrolled at Indiana University Robert H. McKinney School of Law and joined the Indiana bar in 1987. Following a nearly 18-year detour into various public service roles, Ladendorf joined his brother Mark's private personal injury and wrongful death practice at Ladendorf Law in 2000, where he has remained since. Now he can't imagine being anywhere else.
"In some odd manner, perhaps being a trial lawyer is a little bit like being a priest: fighting for justice by giving voice to the voiceless," Ladendorf said.
The Indianapolis attorney, who represents victims of personal injury, wrongful death and medical negligence, said the work of holding wrongdoers accountable by bringing justice to his clients can often be challenging but is always gratifying, satisfying and rewarding.
Ladendorf recently shared his thoughts with Indiana Lawyer about his year ahead as ITLA president.
Indiana Lawyer: What ITLA leadership positions have you held?
Ladendorf: I served on the ITLA board of directors and was appointed to be a co-chair for the ITLA Legislative Committee, a position I held for about six years through the 2016 legislative session. I was elected to the ITLA Executive Committee in May 2012, initially serving as an at-large member for several years, then rotating into officer positions including treasurer, secretary, vice president and president-elect.
What are some challenges and opportunities you anticipate during your presidency?
The challenges we face are often opportunities in disguise. After 15 months of holding virtual events, including our most recent Lifetime Achievement Seminar, we are planning to host our Annual Institute in person Nov. 15 and 16 at the Indiana Convention Center. Obviously, public health concerns may affect our plans, but for now we are looking forward to seeing everyone in Indianapolis for a two-day CLE seminar in November featuring prominent national trial lawyers and exhibitors who support our practices.
What are your priorities for the coming year?
Our major focus is always on recruiting and retaining our members and offering value of membership. We will continue building on the successes of the past while growing our membership and engaging a broader coalition of members in our work.
What are a few concerns for trial lawyers that you plan to address during your term as president?
There are always the perennial concerns that diminish the constitutional rights of open access to the courts and trial by jury through government-sponsored immunities, caps on damages, mandatory arbitration and federal preemption. Our challenge in defeating efforts that erode the rights of all citizens is based in educating public policymakers through ITLA's legislative and appellate advocacy.
What's one way your association with ITLA has benefited you as a lawyer?
The best way that it helps is that I have 850 colleagues across the state who are willing to share with each other the wisdom of their experiences and benefit of their knowledge with no expectation of reciprocity or remuneration. That is not something you see in other organizations. ITLA membership has provided the opportunity to nurture relationships with incredibly talented lawyers and, more importantly, with just solid, good-hearted people who widen my narrow path and inspire me to always be the best version of myself in some challenging circumstances.
If you could pinpoint the most important part of ITLA's work, what would it be?
There really is not any one aspect of ITLA's work that is more important than any other part of our programming. Nothing ITLA does would be possible without the ITLA membership base. Our members make ITLA a unique organization that gives meaning to, "All for one, and one for all."
If you could go on an all-expenses-paid vacation starting tomorrow, where would you go and why?
If time were unlimited, cost not an issue and global political/civil unrest not a risk, I would set sail on the longest cruise around the world, visiting foreign lands and people to broaden my perspective of our place on this Earth and my understanding and appreciation of other cultures and communities. I hope the cruise stops in Norway.
What is your favorite thing to do on a day off?
I enjoy time through the summer season on Lake Manitou in Rochester in north-central Indiana. I also enjoy running, walking and biking through nature, whether it is on the Indianapolis Fall Creek Greenway to Fort Ben State Park, or the 62nd Street Trail to the Monon Trail north into Carmel, or south into downtown Indianapolis, where I might take the Cultural Trail to the zoo or into Fountain Square.
What is your guiding philosophy, personally and professionally?
I think the best philosophy I try to live by is something that my mother shared with me. Character requires honest self-reflection. It demands that each of us "knows thyself" — that we know our strengths and weaknesses and we acknowledge our limitations. As my mom said in the note she left for me in my dorm room after moving me in to college 42 years ago: "Enjoy your first year away from us — Learn, Grow, and Have Fun. But, most of all, Know Thyself." With the challenges that accompany each new engagement, I remain a work in progress, defining and redefining what it means to "know thyself."
Looking back, what's been the proudest moment in your career?
Gaining the trust and confidence of my colleagues in ITLA who have elected me to serve as president of this great organization is by far my most significant career achievement. Being recognized in 2013 as the ITLA Trial Lawyer of the Year for my work in securing changes to the Indiana hospital lien statute was quite an honor given the incredible legal talent and courtroom accomplishments of my ITLA colleagues.•
Please enable JavaScript to view this content.