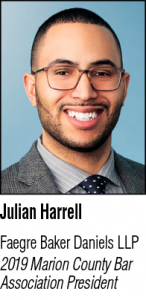 Mastering "small things in a great way" is the prequel to accomplishing "great things." This universal truth reveals itself daily — future pilots spend long hours in flight simulators; future rock stars must first learn basic notes. The examples are nearly infinite. Realizing our full potential often requires dedicating time to routine exercises that, in isolation, do not seem to amount to much. Over time, however, our preparation, determination, discipline and dedication evolve into formidable skills and powerful capabilities. But today's "Instagram disease" — the misleading portrayal of a carefully curated existence — can infect us with the misnomer that we can somehow obtain mastery without first learning how to do small things in a great way. This is the pipe dream of celebrity without sacrifice.
To guard against such myopic delusions, the Marion County Bar Association (MCBA) has invested significant time, thought and resources in 2019 to ensure we are mastering "small things in a great way." Examples include revising and updating organizational policies, improving our social media and internet presence, strengthening relationships with our membership (especially law students), forging new partnerships and making our voice heard on issues that affect our members and our communities. Much of the work goes unseen, but these efforts represent fundamental building blocks integral to enhancing the MCBA's reach and impact. We believe this approach is a proven formula for sustained relevance and long-term success.
Focusing on the finer points also helps the MCBA deliver impactful programming and resources for its members and the larger community. Noteworthy examples include: 1) collaborating with the Indiana University Robert H. McKinney School of Law's Black Law Students Association and Jimmie McMillian as part of the recent "Welcome to the Profession" event to provide networking and early career advice for 1L students; and 2) partnering with the National Urban League to host a free legal clinic during its national conference in July.
The MCBA is excited about upcoming events as well, especially the Economic Upward Mobility and Empowerment Fall Networking Event in collaboration with the Indianapolis Professional Association on Oct. 25 at the District Tap from 6 to 9 p.m. The event will be attended by community leaders, professionals, policymakers and business owners and will include an interactive presentation focused on economic empowerment for professionals of color. Proceeds will be used to fund college scholarships that will be awarded at the event. Additional event details are available at ipaindy.org.
And that's not all — 2019 holds additional surprises that the MCBA cannot wait to announce!
Now that I have your attention, this is the perfect opportunity to recognize a handful of individuals who have gone above and beyond to support the MCBA and its mission. Special thanks to the MCBA's Corresponding Secretary, Ndeto Mwose, for his tireless management of large volumes of information and timely circulation of important updates to our board and membership. Special thanks to our Board Chair, Angka Hinshaw, for her overall consistent high-performance. Huge appreciation goes to Alan Mills and Lacy Johnson for jumpstarting an important year-end fundraiser that will pay dividends for years to come.
With that, here's a toast to the small things. Cheers.•
Please enable JavaScript to view this content.