Creating a central location for pro bono attorneys to receive training and resources has been on Dana Luetzelschwab's brain for a long time.
If an attorney isn't familiar with an area of law in a pro bono case they've taken on, there are multiple places where they can find training — but not in one consolidated platform, Luetzelschwab said.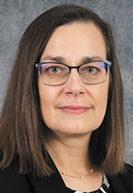 "Everybody has it in decentralized locations," said Luetzelschwab, co-chair of the Indiana State Bar Association Pro Bono Committee and managing attorney at Pro Bono Indiana. "I've been trying to find all of them and put them onto my website, and it got to be a bit much."
That's when she pitched the idea to the state bar association in May 2022: create the Pro Bono Academy and Resource Center. The platform she envisioned would serve as a "one-stop shop" for Indiana attorneys, paralegals and staff who provide, or want to provide, civil legal aid.
The academy would offer free training videos, both short- and long-form, submitted by all the state's legal aid organizations that already offer education on their respective platforms.
The offerings, she proposed, would include a selection of on-demand continuing legal education programs covering topics of interest to pro bono and civil legal aid attorneys, pro bono best practice tips, information on how to find pro bono opportunities and more.
"The idea is to make it easier for people to have everything in front of them to see what they can do and choose what they're willing to do right there," Luetzelschwab said. "So they can form a goal for later, but work on something that they're OK with now."
The program got the green light and is preparing to launch on Oct. 14. Keeping it simple, the Pro Bono Academy will serve initially as an online educational hub with links to the trainings and resources, ISBA Executive Director Joe Skeel said.
"For example, if the Neighborhood Christian Legal Clinic does a program, we will have the ability to record that and then upload it to the academy," Skeel said.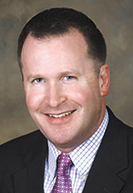 Scott Wylie, executive director of Pro Bono Indiana, said one of the wonderful things the legal profession is currently experiencing is a renaissance of engagement among state bar associations in assisting in the delivery of pro bono services.
Wylie said the ISBA's commitment to helping get the Pro Bono Academy up and running will, in turn, allow attorneys to effectively volunteer in areas where low-income Hoosiers need the most help.
"It's really designed to get people the kinds of trainings necessary to allow them to engage more broadly, in a variety of practice areas," Wylie said.
Getting trained in unfamiliar areas of law is critical to pro bono work, he said. For example, a banking or intellectual property attorney may feel less comfortable helping a domestic violence victim.
"You don't want the volunteer to ever feel scared or underresourced or not mentored," Wylie said. "And this is just one of the many ways that the state bar and the pro bono community are working to try to make it easier and better for volunteers."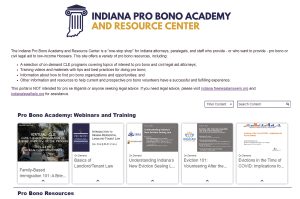 Creating, finding opportunities
Checking the pulse of Indiana's pro bono services, the Indiana Bar Foundation and Indiana Coalition for Court Access hosted a two-day pro bono retreat in August focused on building relationships and connections as a statewide pro bono community.
More than 50 pro bono leaders ranging from private practitioners to judges to nonprofit organizations attended, focusing on how to expand the ability of Indiana's pro bono system to provide services throughout the state, improve collaboration and expand pro bono services for housing stability issues.
Among the conversations during the pro bono retreat was a discussion about how to create a strategic plan to more efficiently connect attorneys with pro bono opportunities statewide. Wylie said the gathering allowed pro bono leaders to discuss systematic design improvements that can be made to serve more Hoosiers.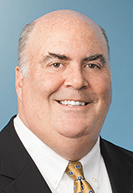 "This retreat really allowed us to dig in and start working on making sure that we're where we should be," he said.
The Indiana Bar Foundation told Indiana Lawyer in an email that its next steps following the retreat are to review and evaluate data from the retreat before presenting its findings in an initial presentation to the Indiana Supreme Court's Coalition for Court Access on Nov. 4.
From there, the foundation said it plans to work on further refinement of the data and use it to "shape specific recommendations and action steps," with a goal of presenting those by mid-January.
Carl Pebworth, senior counsel with Faegre Drinker Biddle & Reath, brought to the retreat decades of experience and interest in promoting Indiana's pro bono efforts. He said there's an opportunity to invest in strategic planning for pro bono services that retreats like this can foster.
"That would include thinking about how to develop and broaden the pool and resources of attorneys who will do pro bono work, identifying and clarifying the kinds of work that pro bono volunteers are best suited for, and working to identify the barriers and obstacles that currently exist to prevent furthering strategic expansion of access to civil legal resources," Pebworth said.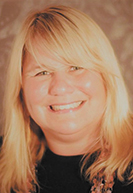 Liz Fiscus, senior director of legal services at the Neighborhood Christian Legal Clinic, said the retreat offered opportunities to learn about new resources that will better serve her organization's attorneys and staff. Greatest among them, she said, is the Pro Bono Academy.
"Having additional pro bono resources to help you is key in this type of environment and looking for different ways to create different service models and levels of service," Fiscus said.
Marilyn Smith, senior counsel for the Indiana Bar Foundation, said that among the resources provided via the Pro Bono Academy would be Indiana Legal Help's pro bono opportunity guide. The guide, she said, allows organizations or firms to submit their openings for pro bono opportunities where attorneys can easily find them by practice of law or type of need.
"I think the idea is for really helping guide and support attorneys with the understanding of where the opportunities are, what kind of training is available, what kind of mentorship is available, and allowing people to move sometimes outside of their immediate subject matter expertise with the right support and structure," Smith said of the Pro Bono Academy.
To Luetzelschwab's knowledge, a statewide platform for pro bono training hasn't been offered yet in Indiana.
"And I've been digging for a while," she noted.
Attorneys whom Luetzelschwab meets keep asking for training on areas of the law they are uncomfortable with due to lack of exposure or knowledge, she said. Rather than offering the same educational videos on multiple websites that attorneys have to dig for, compiling those resources into one place could be a more effective leverage of resources, she said.
First and foremost, Luetzelschwab said, attorneys are her clients. Litigants and quality of experiences are the products she offers them.
"So I need to make sure that my clients, the attorneys, are happy and get the products they want and the experience they want," she said, "and that they come back."•
Please enable JavaScript to view this content.