Faith Alvarez is an attorney at Lee Cossell & Crowley LLP in Indianapolis. Her practice focuses on wrongful death, serious injury and civil rights. She also provides legal help to pregnant women, and she can speak Spanish.
She's also on TikTok as @alvarezlegal, where she has 13,700 followers.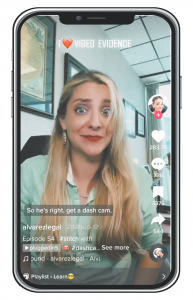 "I actually just used it as kind of a creative outlet and it kind of morphed into something a little bit more," Alvarez said.
Alvarez joined TikTok because her kids are on it and an intern helped her come up with ideas. She's one of several Hoosier attorneys who have turned to the popular app to bolster their creativity and business development.
"Maybe people haven't ever talked to you before and they're like, 'Oh my gosh, I watch your videos,'" Alvarez said. "It's such an odd experience to have your more scholarly colleagues watch you on social media."
Controlling the narrative
Alvarez describes herself on TikTok as a "legal nerd" who is "suing you with a smile." Her videos cover a variety of legal topics, including several recent videos addressing the abortion debate.
For Alvarez, taking to TikTok has put her in the unexpected position of attending conferences and being recognized not for her work on a case, but for her videos. Some attorneys will ask her for the "secret" to her social media success.
Alvarez doesn't necessarily have a good answer to that question. She said it's a mixed bag as to the type of people who comment on her videos — which can be a helpful case study.
"I feel like interacting with people in my comment section is a way to really get a feel for how a jury might react to a certain situation or a certain case or a certain issue that we're dealing with, because it's something that maybe a layman would be more concerned about that I would miss doing just a legal analysis," she said.
For Alvarez, the key to TikTok success is authenticity. She's also bullish about controlling the narrative about her online self.
"You can try and stay off of Google or you can try and control the content about yourself on Google," she explained. "I like to publish, publish, publish, and I can control what other people know about me."
Advertising opportunities
As a young lawyer, Dylan Mroczek (@dylanrmrcoczeklaw) has turned to TikTok as a way to advertise himself. He was admitted to the Indiana Bar in October 2021 and now practices family law, personal injury and criminal record expungements at Kirk Freeman Law in Lafayette.
"I thought it was a way to get engagement and kind of draw a little bit of attention toward my law practice and get clients," Mroczek, who has 302 followers, said. "There's not a lot of ads on TikTok like there is on Instagram and Facebook. It was just something new and I thought it was kind of exciting."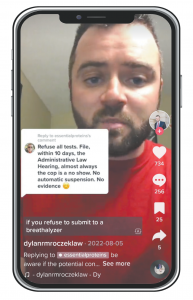 Like Alvarez, Mroczek uses TikTok to discuss legal issues related to his practice areas. His videos range in topic from what to do if you're involved in an auto accident to what to avoid during a divorce to how much a personal injury case might be worth.
Mroczek said he has gotten more emails from potential clients since he's started his TikTok than he used to, and he receives a lot of messages on the app from people with questions.
"I seem to get more questions regarding child custody than anything else," he said.
Mroczek said he didn't know what to expect from the app when he opened his account. Now, he uses it more than any other social media platform.
"It's been around for a few years, but it hasn't been around as long as Facebook and Instagram, so I didn't really know what to expect," he said. "It seemed easier to get engagement on TikTok than it has been to get engagement on Instagram.
"I've had some success with it so I would probably recommend it," he added.
Making connections
Sarah Brinkley (@brinkleylaw) has also had success using TikTok, boasting more than 42,000 followers and thousands of views.
Brinkley has her own firm, Brinkley Law, located in Indianapolis with satellite locations in Evansville and South Bend. Her practice areas include business, personal injury, expungements
and defense.
"Posting on TikTok was initially uncomfortable, as I was raised with the belief to never share information online," Brinkley said. "The very thought of filming myself talking and posting it online was cringe."
But her older brother encouraged her to try the app, and she eventually gave in.
"Now I really enjoy it. I feel like I am making a difference by posting videos about the law on TikTok," she said.
One thing Brinkley has learned is that posting consistently drives better engagement.
"You never know how people will react to content, but I've certainly implemented strategies to help my page grow," she said.
Both Alvarez and Brinkley have been able to connect and become friends with other attorneys using the platform. In fact, Brinkley has even connected with a professional mentor.
"I met Paul Wallin on TikTok," she explained. "Paul is a very successful attorney out of California. He is someone I hold in high regard. He has become a good friend and mentor."
Staying safe
While TikTok can be an effective tool for growing a law practice, the attorneys advise taking steps to ensure online safety.
Brinkley, for example, hired a marketing firm that deactivated her Instagram account because the firm could not verify the identity of a person accessing it.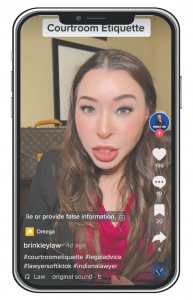 Brinkley suggests that other attorneys who want to use social media conduct in-house training or engage a company that specializes in the legal industry.
"These general marketing companies typically lack an understanding of the ethical obligations that lawyers have in regard to disseminating information to the public," she said.
Brinkley herslf has established a training program with Legal Assistants of America. The program is aimed at teaching legal assistants about the ethical considerations of managing social media for law firms.
For her part, Alvarez advises would-be TikTokers to weigh the cybersecurity risks before diving in.
'I don't think TikTok is safe per se, but nothing is, right?" she said. "So I think everyone would have to do their own kind of risk analysis before venturing into that land."
Ethical issues
Another element that lawyer-
TikTokers must consider are their ethical obligations.
Cari Sheehan, assistant clinical professor of business ethics and law the Indiana University Kelley School of Business, has taught a course through the Indiana State Bar Association on the ethical issues that may arise when using TikTok, specifically.
One issue attorneys must consider, Sheehan said, is creating an attorney-client relationship online.
"Did you create one, even unknowingly? You can create one unknowingly, if you give that advice because you don't have to have a written contract, except in certain circumstances, to create an attorney client relationship," she said.
Advertising rules — specifically Rules of Professional Conduct 7.1-7.5 — are also at play.
"Ultimately what ends up happening is a disciplinary complaint gets filed because someone's unhappy, and it's usually that person that you didn't realize you created the relationship with," Sheehan said.
Still, Sheehan said there are vast benefits to being on TikTok.
"It's unparalleled to any other medium attorneys can advertise in," she said.•
Please enable JavaScript to view this content.