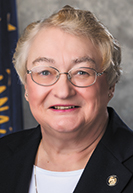 For decades, Indiana GOP lawmakers have promised their constituents that, given the chance, they would ban abortion. But in the first week of a special session, the legislators are learning that saying what they are going to do is easier than actually doing it.
Senate Bill 1, the proposed measure that would prohibit all abortions with limited exceptions in the state, was unveiled three business days before the legislators returned to the Statehouse for an interim session that was originally called to provide tax relief for Hoosiers. Senate President Pro Tem Rodric Bray, R-Martinsville, acknowledged the issue was "much more complex than it may have seemed at first."
Through the first two days of testimony that included personal stories of abortion, readings of scripture and analyses by physicians and attorneys, none of the pro-abortion and anti-abortion advocates spoke in favor of the bill. By the time the Senate Rules and Legislative Procedure Committee amended and sent the measure to the Senate floor on a 7-5 vote, even bill author Sen. Sue Glick, R-LaGrange, wasn't happy with it.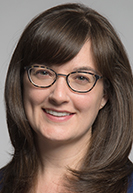 Indiana is the first state legislature in the country to tackle abortion in the post-Roe era. The process has attracted national attention as protestors have filled the Statehouse hallways and spilled onto the street while Senators have grappled with the bill's language and struggled to understand their opponents' views.
"It's almost like we're watching them think out loud and assess and pull together a coalition to pass the bill," Elizabeth Nash, principal policy associate for state issues at the pro-abortion Guttmacher Institute, said.
Prior to the U.S. Supreme Court ruling in Dobbs v. Jackson Women's Health Organization that ended the constitutional right to terminate pregnancies, 13 states had "trigger" or conditional laws in place that automatically banned the procedure if Roe v. Wade was overturned. Indiana never enacted such a law, which surprised some national groups.
Ryan McCann, executive director of the anti-abortion Indiana Family Institute, explained the General Assembly rejected a trigger law because the state's constitution could have actually delayed the law from taking effect. Indiana has a provision that prohibits state laws from being dependent on the enactment of a law by Congress or a ruling by the U.S. Supreme Court.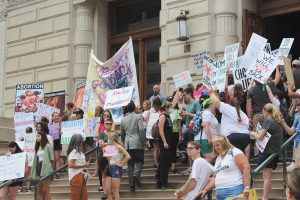 Looking at that provision, some argued opponents had the grounds to mount a constitutional challenge to a trigger law, which could have delayed any prohibition against abortion from taking effect for a significant period of time.
"We could be stuck in litigation …," McCann said. "Or, instead, we could come back for special session and get away from that constitutional issue altogether and just pass a public policy at that point on that issue."
62 amendments
Currently, Indiana law allows women to have an abortion up to 20 weeks postfertilization. The original version of SB 1 prohibited all abortions except in cases of rape, incest and to prevent "substantial permanent impairment" to the life of the mother.
Anti-abortion groups were immediately critical. Advocates said they were disappointed the bill defined pregnancy as starting when a living fetus implants in a woman's uterus rather than holding that life begins at conception. Also, model legislation offered by the National Right to Life Committee limited the exceptions to only preventing the death of the pregnant woman, called for criminal penalties and civil enforcement, and prohibited anyone outside of the medical profession from selling or distributing abortion-inducing drugs.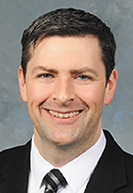 Peter Breen, vice president and senior counsel for the Thomas More Society, said SB 1 is "significantly flawed in the legal language" and undermines the anti-abortion interests of the legislators. He maintained Indiana lawmakers can look to the model legislation and laws in other states for help in crafting an abortion ban.
"You have a strong majority of legislators who have committed repeatedly to take a pro-life position on the issue of abortion," Breen said. "The bill drafted (in its original form) does not meet the commitment made by those Indiana legislators over the years."
Pro-abortion groups and physicians who testified in the Senate said the bill would have far-reaching, harmful consequences.
Kerry Hyatt Bennett, chief legal counsel for the Indiana Coalition Against Domestic Violence, opined that the ban would not apply to all women equally. Those with means might be able to travel to a state that allows abortions while those with limited resources could be forced to carry the pregnancy to term. More children could be born into poverty, she said, and women in abusive relationships could be at a higher risk of being killed by their abusers.
"There's going to be a lot of ugly," Hyatt Bennett said, opining that Indiana will see an increase in drug and alcohol abuse, suicides, domestic violence, familicide and feticide as a result of an abortion ban. "I hope (Indiana legislators) are prepared for that."
When the bill arrived on the Senate floor for second reading, 62 amendments were filed. Democrats unsuccessfully pushed to limit the restrictions by removing the prohibition on using telehealth for abortions and by allowing pregnancies to be terminated up to 20 weeks postfertilization.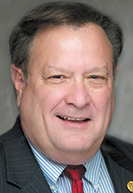 A series of amendments offered by Sen. Mike Young, R-Indianapolis, sought to tighten the restrictions. The lawmaker — who reportedly resigned from the Republican caucus over disagreements about the abortion ban — included an amendment that would have permitted a pregnancy to be terminated only to save the life of the mother.
Young told his colleagues, "… all we need is 24 people with the courage to stand up for what they believe in." However, after an extended debate, 18 Republicans joined Democratic lawmakers in defeating the amendment 28-18.
Promises made
The Senate on Saturday advanced SB 1 on a 26-20 vote, which sends the bill to the House.
McCann said he is hopeful the representatives will amend the language to make the measure more anti-abortion.
The source of his optimism is the scramble that followed the 2015 passage of Indiana's Religious Freedom Restoration Act, which was widely seen as allowing religious-based discrimination against certain groups. In that case, legislators passed "a fix," which then-Gov. Mike Pence signed, in a single day, so McCann said he believes quick action is also possible with SB 1.
He said he sees the difficulty that lawmakers are having as a natural consequence. With the Dobbs ruling, they need to dramatically shift their mindset.
"For the last 50 years, we've been under Roe v. Wade and been very limited on the policy implications thereof, and that's changed," McCann said. "It's only been a few weeks and they're trying to wrap their mind around that, and (legislating) in that new environment has been a bit of the challenge for some."
Nash described the struggles in the Indiana Statehouse as the rubber hitting the road. When Roe was in place, lawmakers could call for a ban and pass bills that created more hurdles for women seeking abortions, but they never had to actually detail how they would craft a law that completely outlawed the procedure.
"There's a sense that the public is not as interested in banning abortion as these legislators thought," Nash said. "So they're confronting that reality, as well. They're trying to appease their base and appease the greater public and that's very hard to do when you're talking about an abortion ban."
But Breen, highlighting the realities of the politics of abortion, said lawmakers have to honor their campaign pledges.
"If you've made a promise to your constituents … and you put it out there that you are pro-life, not keeping that promise it likely going to be more harmful than keeping the promise," Breen said. "Even if a majority of folks in your district may not like your position on the issue, they're going to appreciate that you are good to your word."•
Please enable JavaScript to view this content.