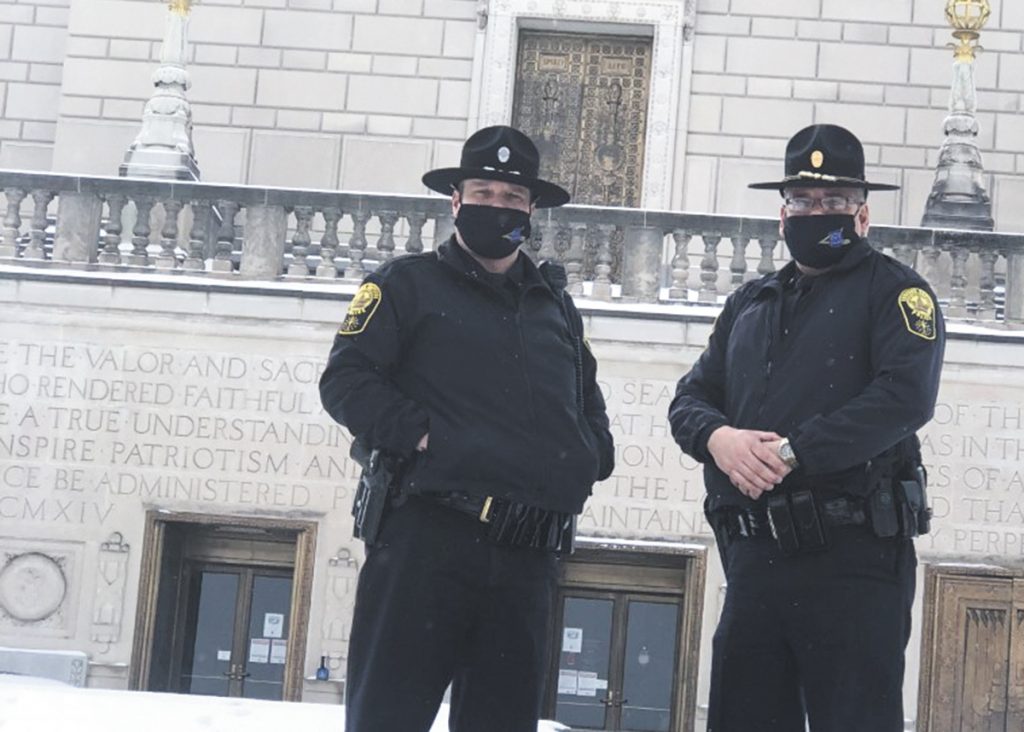 The lobby of the Indiana Government Center North is quiet. A few parents enter with their toddlers headed for a first-floor daycare, but otherwise the halls are mostly empty.
It wasn't always like this. Pre-pandemic, the government center was a bustling hub for state agencies at 9:30 a.m. on a Thursday. That's just one way life has changed in 2020 for Indiana's Capitol Police officers, the force charged with safeguarding the government center and other Indianapolis landmarks.
Sgt. Terry Cheever and Officer Ryan Imel are on duty this morning. They arrive promptly in uniform, ready to start their patrol of Indiana's capital city.
The Jan. 6 attack on the U.S Capitol put a spotlight on the U.S. Capitol Police force. Now, on a snowy February morning, Cheever and Imel have agreed to let Indiana Lawyer shadow them for a day.
Knowledgeable about their force and state history, Cheever and Imel are proud to be part of Indiana's law enforcement elite. Asked why they joined the Capitol Police instead of another branch of law enforcement, both give the same answer: When you're a Capitol Police officer, you feel like you are doing something especially important for your fellow Hoosiers.
Making the team
Without notes, Cheever recites the history of Indiana's Capitol Police.
Formed in 1888, the force in July 2002 merged with Indiana State Police, an arrangement that remains today. The force is responsible for protecting about $1 billion in Indianapolis properties, which includes the Government Center North and South, the Indiana Statehouse, the governor's residence, the Indiana World War Memorial and various downtown parking garages, among others.
The officers serve at major Indianapolis events such as the Indiana State Fair and the Indianapolis 500, though Imel notes the pandemic has made downtown feel like a "ghost town." They've got a bike team and a K-9 unit, and they have the power to enforce all state laws.
Joining this team is a highly selective process. Qualified applicants must pass a physical test, oral interview, polygraph/psychological tests, background investigation, fitness examination/psychological evaluation and a review by the police superintendent.
Next is the Recruit Academy. When Imel joined the force 17 years ago, he spent seven weeks on ISP training followed by 15 weeks at the Indiana Law Enforcement Academy in Plainfield.
Finally, a successful recruit will be placed on probation for one year before getting a permanent appointment.
A Fort Wayne native, Imel was part of the Allen County Reserve for three years before taking a job with Navistar. After more than four years working his "regular job," he decided to return to law enforcement. His wife, Megan, is also on the Capitol Police force.
Cheever has been a Capitol Police officer for 13 years. He had family members in law enforcement, and his great-grandfather was a judge, so service was in his blood.
Looking for a more stable job than what he had been working, the now-sergeant landed on law enforcement. He initially worked at the downtown Indianapolis Arrestee Processing Center before joining Capitol Police.
Foot patrol
Taking the government center elevator down to the basement level, Cheever and Imel begin their Feb. 18 patrol by heading for the Indiana Statehouse.
It seems simple enough to cross the pedestrian-only section of Senate Avenue to reach the Statehouse, which sits directly across the street from the Government Center North. But when the snow is piling up and the temperature is going down, the underground tunnels are best.
Indianapolis' downtown tunnel system connects various buildings including both government center buildings, the Statehouse and the Indiana State Library. It's an intricate system that Cheever describes as its own little city.
As Capitol Police officers, Cheever and Imel move freely through the tunnels, greeting lawmakers and other security guards they pass. Without missing a turn, they arrive in the basement of the Indiana Statehouse and head upstairs to the Renaissance Revival atrium.
"It's quiet," Cheever remarks, and Imel emphatically agrees. The Indiana General Assembly is in session, but with the House of Representatives moved to the government center and social distancing precautions still in place, the hustle-and-bustle of a constitutional republic under the Statehouse Rotunda is missing.
Still, the officers remain vigilant. They stop at a public entrance where a contract security contingent is stationed. "Need anything?" Cheever asks. "I'm good," a guard replies.
Part of the reason Cheever and Imel chose the Capitol Police is because of the history interwoven in the job. That includes the history of the Statehouse, where they proudly show off the original, handwritten copy of the Indiana Constitution. If the document is taken out of its secure case, Capitol Police officers must be on hand to escort it to its destination.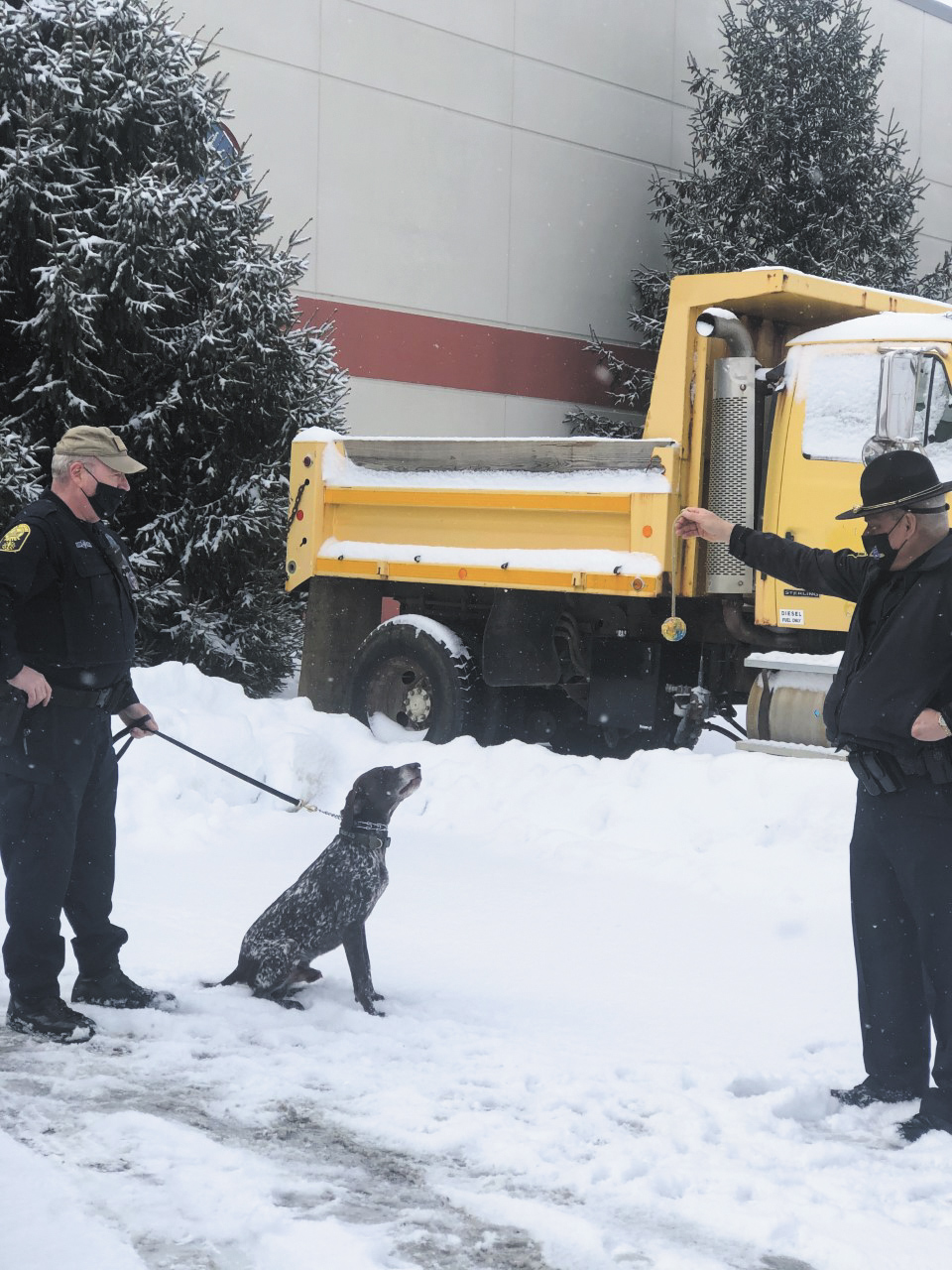 On the road
Descending back to the Statehouse basement and returning to the tunnel, Imel and Cheever head for the sergeant's car. The tunnels lead them back to the government center campus and to a parking garage, where a royal blue Dodge Charger waits.
Inside is a laptop and a control system. A snowstorm blew in overnight, so the police radio frequently tells of vehicles sliding off the road.
One of Cheever's first stops is at the Indiana Department of Administration, which houses Fleet Services at a building off of McCarty Street. This is where officers can come to have their official vehicles serviced.
Standing outside building is Cpl. David Poynter and K-9 Rex, a 3-year-old German shorthaired pointer. Poynter explains he chose Rex to join the force's bomb squad because hunting dogs tend to have the right temperament to deal with the public.
Rex is excited this morning. The snow is falling, but that doesn't faze him — he's laser-focused on the toy Cheever dangles above his head. The dog is happy to see the other officers, too, jumping on Imel.
"Hey, this was a clean uniform!" Imel jokes.
Back in Cheever's car, the officers make the rounds, driving by the Eiteljorg Museum and the Indiana State Museum. On days they are assigned to those buildings, Cheever says, they stop inside and check in with contract security officers. Various buildings are assigned to different officers on different days, he explains.
In the nearby White River State Park, Cheever recalls a particularly memorable day on the job: A drunken driver drove his vehicle through some bike racks and ended up in the canal. A dive team was dispatched and the canal had to be checked to ensure the vehicle had not leaked any fluids. Luckily, no one was hurt.
"That happened about one hour after you relieved me," Imel reminds Cheever, relishing in his good luck.
Their patrol continues through other downtown destinations, including the War Memorial on Michigan Street. Cheever is particularly excited to stop here — the basement museum is free and full of history.
In fact, Imel says, the museum features real guns that have been used in wars dating to the American Revolution. Some of them even still fire — that's why an officer is stationed at the memorial 24/7.
Back on the main floor of the memorial, Imel and Cheever get permission to take the antique elevator up to the Shrine Room. There, a massive American flag hangs just below a sparkling chandelier and just above an empty tomb knonw as the Altar of Consecration. The officers fall respectfully silent.
Community outreach
As they drive from place to place, Imel and Cheever discuss their work. Cheever enjoys the importance of the job, which can include protecting VIPs such as former Indiana Gov. and U.S. Vice President Mike Pence. Imel enjoys seeing the different types of people who come downtown.
Often, Imel is tasked with the unofficial duty of interfacing with homeless people who are found on Capitol Police properties. He works with the Indianapolis Metropolitan Police Department's team dedicated to serving the homeless. As they drive the city streets, Imel points out spots where homeless camps are commonly found.
While a student at Ivy Tech Community College, Imel studied human services with a focus on mental health. That helped him develop interpersonal skills, he said, which translate to his work with the homeless.
When Imel comes across a person who is homeless, he'll ask if they'd like help finding housing. Often the answer is no, he says — and for varied reasons — so he'll ask them to simply keep their area clean. In the winter, he says, it's most common to find people in parking garages.
If someone is interested in getting help, though, Imel will make a call to the right organization. Some of his proudest days come when a citizen who was formerly homeless finds stable housing.
"It's a public area," he said, noting downtown businesses can become frustrated with the homeless population. "They have a right to be there."
A higher calling
As law enforcement, Cheever and Imel have an inherently dangerous job. Imel recently was called to an active shooter situation, though thankfully it was a false alarm.
But when danger strikes, the officers are motivated by their call to service.
"I feel like I'm doing something important," Imel says, "something crucial."•
Please enable JavaScript to view this content.