Editor's note: This story corrects the contestants in the LaPorte County judicial race.
Although the results of the United States presidential race were delayed well beyond Election Night, Hoosiers learned the winners of several state and local races soon after the polls closed as Republicans secured their grip on state and federal offices.
Notably, Republican Gov. Eric Holcomb easily won reelection within an hour of polls closing across the Hoosier State. Not long after, Indiana was called in favor of President Donald Trump, awarding its 11 electoral votes to the Republican president.
Other races, however, took longer to declare a winner.
The most hotly contested U.S. House race in the state — the battle between Republican Victoria Spartz and Democrat Christina Hale for Indiana's 5th Congressional District — was not over until late Wednesday, when Spartz was declared the winner.
Spartz, currently a state senator, claimed victory on Election Night, but Hale, a former state representative, declined to concede then. At the time, more than 100,000 votes from Marion and Hamilton counties had not been counted.
Spartz will succeed retiring Congresswoman Susan Brooks, keeping the District 5 seat for the Republican Party. Though the race between Hale and Spartz had been closely watched as an opportunity for Democrats to add to their House majority, Spartz's victory maintains the GOP's 7-2 advantage in Indiana's congressional delegation.
In January, she'll join Democrats Frank Mrvan and Andre Carson and Republicans Jackie Walorski, Jim Banks, Jim Baird, Greg Pence, Larry Bucshon and Trey Hollingsworth on Capitol Hill. Mrvan was elected to the northwestern Indiana seat vacated by longtime Democratic Rep. Pete Visclosky.
In the Indiana Statehouse, the Republican Party retained its supermajority in both chambers. The Indiana Senate saw one upset, with Democratic newcomer Fady Qaddoura unseating Republican incumbent John Ruckelshaus in a district representing northern Marion County and southern Hamilton County.
In the Indiana House of Representatives, Democrats lost five seats while Republicans lost one, according to the New York Times. Sitting Democratic representatives Ross Deal (Mishawaka), Chris Chyung (Dyer), Lisa Beck (Lakes of the Four Seasons), Melanie Wright (Yorktown) and Terry Goodin (Austin) lost to Republican challengers, while Republican Rep. Cindy Kirchhofer (Indianapolis) was unseated by Democrat Mitch Gore.
State court results
Indiana's trial courts also saw turnover on Election Night. Notably, Clark Circuit Court 1 Judge Andrew Adams, running as a Democrat, was defeated by Republican former Clark Circuit Judge Dan Moore.
Adams was one of three Hoosier judges suspended for their roles in a May 2019 early-morning brawl that resulted in Adams and Clark Circuit Judge Bradley Jacobs being shot. Crawford Circuit Judge Sabrina Bell was also involved in the incident, as was alleged shooter Brandon Kaiser and his nephew, Alfredo Vasquez.
Adams served a 60-day suspension and also pleaded guilty to misdemeanor battery related to the downtown Indianapolis shooting. Jacobs and Bell were each suspended for 30 days.
Jacobs was unopposed and re-elected while Bell was not on the ballot.
In other competitive Indiana trial court races, a few sitting judges were turned out and several new jurists were elected to fill court vacancies. Elsewhere around the state, according to unofficial vote totals: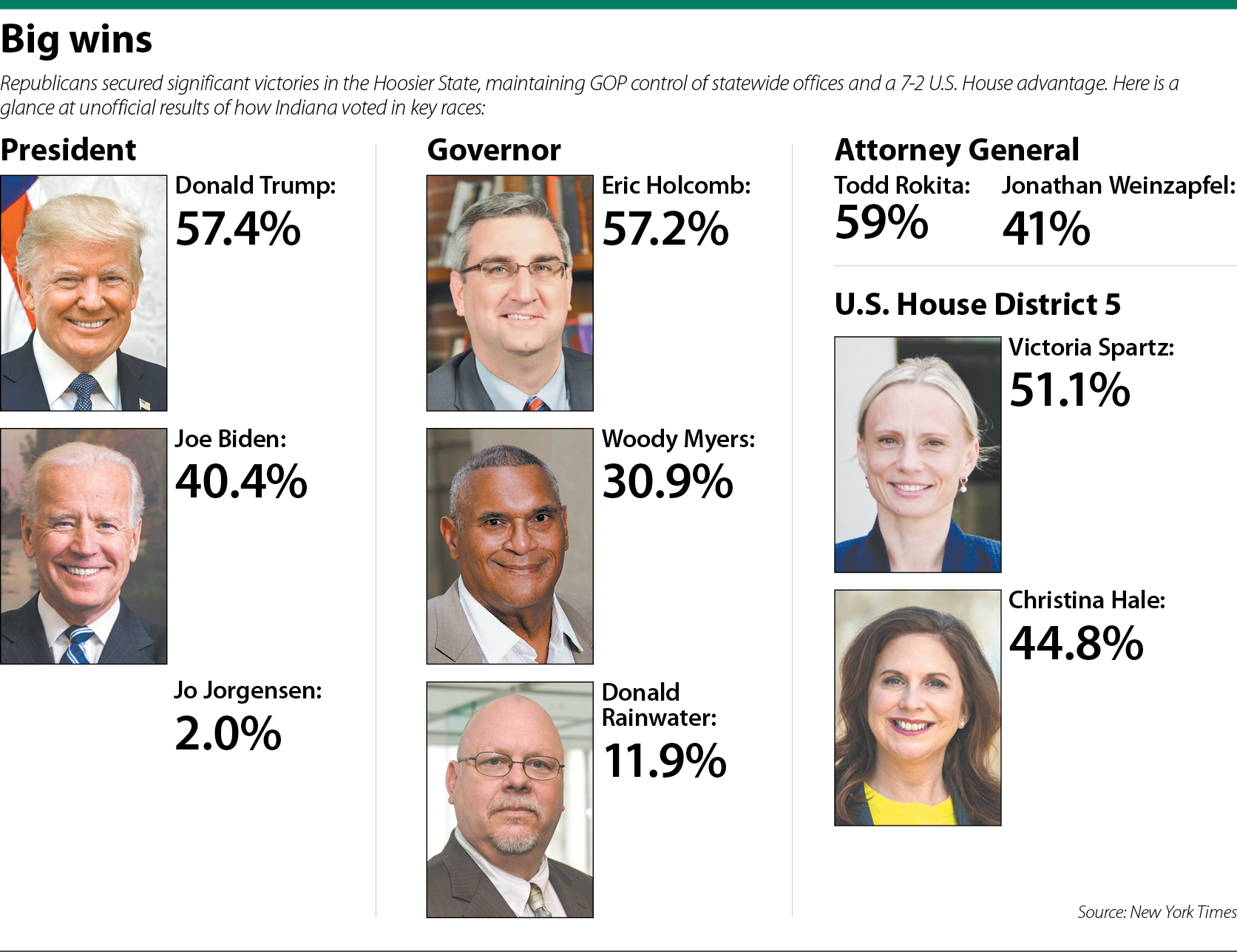 In Porter County, voters tossed out Superior Court 4 Judge David Chidester in favor of Republican challenger Christopher Buckley, according to results posted by the Times of Northwest Indiana. Meanwhile, Republican Mike Fish defeated Democrat Matt Soliday in the race to succeed Porter Superior 1 Judge Roger Bradford, a Republican who is retiring as Indiana's longest-serving trial court judge. Voters also returned Republican Porter Circuit Judge Mary DeBoer to the courthouse in Valparaiso. She handily defeated Democratic challenger Mitch Peters.
In Madison County, Democratic Madison Circuit Court 2 Judge G. George Pancol lost to Republican challenger Stephen J. Koester. Voters meanwhile elected Republican Scott Norrick in Madison Circuit Court 5 over Democratic challenger and Elwood City Court Judge Kyle Noone. Norrick will succeed retiring Democratic Judge Thomas Clem. Voters also returned Madison Circuit Court 4 Judge David Happe to the Anderson courthouse, as he turned back a challenge from Democrat Rosemary Khoury.
In Tippecanoe County, a different Republican named Dan Moore was elected as the first judge of Superior Court 7, which opens in January. Moore defeated Democratic challenger Jacque Chosnek, the Journal & Courier of Lafayette reported. In the race to succeed retiring Judge Laura Zeman, Republican Matt Sandy beat Democrat Matthew Boulac. And despite telling voters that because of health issues he would not serve if reelected in Superior Court 1, Republican Randy Williams defeated Democratic challenger Bryan Coulter.
In LaPorte County, Republican challenger Jaime Oss defeated Democratic Superior 1 Judge Michael Bergerson.
In Adams County, independent Sam Conrad defeated Republican Judge Patrick Miller in the race for Superior Court.
In Floyd County, Republican Carrie Stiller defeated Democrat Matthew Lorch in the race to succeed outgoing Floyd Superior Court 1 Judge Susan Orth. Republican Superior Court 2 Judge James Hancock defeated Democratic challenger Chelsea Stanley.
In Jefferson County, Republican Blaine Goode defeated Mary Jean Stott to succeed Superior Court Judge Michael Hensley.
In Kosciusko County, Republican Chad Miner defeated Democrat Anthony Garza and will fill the seat vacated by Superior Court 3 Judge Joe Sutton.
In Orange County, Republican Debra Sue Andry beat Democrat Susan McDonald Umprey and will succeed Judge R. Michael Cloud.
These judges won reelection in other contested Indiana trial court races:
In Dubois County, Democratic Circuit Judge Nathan Verkamp defeated Republican challenger Kevin Crouse.
In Spencer County, Democratic Circuit Judge Jonathan Dartt turned back a challenge from Republican Victor Ippoliti.
Retention votes
Lastly, seven Indiana appellate judges faced a retention vote Nov. 3. All appellate judges must sit for retention in the first general election after they have served two years, then every 10 years after that.
This year, Indiana Supreme Court Justice Christopher Goff, Indiana Court of Appeals Chief Judge Cale Bradford, and Court of Appeals judges L. Mark Bailey, Melissa May, Margret Robb, Elaine Brown and Elizabeth Tavitas were each on the ballot. In each Indiana county where data was available at IL deadline, all seven judges received favorable retention votes.
Likewise, voters retained all superior court judges who faced retention votes in Allen, Lake, Marion and St. Joseph counties.•
Please enable JavaScript to view this content.