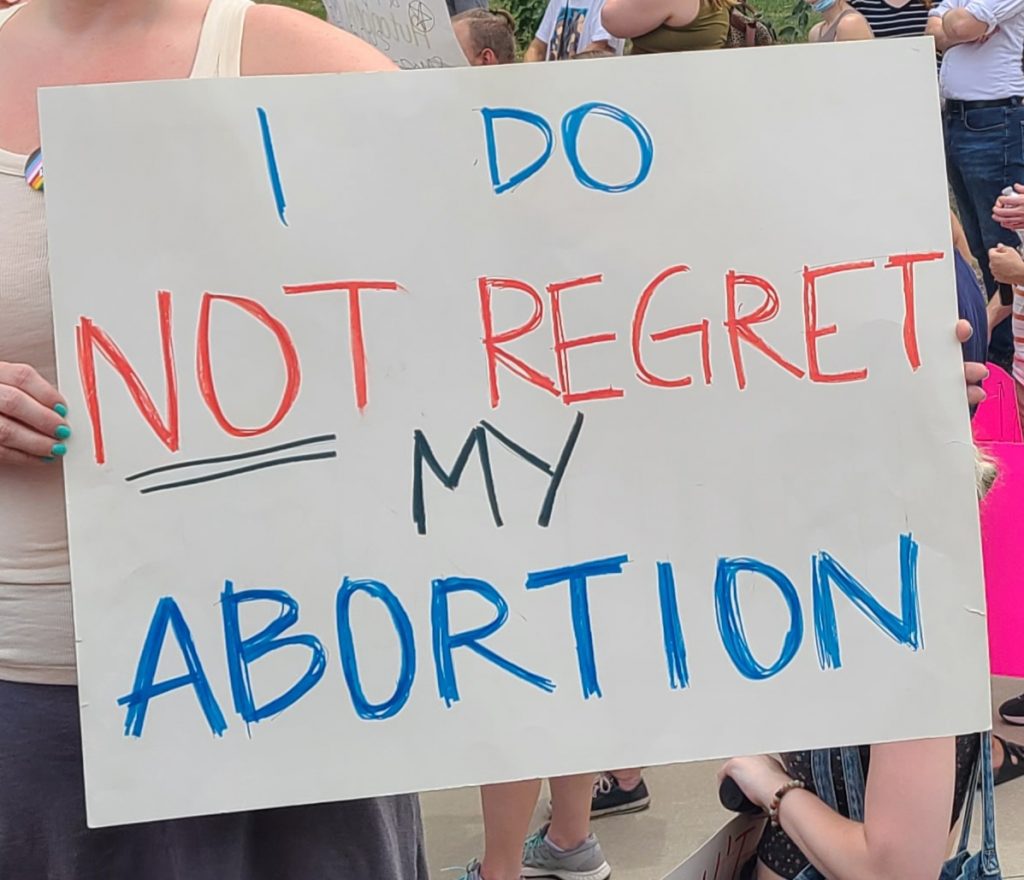 Standing on a step above the massive crowd of pro-choice supporters, Andrea Straley felt she was in a safe space to hold a sign that stated the secret she had carried for more than 20 years: She had an abortion.
The Indianapolis nurse had handwritten the message, "I do not regret my abortion," on white poster board because, she said, she wanted to help not only other women who had made the same choice but also show the decision to terminate a pregnancy is not black and white.
Straley was a 17-year-old high school senior living in a rural community when she became pregnant. Twenty-three years later, Straley said she thinks about her abortion every time she gets her period. But, she said, becoming a mother would have made her "very resentful."

"It was not what was best," she said of having a child as a teenager. "It was not best for me and it surely wouldn't have been what was best for the child."
As the reality of the U.S. Supreme Court's decision in Dobbs v. Jackson Women's Health Organization sets in for Straley and others invested in the abortion debate, states are beginning to assess their next moves.
Indiana lawmakers plan to convene for a special session on July 25 to address abortion. Meanwhile, Hoosier health care providers and attorneys are scrambling to answer questions about where they fit into the mix and what it will mean to be compliant in a landscape without Roe v. Wade.
Getting access
Women seeking abortions in Indiana are 26 years old on average, according to researchers at Indiana University and Ibis Reproductive Health. Of the nearly 500 pregnant women surveyed from June 2021 to May 2022, 52% already had one to three children.
One in four women traveled out of state to receive an abortion, according to the survey, with about 70% of those women going to Illinois. Others cited child care and travel costs as major burdens.
Straley said she sought an abortion because she would not have been able to provide and care for a child. Going to college and pursuing a career in the medical field would have been impossible, and her relationship with her parents might have become strained at a time when she would have needed to rely on them.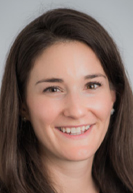 Heidi Moseson, an epidemiologist and Ibis researcher, said she was shocked to see the difficulties survey takers experienced in seeking access to abortion care in Indiana. Moseson said she's concerned that the Dobbs decision will mean more pregnant Hoosiers will struggle or fail to access abortion care. She also said a chilling effect could impact prenatal care access in communities where services are scarce.
"We see that disproportionally fall on people in rural counties, people struggling to make ends meet, burdens of cost, etc. We just anticipate these harms amplifying," she said.
Lack of early prenatal care is a key risk factor in infant mortality, according to the Indiana Department of Health. In 2020, 30.7% of Indiana women did not receive early prenatal care in the first trimester. Among Indiana's pregnancy-associated deaths in 2019, 46.7% of women accessed prenatal care in the first trimester.
When it comes to finding an OB-GYN, 34 of Indiana's 92 counties lack a hospital with inpatient delivery services, according to a 2021 Indiana Maternal Mortality Review Committee study.
Indiana defines an abortion as "the termination of human pregnancy with an intention other than to produce a live birth or to remove a dead fetus." Under current state law, abortions can only be performed within the first 20 weeks "postfertilization."
Telemedicine abortions are prohibited. Someone seeking an abortion in Indiana must be given counseling regarding their decision at least 18 hours before the abortion.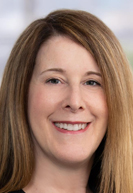 Indianapolis health care attorney Jennifer Fouts Skeels of Hall Render Killian Heath & Lyman P.C. said she's been receiving calls from clients across the health care continuum in the wake of Dobbs. Most, she said, are primarily trying to figure out what the decision requires of them.
"The answer to that is that Dobbs itself does not compel or prohibit any action; instead, the practical result of Dobbs is that providers must review the laws of each state in which they practice or have operations," she said.
Skeels said OB-GYN, emergency and primary care services are most likely to be immediately affected. Issues involving abortion will also become increasingly complex in the telehealth space when treatment is facilitated by health care providers licensed in multiple states, she said.
"At present, those providers seem most interested in their obligations to provide care in emergent or urgent situations," she said. "For example, those providers are asking if there are medical interventions they are now prohibited from undertaking under their states' laws regulating abortion."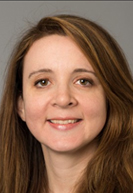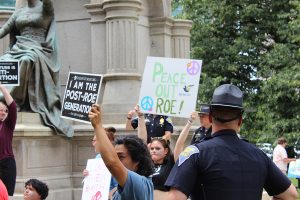 Uncertainty over how to address critical moments in a high-risk pregnancy have providers in the country on edge, said Dr. Caroline Rouse, a maternal fetal specialist with IU Health. Indiana currently has abortion exceptions for women who became pregnant through rape or incest, or if an abortion is necessary to prevent the woman's death.
Rouse spends most of her time working with Hoosier women facing high-risk pregnancies. She said her clinics stay busy with patients who have serious preexisting medical conditions and pregnancies involving fetal anomalies that are incompatible with life. As an abortion provider, Rouse said there are a variety of medical reasons behind terminating a pregnancy.
With every patient she works with who faces an increased risk of maternal mortality, Rouse discusses the risks to the mother and fetus, as well as continuing the pregnancy.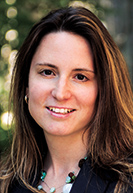 "I have had patients who terminate the pregnancy and I have had patients who continue with the pregnancy," she said. "And I have had patients who have continued with the pregnancy and who have died."
Reconsidering precedent
With Roe effectively dismantled, opponents of that decision are grappling with concerns that other landmark issues could also be at risk.
Justice Clarence Thomas in a concurring opinion in Dobbs suggested that the Supreme Court "should reconsider all" of its substantive due process precedents in the future. That includes the 1965 decision in Griswold v. Connecticut permitting married couples to access contraceptives.
Indiana University Maurer School of Law professor Jody Madeira said she thinks Thomas is implying that some are precedents in jeopardy.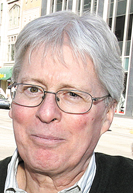 "In some sense, Thomas … is being intellectually honest, perhaps more intellectually honest, than (Justice Brett) Kavanaugh because at least (Thomas) is saying, the logical consequence of this holding is getting rid of all of these other decisions, which is absolutely the case," Madeira said.
"Right now it's very disingenuous to believe that these matters will be left as they are," she continued. "When we have a Supreme Court justice warning us about what will happen, then we should heed that warning."
Terre Haute attorney Jim Bopp Jr. disagreed, stating instead that he doesn't believe additional rulings are at risk.
"Not because of Dobbs," Bopp said. "Now, Thomas said he would like to reconsider on the basis of those rulings, but he is only one justice. None of the others joined his opinion."
Bopp characterized the Dobbs decision as being "outstanding" and "solidly grounded in traditional constitutional analysis." He opined that Roe was "a right looking for a basis," which made it vulnerable.
"It was always built on shifting sands," Bopp said, "and the sands shifted every time the court struggled to find a place for it."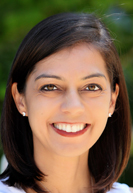 Dr. Tracey Wilkinson, an IU Health assistant professor of pediatrics, said she hopes that Hoosier women will not lose access to health care options that she says do not cause abortions, like birth control.
"I do think that when things like Plan B or (intrauterine devices) or any type of birth control get thrown into these conversations, it's incredibly dangerous, because the amount of misinformation that's out there could be devastating for access (to health care)," Wilkinson said.•
Please enable JavaScript to view this content.