A formal robing ceremony will be held Thursday evening for the newest Lake County judge.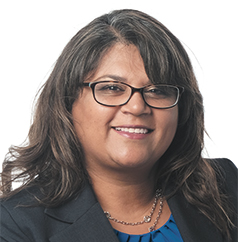 Judge Rehana Adat-Lopez was appointed in February to the Lake Superior Court. She was formally sworn in on March 31, and the Lake County Bar and Women Lawyers Association are hosting a robing ceremony Thursday at The Halls of St. George in Schererville.
Indiana Gov. Eric Holcomb selected Adat-Lopez to fill the vacancy left by Judge Diane Ross Boswell, who died unexpectedly in October.
Adat-Lopez, the first judge of Asian descent to be appointed in Lake County, was chosen from a pool of 12 candidates to succeed Boswell, which the Lake County Judicial Nominating Commission reduced to five finalists. 
Adat-Lopez is the former director and attorney for the Lake County CASA program and a graduate of Valparaiso Law School. She has also served as a team member for the Family Recovery Court.
Prior to her role with CASA, she worked as an attorney for the Indiana Department of Child Services. She also has experience practicing as an attorney in private firms and as a solo practitioner.
To kick off the robing ceremony, cocktails and live music will begin at 5:30 p.m. CT, followed by a dinner at 6:30 p.m. The recognition and robing ceremony will begin at 7 p.m., conducted by LCBA President Alfredo Estrada and WLA president Kelly Kopulos.
Adat-Lopez's appointment came as controversy has surrounded the process for selecting superior court judges in northern Indiana.
Last year, Holcomb signed into law controversial legislation that changed the composition and requirements of the Lake County JNC, as well as the commission in St. Joseph County. The measure drew opposition about removing attorney and minority input from the judicial selection process in two counties with high minority populations.
Please enable JavaScript to view this content.