Almost a year after being sworn into the judiciary, a robing ceremony was held for Indiana Court of Appeals Judge Leanna Weissmann on Thursday.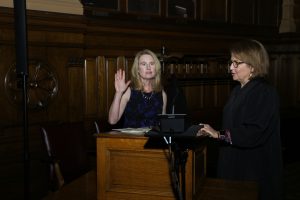 Weissmann was joined by colleagues, family, and friends at the Statehouse in the Indiana Supreme Court courtroom for her investiture. Chief Justice Loretta Rush administered the oath, and Weissmann's husband, Bob, and children, Drew, Chris, and Lauren, assisted in the robing.
Weissmann was appointed by Gov. Eric Holcomb to the seat vacated by now-Senior Judge John Baker. Holcomb selected Weissmann from a group of three finalists, which also included Vigo County Judge Lakshmi Reddy and New Albany attorney Lisa Reger.
Court of Appeals Chief Judge Cale Bradford administered a private oath on Sept. 14, 2020, to allow Weissman to officially begin her duties prior to this year's ceremony.
Before joining the Court of Appeals, Weissmann maintained a solo law practice in Lawrenceburg. During her extensive career, she briefed more than 400 appeals and participated in more than 20 oral arguments before the Indiana Court of Appeals and the Indiana Supreme Court. In addition, Weissmann also ran a pro bono program through her appellate practice website that allowed Hoosiers to apply for free legal representation.
"Her skills as an appellate lawyer are unmatched," Judge James Humphrey, who serves Dearborn and Ohio County courts, said during the ceremony, adding that everyone in Southeastern Indiana always wanted Weissmann on their team first.
During his remarks, Holcomb said it's no surprise that Weissmann is so respected among her peers, and that she will make Indiana proud for years to come.
"Judge Weissmann is the perfect example of the talent and ethos in our judiciary," Holcomb said, adding that she's the first appellate judge from Southeastern Indiana in almost two decades.
Also speaking on behalf of Weissmann was John Maley, a partner with Barnes & Thornburg. Maley said he has known Weissmann since she was a first-year law student 30 years ago, and that she has always been a high-character individual.
Weissmann said Thursday's celebration was a day of "thanks and reflection," crediting several men and women who have played major roles in her career.
The appellate judge said she wished she could go back and talk to her 9-year-old self at the public library in Aurora, who was probably reading "Nancy Drew," and explain to herself that every person's success in life doesn't have one author.
"Everyone's life involves other people. Some write sentences, or paragraphs, or chapters," Weissmann said. "I wish I had known the story of success isn't one writer. Everyone in this room wrote a sentence, paragraph, or chapter in my life."
Weissmann said that Baker planted the seed of becoming a judge almost a decade ago when he called her asking if she had ever considered applying for a judiciary position.
She also acknowledged that Aug. 26, the day of her ceremony, was Women's Equality Day. Weissmann, who is the 10th woman to serve on the Court of Appeals, said that individuals like retired-COA Judge V. Sue Shields have made a profound impact on advancing  women's representation in law. Weissmann mentioned that when she was born, only 6% of attorneys in the state were female and women weren't truly yet represented in the judiciary.
Weissmann also talked about each of her immediate family members in attendance, who she credited for much of her success.
The event ended with a reception outside the courtroom.
Please enable JavaScript to view this content.