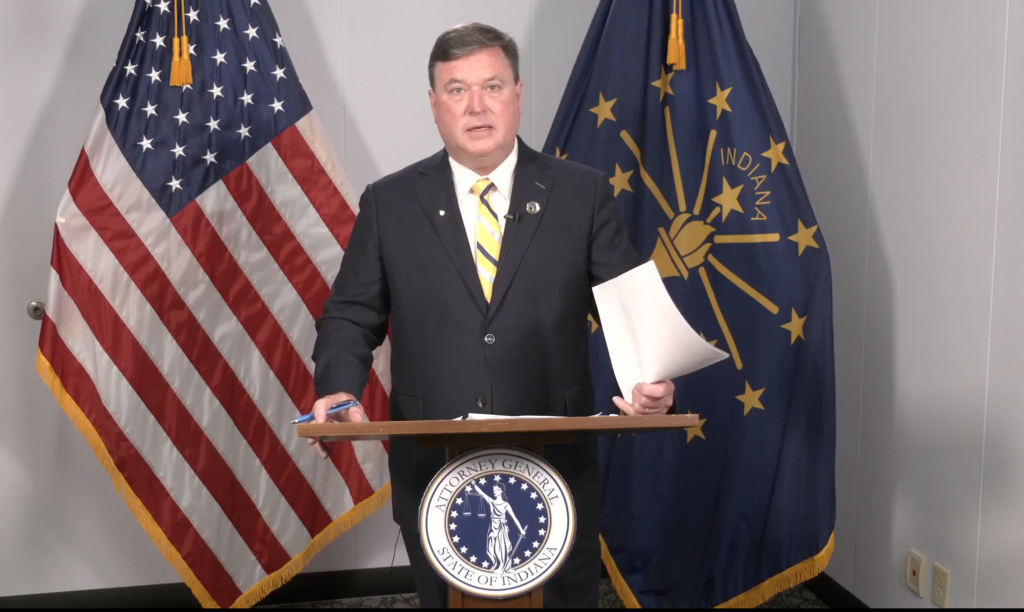 Editor's note: This article has been updated with comments from Dr. Caitlin Bernard's legal team.
The Indiana abortion doctor who is suing Indiana Attorney General Todd Rokita is now facing a complaint against her medical license filed by Rokita's office.
The attorney general announced Wednesday that he has filed an administrative action against Dr. Caitlin Bernard before the Indiana Medical Licensing Board. The action alleges Bernard, who works for Indiana University Health, violated patient privacy and abuse reporting requirements in her treatment of a 10-year-old girl from Ohio, for whom Bernard performed an abortion.
"First, the physician failed to uphold legal and Hippocratic responsibilities by exploiting a 10-year-old little girl's traumatic medical story to the press for her own interests," Rokita said in a Wednesday news release. "… Second, she failed to immediately report the abuse and rape of a child to Indiana authorities."
But Bernard's camp hit back against Rokita, calling the complaint a "maneuver."
"The Administrative Action filed today by Mr. Rokita is clearly a last-ditch effort to intimidate Dr. Bernard and other providers of abortion care," Kathleen DeLaney, the Indianapolis attorney representing Bernard, said in a Wednesday statement.
The dispute between Rokita and Bernard began in July, when Bernard told the Indianapolis Star about the 10-year-old Ohio girl, who came to Indiana for an abortion after Ohio changed its abortion laws following the overturning of Roe v. Wade. An Ohio man has since been charged with rape in the girl's case.
Bernard's account in the Star gained national attention, including an appearance by Rokita on the Fox News program Jesse Watters Primetime.
While on the show, Rokita announced he was investigating Bernard for alleged privacy and reporting violations — the same violations that now underpin the administrative action against her medical license. He later said his investigation was fueled by consumer complaints made against Bernard.
Bernard claimed those complaints were bogus and filed a lawsuit alongside her medical partner, Dr. Amy Caldwell, to stop investigations into the complaints.
Rokita, however, said in the administrative complaint filed Wednesday that his office "received multiple consumer complaints pertaining to Respondent's statements made in the media on or about July 1, 2022, including a complaint from another medical profession, specifically a Doctor of Osteopathic Medicine."
The attorney general attached six consumer complaints to the administrative complaint against Bernard's license. The names of the complainants are redacted, but one complaint includes information indicating the individual is a doctor.
That complaint reads, "From news stories I was made aware that apparently Dr. Bernard has failed to report sexual abuse in a child. The report was that a colleague in Ohio contacted her to set up an abortion for a 10-year-old girl, which so far as any of the news organizations can determine, was not reported in Ohio either. I am a retired Emergency Department Physician and am appalled that no report of this egregious crime (has) been submitted. I am in hopes that your department is investigating this lapse on Dr. Bernard's part in this sad situation. If Dr. Bernard had been lying about this case to the News Media, I find that highly unethical and therefore question whether there are other instances that need to be looked into."
Bernard and Caldwell's lawsuit went to an emergency hearing earlier this month to try to stop Rokita from accessing patient medical records as part of his investigation into the consumer complaints. Bernard testified at the hearing that the Star became aware of the Ohio girl's case after overhearing her discuss it with a colleague at an abortion rally.
She also testified that she did not personally report the situation to Indiana law enforcement, but she did report it to the IU Health social work team after speaking with the Ohio referral doctor days before the minor patient arrived in Indiana. Additionally, she said Ohio law enforcement and child services were already investigating the case before she agreed to perform the abortion.
Further, in a Wednesday news release, Bernard's legal team said "her employer has verified she followed her legal duty and the Attorney General himself conceded she did not fail to report the Termination of Pregnancy as he had initially claimed."
"The evidence and testimony from last week's hearing confirmed that Dr. Bernard complied with all reporting requirements, cooperated with law enforcement officials, and discussed a case example in a de-identified way, within the bounds of applicable privacy laws," DeLaney's statement said. "Mr. Rokita is doubling down on the frivolous consumer complaints by referring them to the licensing authorities.
"Though I am disappointed he has put my client in this position," DeLaney added, "we are not surprised given Mr. Rokita's efforts to use his office to seek to punish those with whom he disagrees at the expense of Indiana taxpayers."
Rokita — who is a public anti-abortion advocate — also referenced the hearing testimony in the administrative complaint.
"Following investigation efforts and Respondent's sworn testimony in open court, Petitioner has obtained sufficient evidence to support an administrative complaint establishing that Respondent had violated her professional obligations as a licensee," he wrote. "Specifically, Respondent failed to obtain written authorization to release the minor's medical information, violating (HIPAA) and state privacy law, and failed to immediately report suspected child abuse to local law enforcement in Indianapolis or the Indiana Department of Child Services."
In a statement, he added, "This case is not about whether an abortion was performed. It also is not about the Office exposing anyone's medical file. Those were arguments designed to thwart our investigation into the physician's behavior.
"As the Office of the Attorney General, it is our duty to ensure that doctors meet the standard of care," Rokita continued. "In our opinion, Dr. Bernard fell short in this situation. Now, it is up to the Medical Licensing Board to determine whether there are consequences for violating a patient's privacy rights and the obligation to immediately report child abuse to Indiana authorities."
Please enable JavaScript to view this content.