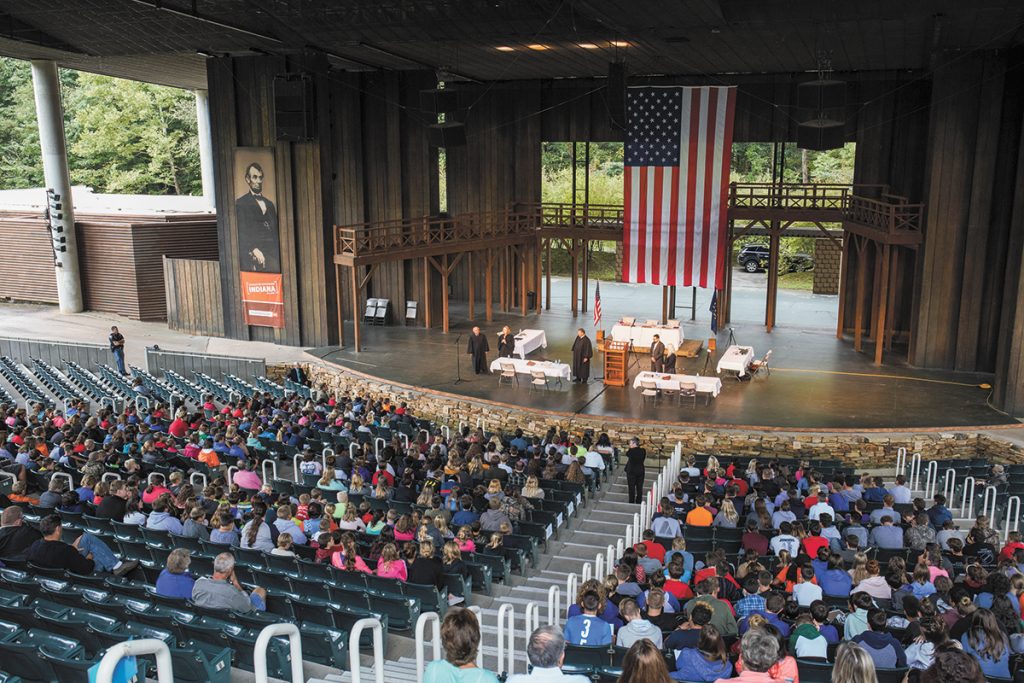 As a college student, Indiana Court of Appeals Judge Nancy Vaidik didn't know she wanted to become a lawyer until a deputy prosecutor visited one of her classes.
"I never thought about being lawyer, and the next thing you know, that became my goal," Vaidik recalled. "It really helps young people make career choices by showing them what the choices are."
Now that the Indiana Court of Appeals has completed its mission of hosting oral arguments in each of Indiana's 92 counties, Vaidik — whose term as chief judge ended Dec. 31 — reflected on the importance of promoting civic education and showing Hoosiers young and old the opportunities available to them.
Not many people understand what an appellate court does, the former chief said, and not many can afford to travel and witness the judicial process in action. The solution, then, is to meet them right where they are.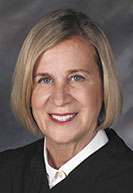 "We are not the ivory tower that they might have an impression of," Vaidik said. "That's not who we are. We are there having a real argument, doing our job in front of them."
PHOTO GALLERY: Click here to view a gallery of Appeals on Wheels photos.
Just two weeks shy of its two-year goal, the Court of Appeals in December wrapped up its pursuit of visiting every county through its Appeals on Wheels program. The final step was the case of Michael Scanland v. State of Indiana, 19A-CR-790, heard in Pulaski County on Dec. 10.
Introduced during the appellate court's centennial in 2001, the traveling program has ventured statewide to high schools, colleges, law schools and other venues, promoting civics education by inviting local communities to observe how the appellate judiciary works.
In total, Appeals on Wheels hosted 88 oral arguments between 2018 and 2019. That number far exceeds prior years of 20 or 30 arguments heard on the road, Court of Appeals communications director Ashley Reed said. Meeting the milestone, Reed said, is a historic moment for the state's lower appellate court.
"We made a concerted effort in the last two years to hit every county. It was important to me as chief judge to hit every county in the state," Vaidik said. "It feels wonderful."
Well-oiled machine
Preparing for traveling arguments is a multistep process, Reed explained. As the coordinator of each argument, she schedules and communicates with counties, host venues and local communities. Each venue is provided with a guide to set up a mock courtroom, and a law clerk is provided to serve as bailiff.
After a date is set, Reed reaches out to appellate judges interested in sitting on the traveling panel, and the Court of Appeals selects an argument that would be best suited to the location, audience and community. For example, students might be more interested in search and seizure cases, Reed explained, while older audiences might be interested in disputes from the Indiana Utility Regulatory Commission.
When it is time for arguments, each judge travels from their respective locations, and Reed accompanies them with the required video equipment, microphones and robes in tow.
"It's a process. But we do have it down to a science at this point," Reed said. "It takes a lot of resources on the court's end, but we feel very strongly about this program and teaching the community about civics education."
Engaging audiences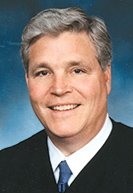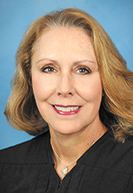 Judges John Baker and Melissa May agree their favorite part of participating in Appeals on Wheels is engaging with students.
Whether at a high school or college, Baker said he is impressed with the young people who attend the arguments. As a former collegiate educator, he recalled being concerned with his then-students' civics knowledge.
"I think this type of program makes students more aware of the different branches of government and the limitation of checks and balances," Baker opined. "The statistics about people's general knowledge of civic education is pretty abysmal. There are a lot of different programs to help civic education, and we are just an adjunct of that."
For her part, May said getting out from behind her desk in Indianapolis allows her to meet with Hoosiers she couldn't normally interact with. Plus, being able to answer students' questions not only better informs them of the judiciary's role, but also opens their eyes to career possibilities, she said.
"Most of the students that are in school have limited knowledge of what the criminal justice system does and how (the judiciary) fits with the other branches of government," May said. "This gives them a really good view of what the judiciary branch does and to explore how they may want to be involved with it in the future."
During her years on the traveling panels, May said the Appeals on Wheels program has had its share of road bumps, but nothing unmanageable.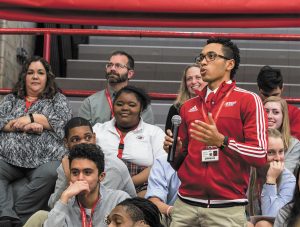 "We had an oral argument in a retirement home where all of the microphones failed. That was eye-opening experience," she recalled with a laugh. "We've had robe mess-ups, sound systems fail and all sorts of things that can go wrong. But we've never had a situation where we haven't persevered and overcome the difficulties that can appear any time you have live performances."
Baker, who calls himself a frequent flyer in the Appeals on Wheels program, has a particular interest in traveling to counties where he went to school and grew up, specifically Marshall and Monroe counties. Even so, he enjoys going anywhere.
"It gives us an opportunity to show people what we do and, quite frankly, what we don't do," Baker said. "There are no witnesses or jurors — we're just reviewing the process that happens in county courthouses every day at the trial level."
"It's just a cool experience," Reed added. "A lot of people throughout their life don't get to sit in a court hearing."
Traveling on
Moving into a new year and new leadership — Judge Cale Bradford has been selected as the COA's new chief — Vaidik said there's no question in her mind that the Appeals on Wheels program will continue.
"It's a commitment to do this," Vaidik said. "Our main job is writing opinions in a prompt and timely manner, but we have a number of road warriors who are on the road a lot. Life is sheltered here in the Statehouse, and we don't get out much.
"It's so good to get out and see people and talk to them about what we love and our job in the law."
May agreed, adding that she doesn't plan to stop sitting on the traveling panels anytime soon.
"As long as you have the attorneys, who are willing, and us, who are more than willing, I think the program will continue to be strong and grow," she said. "If there is an oral argument and I can get it in my calendar, I'm going."•
Please enable JavaScript to view this content.