Indiana Chief Justice Loretta Rush has tested negative for COVID-19, the Indiana Supreme Court said in a statement Tuesday, a little more than three weeks after she disclosed she had tested positive for the disease.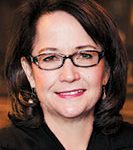 Rush "is continuing to work remotely," court spokeswoman Kathryn Dolan said in a statement. "She is under the care of a doctor and is grateful to be on a continued path of recovery."
Dolan noted that Rush joined the court for remote oral arguments Sept. 24, in City of Bloomington Board of Zoning Appeals v. UJ-Eighty Corporation, 19A-PL-00457, a case concerning zoning violations for a property that had been used as a fraternity house at Indiana University before IU withdrew recognition of the fraternity.
Rush briefly addressed her diagnosis with her colleagues and attorneys participating from afar. "I just want to thank all the well-wishers I've had, all the cards, notes and encouragement," she said, reading from one of her favorites in which a well-wisher said, "Clearly the Supreme Court doesn't live in the ivory tower as legend would have it."
"COVID-19 can present some challenging conditions, some I have been working through the last two weeks," Rush said, "and I can tell you I'm very pleased to be here today."
Rush also announced during that time that the court would conduct all oral argument remotely at least through November.
Please enable JavaScript to view this content.