Indiana Chief Justice Loretta Rush next week will present the 2020 State of the Judiciary, the Indiana Supreme Court announced Friday.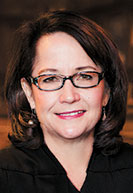 Rush will address Gov. Eric Holcomb and a joint session of the Indiana General Assembly at 2 p.m. Wednesday, Jan. 15, in the chamber of the Indiana House of Representatives. The chief justice is required to provide lawmakers with an update on the "condition of the courts" according to Article 7, Section 3, of the Indiana Constitution. Rush's address will take place the day after Holcomb delivers his State of the State address.
Rush's 2020 address will focus on Indiana's judicial branch connecting, convening, and collaborating with communities. Chief Justice Rush will address the addiction epidemic, pretrial and criminal justice reform and supporting families.
During last year's address, titled "Addressing the Needs of our Customers," the judiciary offered its plans to emphasize quality customer service to court users in 2019. The chief justice highlighted the state's improving court technologies through electronic filing, discussed the opioid crisis and reiterated a plea for additional annual funding for civil legal aid.
Indiana trial and appellate judges will also attend next week's address, wearing traditional black robes. The event will be webcast live at www.courts.in.gov.
Please enable JavaScript to view this content.