Scott County Prosecutor Chris Owens has been named the newest chairman of the Indiana Prosecuting Attorneys Council Board of Directors.
Owens was voted in as the new IPAC board chair during IPAC's annual summer conference, the organization announced Tuesday.
Owens, who has served as prosecutor for Scott County since 2017, will serve as chair of the board for a one-year term.  He succeeds outgoing IPAC board chair James "Brad" Landwerlen, the Shelby County prosecutor.
Owens has served for the last year as vice chair of the board of directors, which is comprised of 10 elected prosecutors evenly split between Republicans and Democrats.
Other officers elected to the board include Vicki Becker of Elkhart County, who was named vice chair, and Erika Oliphant of Monroe County, who was named secretary.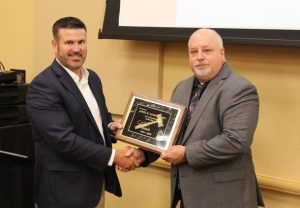 "It's an honor to be elected to this position by my peers," Owens said in a statement. "There are a lot of important items that the Board will be tackling in the area of public safety and criminal justice in the coming year and I'm confident we'll be able to meet those challenges."
Other prosecutors elected to the IPAC board include Andrew Bryson (Union County), Daniel Hampton (Kosciusko County), Landwerlen, Jeremy Mull (Clark County), Anthony Quinn (Dubois County), Wesley Schemenaur (Jay County) and Steven Sonnega (Morgan County).
Please enable JavaScript to view this content.