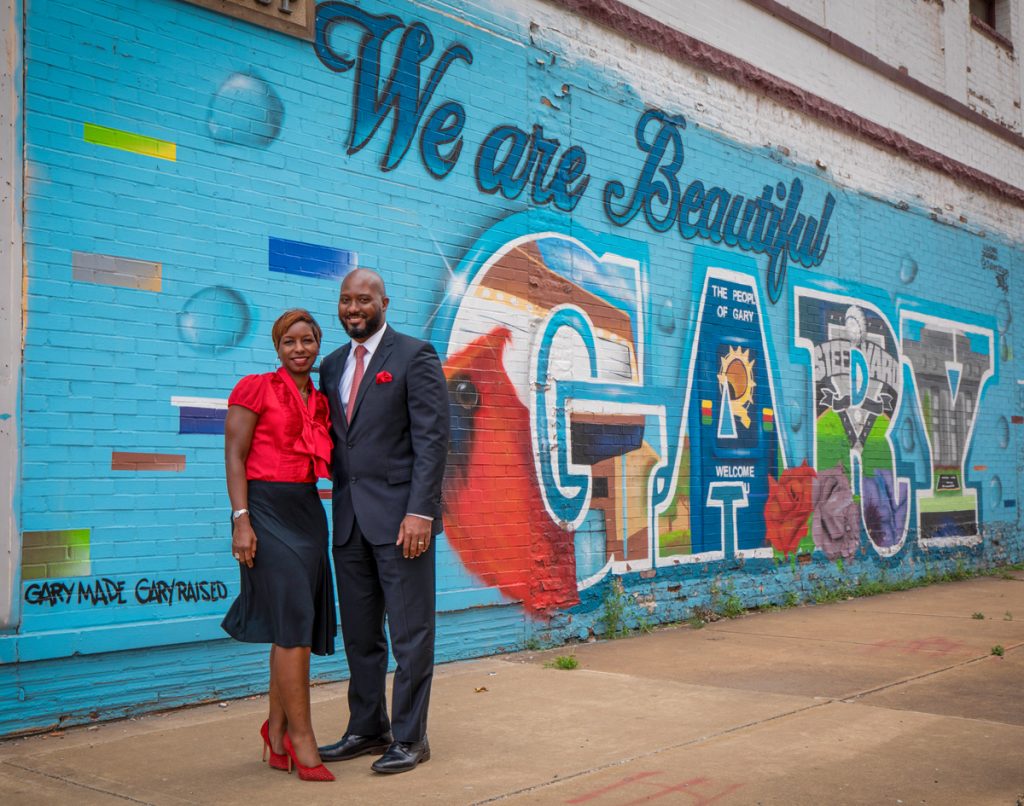 Michael Tolbert's turn to lead the Indiana State Bar Association could not have come at a more challenging time.
Having led multiple local bar groups, the Gary native takes the helm at the ISBA during a time of pandemic and persistent racial inequities that at times have put the law and lawyers on the defensive. Tolbert, though, is relentlessly optimistic, finding hope and taking comfort in faith and in the words of great poets.
"My overall message to members during these troubled times is 'unity,'" Tolbert said in a Q&A with Indiana Lawyer. "The great American poet Gwendolyn Brooks once said, 'We are each other's harvest; we are each other's business; we are each other's magnitude and bond.' More so than ever, we must work together to find solutions to the problems faced by Indiana lawyers as a result of the pandemic. At the same time, lawyers must remain relevant by being altruistic and a credible voice of reason in the fog of dissension."
Tolbert's predecessor, Leslie Craig Henderzahs, led ISBA's responses through much of the tumult of 2020. "Mike has integrity through and through," she said. Citing his long involvement with the ISBA and his local bar groups, Henderzahs called Tolbert a "tremendous leader" who is "courageous and thoughtful — one who can view all aspects of an issue."
Tolbert is half the namesake of the Gary law firm Tolbert & Tolbert, shared with his wife, Shelice. Friends since childhood, they both graduated from Valparaiso School of Law in 2000 and in 2015 fulfilled their dream of opening their own firm.
"He has his finger on everything," Shelice said of her husband and law partner. "I don't know that his mind rests." She said the two complement each other — both litigate personal injury cases, but they also cover unique bases. She, for instance, handles estate planning cases while Michael handles mediations.
"The way he's wired and his personality allows him to be very fluid and adapt and think outside of the box," she said.
Here are Michael Tolbert's thoughts as he prepares to lead the ISBA.
Q. Your term as ISBA president comes amid a pandemic, a focus on systemic racism and other huge challenges. What is foremost on your mind, and what is your message to members?
A. Helping Hoosier lawyers is always my primary goal. This year has been tough, not just for Indiana lawyers, but for lawyers all across the country. The ISBA, as the largest legal organization in Indiana, should set the pace. We must continue providing our members much-needed support. Fulfilling our goal of helping ISBA members thrive professionally and personally is more important than ever.
The ISBA has always been an industry leader that other bar associations across the country look to for innovative ways to help lawyers in their respective states. For example, the Reopening Your Practice handbook the ISBA COVID-19 Recovery Taskforce created for members was picked up by several other state bar associations, each tweaking it for their purposes. This is just one example of how Indiana was a national leader.
The general public must be able to count on Indiana lawyers to speak truth as it relates to the pressing legal issues of the day. However, we must be unified in our approach, and not divided.
The ISBA has established an equity task force looking at key issues including legislation that disproportionately impacts people of color, policing, improved access to civil courts and mentorship of people of color. How do you see this important work playing out?
In the wake of racial unrest in our country and under the great leadership of Leslie Craig Henderzahs, I am very proud of the creation of the ISBA's Equity and Inclusion Task Force. The group is made up of some of the brightest minds in our association and was intentionally formed to represent many different perspectives. The task force was charged with identifying key inequities in the legal system that ISBA is in a position to address. This task force will provide much-needed information and action steps to our longstanding Diversity Committee.
The task force will also support our advocacy efforts in the legislative arena. For many years, the ISBA has been blessed to have Paje E. Felts serve as the legislative counsel. Mrs. Felts serves as the ISBA's dedicated lobbyist. She monitors key legislation for the association and works with ISBA members and groups to provide input on that legislation. The task force will play a monumental role in providing the ISBA with valuable information helpful in analyzing key legislation of which the association is requested to provide comment. Currently, four subgroups of the task force have been formed, one to address each of the four areas mentioned in your question. The working groups will each identify specific action items which ISBA can address and implement over the next few years. The ISBA has set aside money in its budget to support the suggested action steps of the task force. It's important to note that our plan is not to focus on quick fixes, but long, enduring changes. This won't happen overnight — we're committed to these issues over the long haul.
What most gives you hope about the ISBA as the organization navigates difficult times?
The members of this great association give me hope. During these very challenging times, I have watched Indiana lawyers step up and say, "How can I help?" They've devoted countless volunteer hours to the ISBA and their respective communities. At the beginning of the pandemic, the ISBA formed a COVID-19 response team that assisted the governor in implementing many of the orders and guidelines necessary to get all Hoosiers back on track safely. Also, the ISBA staff is simply amazing and first-class. Through the great leadership of executive director Joe Skeel, the ISBA is always on the cutting edge of innovation and goes beyond the call of duty to support its members.
Lastly, the ISBA has always made sure to have a strong pipeline of leaders ready to take the torch and execute the mission of the association. Over the years, the ISBA Leadership Development Academy has trained young lawyers to become leaders. The seeds planted by the leadership academy will undoubtedly bear good fruit — not only in the ISBA leadership ranks, but in communities across Indiana.
Challenging times are known to present unexpected opportunities. What opportunities do you see arising for lawyers?
Napoleon Hill, a world-renowned self-help author, believed that "every adversity, every failure, every heartache carries with it the seed of an equal or greater benefit." For the last five to 10 years, the legal profession has been under attack by nonlegal service providers. Their message was simple: We can deliver legal services more efficiently and cheaper than lawyers. Nonlegal service providers used technology as their weapon of choice to disrupt the legal profession. In contrast, lawyers have always been resistant to change and did not generally embrace technology as a cost-saving tool — until now.
COVID-19 has forced lawyers out of their comfort zones. For the first time, lawyers have had to take a critical look at innovative ways to deliver legal services efficiently. Although the pandemic has not been pleasant for lawyers or their practices, it has offered the opportunity to capture that seed of greater benefit, which is the streamlining of legal services for the benefit of the client. The end result will be to stave off the disruption of the legal profession by nonlegal service providers.
For example, COVID-19 restrictions have completely disrupted the alternative dispute resolution practice area of mediation. Many mediators have gone completely virtual, with the use of Zoom technology, with no plans of ever returning to in-person mediations. Mediators no longer have to pay the enormous cost of a brick and mortar building, which many times resulted in a pass-through expense to litigants. Likewise, lawyers who participate in mediations no longer incur the high cost of travel, which in most cases was billed to the client. COVID-19 has really streamlined this practice area for the benefit of lawyers, but more importantly, the client.
The ISBA has a Future of the Provision of Legal Services Committee dedicated to exploring innovative, cost-efficient ways to deliver legal services. Through this committee, other opportunities will be explored to assist Indiana lawyers in realizing the unexpected benefits of practicing during a pandemic.
You have been a leader in multiple bar organizations. How will your prior leadership experience guide you in leading the ISBA?
God has really blessed me with the opportunity to be a part of many great legal organizations. I have served as the president of the Lake County Bar Association, the James C. Kimbrough Bar Association (twice) and the Porter County Inns of Court, respectively. What I learned in leading those great organizations is teamwork. Serving as president of the ISBA is only one minor spoke in a very complicated wheel. Without all the other spokes (members, staff, volunteers), you do not have a functioning wheel capable of rolling forward. If my prior experience has taught me one thing, it's that no organization goes anywhere without a strong team of volunteers, staff and servant-leaders all working toward one common goal. This concept acquired from my past experience in other legal organizations will shape the way I approach my new role with the ISBA. Teamwork makes the dream work!
What are some of the things you most enjoy about practicing law with your better half?
My wife, Shelice, is the smartest, hardest-working lawyer I know. She has been my best friend since the seventh grade and I just really enjoy carrying out what we believe is God's mission for our lives. Since we were kids, we always had a passion for our hometown of Gary and service to our community. I enjoy showing up to our Gary, Indiana, law office every day knowing that I have a life and business partner who shares my same love for God, passion for the legal profession and commitment to community service. It is truly a beautiful thing, and I literally have to pinch myself every day to confirm that I am not dreaming.
How do you persuade nonmembers to join the ISBA, especially younger lawyers?
The ISBA offers a variety of affordable professional development programs (including a library of free-for-members CLE) and networking events for all members, particularly for young lawyers as they begin the journey of building their practice and brand. Assisting new attorneys to connect with other practitioners has always been a primary focus of the ISBA. Without young lawyers, our legal profession and the ISBA would die. For this reason, the ISBA offers a Young Lawyers Section (YLS) solely dedicated to helping new lawyers navigate their way through the practice.
All ISBA members who have practiced 10 years or less are eligible for YLS membership. As a member of the YLS, young lawyers have access to its e-discussion list and the opportunity to create lifelong relationships with leading legal professionals.
You are forthright about how your faith guides you not just in your life but in your profession. How does that manifest in your career and in leadership?
Everything I have accomplished (and continue to accomplish) in life is because of God's mercy and grace. Without God, nothing would be possible. Every morning, I read Psalms Chapter 23 of the Bible. The first verse states, "The Lord is my shepherd, I lack nothing." God has equipped us with each and every tool we need to be successful in any situation because his word says we lack nothing. This promise is what drove my wife and me to open up a vibrant law firm in a place where most people are scared to do anything, let alone open a business. This promise also is what fuels me in every leadership seat God has allowed for me to occupy. God will not put you anywhere to fail. He provides us with everything. We lack nothing.
What's one thing about you that you'd like ISBA members to know?
My dream is to one day win an Oscar for "Best Screenplay." I love rich storylines, so be nice when I meet you. Or you might be an angry character in one of my screenplays.•
— Compiled by Dave Stafford and Olivia Covington
Please enable JavaScript to view this content.