Although the Legislative Council rejected a request to study the topic of providing attorneys to children in the child welfare system, Indiana state Sen. Jon Ford plans to keep pushing the matter by convening an independent study group to examine the issue.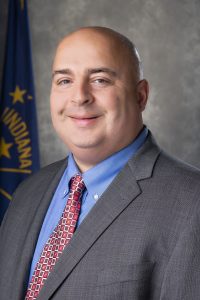 "I believe this lack of legal representation for children in the welfare system is a grave issue that the General Assembly cannot and should not wait to address," Ford said in a news release.
The Terre Haute Republican authored Senate Bill 180 during the 2022 General Assembly session, which would have required lawyers to be appointed to represent minors in child in need of services or termination of parental rights cases. In the Senate, the bill was amended to just requesting that the topic be studied by an interim study committee.
After sailing through the upper chamber with no opposition, the bill stalled in the Indiana House and did not receive a committee hearing. Ford said he and other lawmakers then sent a letter to the Legislative Council urging the topic to be assigned to the Interim Study Committee on Child Services.
The Legislative Council did not honor the request and, instead, assigned only one topic the child services committee. In the summer and fall, the committee has been tasked with reviewing reports about child safety submitted by state and local child fatality review teams and by the Indiana Department of Child Services.
Ford said his independent study will include a roundtable at Indiana University Robert H. McKinney School of Law with stakeholders, legislators, judges, local public defenders and others. He said he wants the study to "dive deeper on this issue."
The senator did not give specifics as to when the study would begin and who would be participating.
Advocates assert that direct representation would give a child a voice in CHINS and TPR proceedings. Currently, they have to rely on guardians ad litem or court appointed special advocates, who do not necessarily tell the court what the child wants but what they believe is in the youngster's best interest.
Indiana Disability Rights and A Better Childhood filed a lawsuit that attempted to force the Hoosier State to provide legal counsel. However, the 7th Circuit Court of Appeals dismissed the case, Ashley W., et al. v. Eric Holcomb, Governor of Indiana, et al., 21-3028, concluding judges in the CHINS proceedings could resolve many of the issues raised in the complaint.
In announcing his intention to hold an independent study, Ford noted Indiana is one of 14 states that does not provide attorneys to children in the welfare system. Yet, DCS and parents are all appointed legal counsel.
"It's shocking that our child welfare system provides no legal representation to some of the most vulnerable Hoosiers in our state," Ford said. "I'm hopeful the discussions we have this summer will reveal how we can address this issue and bring legislation forward next session that enables our state to better help children in the welfare system."
Please enable JavaScript to view this content.