SmithAmundsen, which has an office in Indianapolis, has changed its typical recipe for growth and is expanding its capacity by entering into its first combination with an entire law firm, which will place the new entity among the largest 200 law firms in the U.S.
The firm will formally combine with Davis|Kuelthau in Wisconsin on Nov. 1. Operating under the new name of Amundsen Davis LLC, the combined firm will have about 230 attorneys working in 12 offices throughout Illinois, Wisconsin, Missouri, Ohio and Indiana.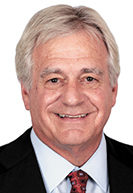 "We're just really excited about it," Steve Stitle, SmithAmundsen chief operating officer, said. "It gives us tremendous opportunity to broaden our bench, put our service offerings in a variety of markets. They've got talent in Davis|Kuelthau that will help us. We're already working together with them."
SmithAmundsen sees the combination with Davis as not only adding to its bench of talent, but also as an opportunity to grow in the practice area of municipal law. Davis represents several cities, school districts and other governmental entities through its municipal law team.
Stitle said that would largely be a new practice area for SmithAmundsen and an area in which the firm would like to grow.
"It's a consistent, solid business cycle," Stitle said of municipal work. "It's a solid business for us going forward. Much the same as we think our business transactional work and our commercial and insurance litigation work … will grow for us."
The combination with Davis is a deviation from SmithAmundsen's usual method of expansion. In the past, the firm has grown by onboarding whole practice groups and attracting lateral hires, but nothing has broached the size of the Davis combination, which will bring 100-plus attorneys and staff.
Stitle said SmithAmundsen decided to combine because Davis was the perfect match. The two firms have very complementary practice groups, and their cultures are identical.
"Culture trumps everything else," Stitle said. "If you can get the cultures together where the attorneys are working together across market lines, then I think you've got a great opportunity."
Continued growth
Law firms around the country, particularly small and boutique law offices, are continuing to merge at a robust pace. According to Fairfax Associates, 37 mergers have been completed through the first three quarters of 2022, which tops the 33 completed by this time last year.
Two firms with Indiana connections are listed on the 2022 combination list. Indianapolis-based Katz Korin Cunningham combined with Louisville, Kentucky-based Stoll Keenon Ogden. Also, Taft Stettinius & Hollister has announced plans to combine with Detroit-based Jaffe Raitt Heuer & Weiss by the end of the year.
Stitle said outside firms are looking at Indiana to see where the opportunities are in the market. However, the desire to merge may be more tempered within Hoosier firms.
"I still think there's an appetite for it but at the same time there's some reluctance to lose that independence," Stitle said. "… You just have to find the right situation like we found with Davis|Kuelthau. It has to all click, and when it clicks it works out pretty well."
Davis has five offices in Wisconsin and about 60 lawyers serving business and municipal clients. Both firms say the combination will help them serve their existing clients nationally and internationally by offering a complete portfolio of business law services.
"Davis|Kuelthau's clients represent the best of the best in Wisconsin business and this combined Amundsen Davis platform will allow us to better serve their needs geographically while expanding the depth and capability offered to them," Joseph Tierney IV, president of Davis, said in a news release. "The synergy between SmithAmundsen and Davis|Kuelthau in our respective service areas, client bases and overall philosophies of the client experience make this combination a fantastic opportunity."
The SmithAmundsen and Davis combination came together quickly. SmithAmundsen already had an office in Milwaukee, and the attorneys at the two firms were familiar with each other, sometimes appearing on opposite sides.
Stitle said the merger started with a conversation between Tierney and SmithAmundsen managing partner Larry Schechtman. They worked together on the details and finalized the deal within several months.
SmithAmundsen arrived in Indianapolis when a group of attorneys from the former Stewart Irwin were scooped up as lateral hires.
Stitles said he expects the firm to continue to grow through its typical method of hiring individual attorneys or practice groups.
"I think we see an opportunity in our five states or more to grow through resource acquisition. We'll continue to add to our strength and … we'll continue discussions every week with potential opportunities for us," Stitle said. "… We still have a need to grow some resources in our practice groups."•
Please enable JavaScript to view this content.