For nearly 40 years, Donald Smith of Riley Bennett Egloff LLP has played on an Indianapolis lawyers' softball league. He hasn't missed a single season since he started as a young attorney.
"I got involved in 1981 when I graduated law school," Smith said. "We put together a team that year, and we've had a team every year since then."
Smith hopes to bring together other young law students for the 2020 season to keep the softball league's longevity alive. At its prime, Smith said the league had three divisions and more than 30 teams consisting of large and small firms. Some divisions were more competitive, others more relaxed.
"We're competitive, but not crazy competitive," Smith said. "I think it keeps people in check because you're playing against people you may see in a case or deal with in other aspects of life."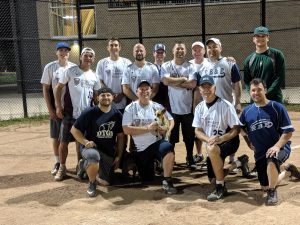 The league, which for years took place at Riverside Park in Indianapolis, is now hosted on Thursday evenings at the Chuck Klein Softball Complex, 4702 Rockville Rd, Indianapolis.
Smith said he would like to have a law school team join the league to promote recruitment on and off the field among attorneys and students. He'd also like to include more law firms in the mix but noted that individuals who want to play are welcome to join without a firm.
"They don't need to have an entire team put together if they are interested in playing," he said. "We'll take individuals or something with a team already together."
Last season, each team paid $600 for fields and umpires. Teams typically have 14 members, and the season runs from mid-May through Labor Day. Law firms and their employees, individual attorneys, law students, law clerks and legal relatives are invited to participate, Smith said.
The emphasis on group activities and sports has declined over the years, Smith said, and he hopes to change that through the lawyer's softball league.
"It's a great way to play some softball," Smith said. "The bottom line is we have a great time."
Those interested in joining the league can contact Donald Smith at [email protected] by April 30 for more information.
Please enable JavaScript to view this content.