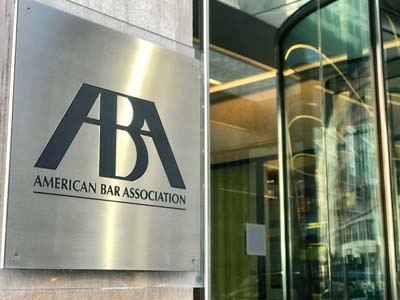 A divided American Bar Association Standing Committee on Ethics and Professional Responsibility released a formal opinion Wednesday seeking to clarify the interpretation of a model rule about self-represented lawyers' communications with represented parties in a case.
ABA Model Rule 4.2, the "no-contact rule," states that "In representing a client, a lawyer shall not communicate about the subject of the representation with a person the lawyer knows to be represented by another lawyer in the matter, unless the lawyer has the consent of the other lawyer or is authorized to do so by law or a court order."
In its Formal Opinion 502, the ABA ethics committee noted that when lawyers represents themselves or proceed pro se in a legal matter in which they are personally involved, application of Rule 4.2 "is less straightforward."
"The rule 'contributes to the proper functioning of the legal system' by preventing lawyers from overreaching, from interfering in other lawyers' relationships with their clients and from eliciting protected information via 'uncounseled disclosure,'" the majority ABA opinion reads.
The majority noted in the formal opinion that it is not possible for a pro se lawyer to "take off the lawyer hat" and navigate around Rule 4.2 by communicating solely as a client. It added that generally, "the rules of professional conduct establish limits on lawyer behavior, not that of their clients."
"Under Model Rule 4.2, in representing a client, a lawyer may not communicate with a person the lawyer knows is represented by counsel about the subject of the representation, unless that person's counsel has consented to the communication, or the communication is authorized by law or court order," the formal opinion concluded. "When a lawyer is participating in a matter pro se, that lawyer is engaged in self representation and is therefore subject to Model Rule 4.2's prohibition."
Two committee members parted from the majority opinion, disagreeing that both the language of the rule and its purpose lead to the conclusion that the no-contact rule applies to pro se lawyers.
"By leaving this rule in place, we are also leaving in place a trap," the dissenting members Mark Armitage and Robinjit Eagleson opined. "The rule should be amended to achieve the result advocated for in the majority opinion."
The dissent, while not arguing with the purpose of the rule, contended that its language "clearly prohibits" the application of extending the rule to self-represented lawyers.
"Self-representation is simply not 'representing a client,' nor will an average or even sophisticated reader of these words equate the two situations. Rather, this is an 'ingenious bit of legal fiction.' Further, this approach to construing the rule's language renders the phrase 'in representing a client' surplusage, contrary to a basic canon of construction," the dissent wrote.
Please enable JavaScript to view this content.