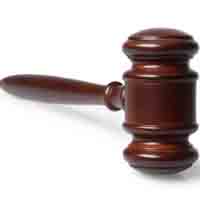 An Indiana man wasn't wrongfully ordered to register under the Sex and Violent Offender Registration Act by a juvenile court after he turned 18, a split Court of Appeals of Indiana panel has concluded.
In 2017, the state alleged 13-year-old A.R. was delinquent for committing an act that would be child molesting, a Level 3 felony if committed by an adult, following an incident with his 11-year-old sister at a public park. A.R. admitted to certain allegations and was adjudicated delinquent for sexual battery, a Level 6 felony if committed by an adult.
A.R. was then placed at Park Center Redwoods Facility. But in January 2018, it was recommended that his placement be modified to the SMART program at the Youth Opportunity Center, in part due to his conflicts with other students and staff.
During therapy at the SMART program, A.R. disclosed "additional sexually acting out behaviors with his sister, which [were] not previously disclosed." Additionally, A.R.'s mother learned he had "solicited two female cousins for sex and attempted to coerce them after they refused," and A.R.'s younger brother indicated that A.R. had also been inappropriate with him.
In late 2019, A.R. was transitioned to a therapeutic foster home. He was soon after arrested for running away and placed on electronic monitoring.
Then in February 2020, A.R. had consensual sexual intercourse with a 16-year-old female student in the girls' restroom at school. He also acquired a cellphone without permission and used it to view pornography, with another child in the room on at least one occasion.
In September 2020, a court appointed special advocate expressed "significant concerns" due to A.R.'s frequent violations of his safety plan and conditions of his probation. The CASA noted that A.R. was still trying to engage in interactions with females, who were "younger and at times lower functioning" than him.
Also, A.R.'s therapist terminated services as "unsuccessful." Additionally, his therapeutic foster parent requested that he be removed from her home.
Due to A.R.'s noncompliance, the juvenile court ordered that he be committed to the Department of Correction. There, he engaged in consensual sexual activity with his roommates on multiple occasions and was the subject of a Prison Rape Elimination Act investigation.
A.R. was released on Aug. 9, 2021, and was placed in a group home, where he was later found to be viewing pornography and making sexual gestures to females.
On Aug. 12, 2021, a deputy prosecuting attorney filed a motion for the juvenile court to reinstate jurisdiction and require A.R. to register as a sex or violent offender. The juvenile court granted the state's motion, reinstated jurisdiction and set the matter for an evidentiary hearing.
The state also requested that A.R. undergo a psychological evaluation and a risk assessment for recidivism, which was granted.
Although the juvenile court had already reinstated jurisdiction, A.R. objected to the state's motion to reinstate jurisdiction and argued that such a procedure was not allowed under the relevant statutes. A.R. turned 18 years old on Sept. 24, 2021.
At the October 2021 hearing, a clinical administrator testified that A.R. had signs of a manic bipolar disorder and narcissistic features as well as other mental health problems that created an "elevated risk of continuing acting out behavior … ." Also, a recidivism assessment indicated A.R. was in the fourth category out of five categories, which indicated that "high intensity intervention would be warranted in order to reduce the person's risk in the future."
This past January, the juvenile court found "clear and convincing evidence that [A.R.] is likely to repeat an act that would be an offense described under I.C. 11-8-8-5(a) if committed by an adult" and thus ordered that he "register as a sex or violent offender with local law enforcement authority pursuant to I.C. 11-8-8 et seq."
On appeal, A.R. argued the juvenile court didn't have jurisdiction to order him to register him pursuant to SORA; there wasn't sufficient evidence to support the SORA registration; and the juvenile court's determination that he must register violated his rights under the Eighth Amendment to the U.S. Constitution and Article 1, Section 16 of the Indiana Constitution.
The Court of Appeals' majority panel rejected all of A.R.'s claims.
"The juvenile court here was empowered by the statute to reinstate jurisdiction within 30 days after receiving notification from the DOC, which it did," Judge Elizabeth Tavitas wrote for the majority, which also included Judge Melissa May. "We cannot find that the juvenile court is denied the ability to reinstate jurisdiction simply because the deputy prosecutor filed a superfluous motion. The denial of jurisdiction to the juvenile court under such circumstances would 'create an absurd result,' which we seek to avoid when interpreting statutes. … Accordingly, we conclude that the juvenile court had jurisdiction to consider the registration issue."
Tavitas and May also found the evidence sufficient for the registration requirement.
"The State presented evidence that, despite years of services, A.R.'s behavior issues continued," Tavitas wrote. "The psychological testing revealed signs of a severe personality disorder and bipolar I disorder, predominantly manic. A.R. has significant narcissistic features, a lack of impulse control, is manipulative, and 'has elevated risk of continuing acting out behavior and he tends to use others for his own advantage.'"
On the constitutional claims, the majority judges found A.R. waived his arguments as they were not raised during trial.
Judge Patricia Riley dissented with a separate opinion, calling parts of the majority's opinion "troubling."
First, looking at Indiana Code § 31-30-2-3, Riley opined that the juvenile court did not have jurisdiction.
"The plain and unambiguous language of the statute belies that there is no provision for a prosecutor to move a juvenile court to reinstate jurisdiction, as was the case here. When construing an unambiguous statute, we are obligated to refrain from reading terms into it," Riley wrote. "… Because the juvenile court in this case lacked the statutory authority to reinstate its jurisdiction based on the prosecutor's motion, I cannot agree with the majority that the juvenile court properly exercised jurisdiction over A.R.'s case."
Second, Riley rejected the conclusion A.R. was subject to SORA.
"SORA mandates that, in making its determination that there is clear and convincing evidence of a likelihood to re-offend under subsection (b)(2)(C), the court 'shall consider expert testimony concerning whether a child is likely to repeat an act that would be an offense described in subsection (a) if committed by an adult.' I.C. § 11-8-8-5(c)," she wrote. "These additional prerequisites for juvenile registration are the legislature's implicit recognition of, and attempt at balancing, the tension between the registration's harsh effects and our juvenile justice system's rehabilitative aims.
"… A.R. is not a 'child' for purposes of subsection (b)(2)," the dissent continued. "… Neither party has identified any ambiguity in the language of the statute, and I would not find it to be ambiguous. … Therefore, a plain reading of the unambiguous wording of SORA requires that a person must be under the age of eighteen to be subject to its juvenile registration requirement. A.R. was over eighteen years old when the juvenile court entered its Order requiring him to register and, therefore, was ineligible for SORA.
"In addition, subsection (b)(2)(A) provides that the term 'sex or violent offender' includes a child who has committed a delinquent act and who 'is at least fourteen (14) years of age[.]' Again, neither party contends that subsection (b)(2)(A) is ambiguous. A plain reading of the statute ties the age requirement of subsection (b)(2)(A) to the relative clause 'who has committed a delinquent act' and, thus, evinces the legislature's intent that only a child who has committed the triggering act after the age of fourteen is eligible for the sex offender registry. … A.R. was only thirteen when he committed the acts that led to his adjudication for sexual battery, and, therefore, he did not fit within the parameters of SORA."
The case is A.R. v. State of Indiana, 22A-JV-156.
Please enable JavaScript to view this content.