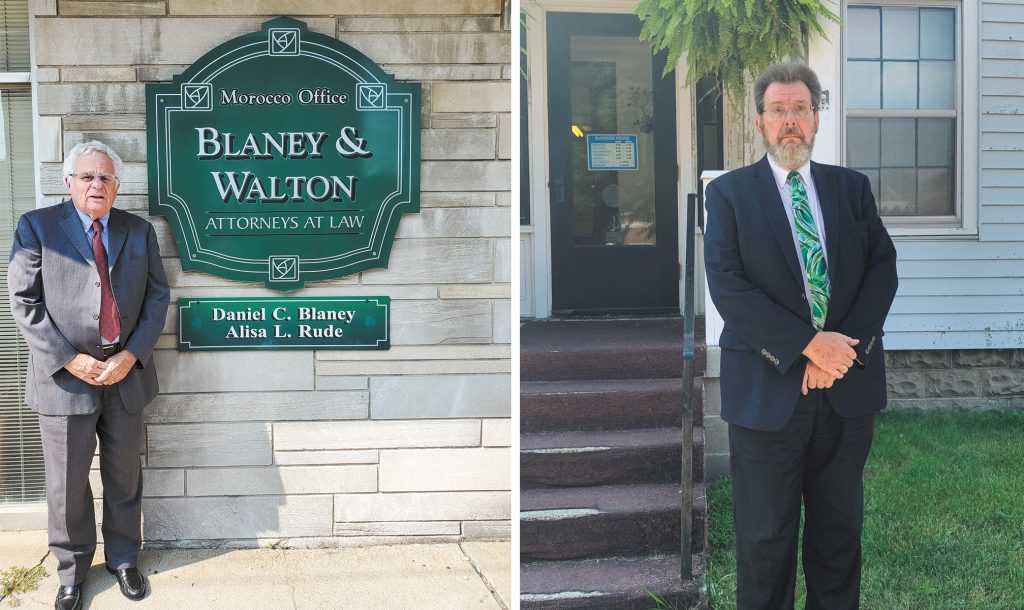 Although there are more than 1.3 million attorneys in the United States, "legal deserts" can be found across vast expanses of the country and all over Indiana, according to a recent report from the American Bar Association.
While the concept of legal deserts isn't new, concerns are rising about how to fill the gaps left by aging attorneys in areas that already lack enough lawyers to meet legal needs.
According to national data collected in the American Bar Association's 2020 Profile of the Legal Profession, 40% of all counties and county-equivalents in the United States have less than one lawyer per 1,000 residents. In Indiana, roughly 2.3 attorneys are available per 1,000 Hoosiers statewide, but 40 of the state's 92 counties — 43% — have less than one lawyer per 1,000 inhabitants.
Moreover, simply having lawyers in a county doesn't guarantee they are available to the public, the report noted. Some work as prosecutors, public defenders, city and county attorneys, while others may work for corporations or nonprofits.
In Loogootee city attorney Isha Wright-Ryan's eyes, the eight attorneys listed in the report for Martin County aren't representative of reality. As one of two private practitioners in her county, Wright-Ryan is the only one who practices family and criminal law, which can be tricky.
"Say someone hires me for a divorce, the opposing side is going to have to go out of county to find an attorney to represent them because there isn't an attorney in county to do it," Wright-Ryan said. "So I do think sometimes that creates a barrier there."
Access to legal representation for certain cases is very limited in her home county, Wright-Ryan noted. Both she and other local attorneys travel wherever the demand is, even if it's across county lines.
"I stay pretty busy. I am scheduling a month to six weeks in advance before you can get in with me. That's a pretty long time to have to wait," she said.
Looking for legal help
So where do small town residents go for assistance with their legal problems when there are few available options? Often it's straight to Google, said Newton County attorney Dan Blaney, a 50-year lawyer who's practiced in the same law office in Morocco, Indiana, since 1976. Blaney said rural America is already feeling the effects of a maturing bar. At the same time, he says locals are misled into thinking the need for lawyers has eroded due to technology.
Without attorneys coming into the area from the now-closed Valparaiso Law School nearby, Blaney wonders what the long-term effect on legal representation will be in rural areas, particularly northwest Indiana. In an effort to get some extra hands, Blaney and another local lawyer have tried to recruit their children, who practice in Chicago, to help out with cases back home.
In short, Blaney says there just aren't enough attorneys to meet the demand in his community. The ABA reports says Newton County has 19 lawyers, or 1.4 per 1,000 residents.
"I like rural America. But they don't stay here in the rural community. That's the frustrating part about it," he said.
Richard Muntz, who has worked at the same LaGrange County practice since 1975, also can feel the effects. Muntz is the only full-time lawyer in LaGrange and the only one willing to take court appointments. Everyone who takes public defender appointments is from other counties, he said. According to the ABA report, LaGrange County has the fewest lawyers per capita of any Indiana county — 0.5 per 1,000 residents.
Another reason local residents look for out-of-county legal help is to avoid potential scandal, Muntz said.
"There are people who say, 'Well I know this guy, I don't want everybody in the county knowing my business,'" he explained. "And then there is the idea that these folks in the larger cities are more sophisticated … they get the idea that the rural folks aren't as astute."
This summer, Indiana University Maurer School of Law second-year student Logan Tedrow served in the law school's judicial clerkship program. While serving the courts in Martin and Daviess counties, Tedrow gathered the impression that often people couldn't afford their attorneys. From his perspective, money was one of the top issues faced by those seeking legal representation in smaller communities.
"Obviously there is the public defender route, but a lot of times that even leads to someone having to reimburse the county at $90 per hour. That doesn't exactly seem doable to a lot of people," he said.
Fellow 2L J.D. candidate and judicial clerkship participant Heather Migdon said her time spent serving the courts in Owen County, where there are 0.8 lawyers per 1,000 residents, revealed similar challenges. For example, if a resident resorts to hiring an out-of-county attorney due to a lack of options closer to home, the attorney's hourly travel rate would be tacked on to the bill.
"If someone from a neighboring county wanted to retain me, maybe they can afford to pay my legal fees, but can they also afford to pay me 45 minutes to drive each way? That starts to get cost-prohibitive," Migdon said.
She also noted potential challenges regarding the number of available private attorneys.
"I served hundreds of hearings over the summer, and you routinely see the same two or three private attorneys over and over. So you get a sense that they are handling a lot of cases and they are the ones that you can go to," Migdon said. "I thought, 'I'm seeing the same two private attorneys over and over, what if someone wants representation but both of them are conflicted out? What would they do?'"
They'd have to pull from a surrounding county, said attorney Jeff R. Hawkins. His home of Sullivan County is experiencing large gaps left by attorneys from the baby boomer generation who have died or retired in recent years. There are 16 lawyers in the western Indiana county, or 0.8 per 1,000 inhabitants.
Only two lawyers in his county take criminal cases and both are in their 70s, one of whom has health issues, Hawkins said.
"Right there, that is a pretty tight constraint," he said.
Residents could also feel an impact to their livelihoods if they have to retain counsel from outside of town or county, Hawkins said.
"If you are going to meet with your lawyer and you work in the town, you will have to take off work and drive probably 30 minutes to your lawyer. Now in Indianapolis, that probably wouldn't be a big deal because it wouldn't even take you across town. But around here that's a 30- or 40-mile drive," Hawkins said.
However, Hawkins noted that electronic filing has made things easier to some extent for attorneys who practice over large distances.
The next generation
As time moves on, Blaney says he's afraid things will get worse in rural America without new faces on the legal scene.
"There are a lot of lawyers. But they are not where they should be. They ought to come to rural America and enjoy it," he said.
Tedrow hails from southeastern Daviess County near the Martin County border and said he hopes to serve his hometown's legal needs as quickly as possible after finishing law school. His summer clerkship experience relit a fire that reminded him of why the legal profession matters so much.
"I guess it's in vogue to talk about people who are forgotten and overlooked, but I think it's often the case that people in rural areas are just put on the shelf," Tedrow said. "It feels like people in urban areas tend to forget what they are going through, even if they might just be a couple miles down the road on the other side of the city limit."•
Please enable JavaScript to view this content.