One of two men accused of confronting three southern Indiana judges, leading to a brawl in which two of the jurists were shot, has agreed to plead guilty, according to court records.
The News and Tribune of Jeffersonville reported that Alfredo Vazquez of Indianapolis has agreed to plead guilty to at least one of the charges against him related to the May 1 shooting in which Clark Circuit judges Andrew Adams and Bradley Jacobs were wounded. Details of the plea agreement were not immediately available.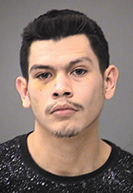 Online court records show Vazquez has a change of plea hearing scheduled Wednesday before Marion Superior Criminal Division 2 Judge Shatrese Flowers. Vazquez is charged with two counts of Level 6 felony battery, two counts of misdemeanor battery, two counts of misdemeanor battery resulting in bodily injury, and disorderly conduct.
Those are the same charges that were filed against suspended Judge Adams, who likewise pleaded guilty last month and was sentenced to one year suspended without probation.
The setting of Vazquez's change of plea hearing came shortly after the Commission on Judicial Qualifications filed notice of formal judicial discipline charges against Adams, Jacobs and Crawford Circuit Judge Sabrina Bell for their roles in the shooting.
The judges are accused of escalating a confrontation with Vazquez and his uncle, Brandon Kaiser, after 3 a.m. May 1 outside a White Castle restaurant in downtown Indianapolis. The southern Indiana judges were in Indianapolis for a statewide judicial conference.
Kaiser faces eight felony and four misdemeanor battery charges as well misdemeanor counts of carrying a handgun without a license and disorderly conduct. Kaiser is scheduled to stand trial in Flowers' court beginning Nov. 18.
Please enable JavaScript to view this content.