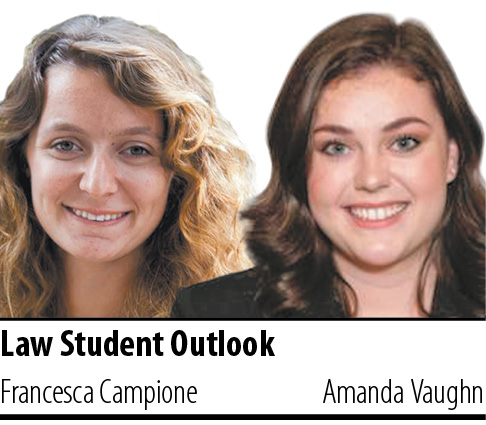 As third-year law students with moot court, countless research and writing questions, and many brief writing experiences under our belts, it is pretty safe to say that our time in law school has molded our interests to be centered around litigation and all other happenings within the American judicial system and its many courtrooms. With all of our experiences in litigation, we decided to test the waters of negotiation, mediation and other forms of alternative dispute resolution in general while we still had the chance to learn about the various subjects in a school environment.
Despite our continued interest in litigation, we are here to report that we certainly like what we have found and are open to future possibilities in the field. We have also come to recognize that just because our interests lean toward litigation does not mean that we will not encounter and utilize skills such as negotiating that maybe are not seen as being traditionally within a litigator's area of expertise.
Mediation is a consistently growing form of dispute resolution that takes place outside of the courtroom. The process of initiating a mediation is often kicked off when a complaint is filed and a judge, instead of letting the case proceed in the adversarial court system, recommends the case for mediation. Then, working together, the representation for either side of the dispute selects a mediator and presents the case to the mediator. Then, the parties get together on the agreed mediation date and work together to resolve their issues.
The parties are usually kept in separate rooms, and the mediator will communicate between the rooms until a resolution is reached. While mediation is not free as the parties pay for the mediator, the mediator often reminds the parties that the cost of actually litigating the case in court will be much steeper and will likely eat away at any monetary compensation awarded as a result of the court appearance. It is important to keep in mind that the results of a mediation, unlike arbitration, are not binding on the parties.
Negotiation, on the other hand, is not necessarily a legal term, but something every person encounters on a daily basis. Whether it's negotiating with your friends where to go to dinner or trying to buy a car for a cheaper price, everyone negotiates. However, if law school has shown us anything, it's that negotiations also happen to play a big part in legal practice.
This semester, many 3Ls returning from being summer associates at firms talked about negotiation workshops that their firms put on. Most of the time the workshops were hosted by corporate attorneys, rather than litigators, focusing on how to close a deal in the world of mergers and acquisitions or the like. However, after spending a summer in firms and returning to school with that experience giving us perspective, we can see that negotiations play a big role in the lives of litigators as well. When attorneys are trying to settle a case, figure out who on a team will do what task or even work with the client to determine the course of action, it is a negotiation of sorts.
Despite the litigation-heavy focus of law school, professors have been quick to tell us over our three years that it is incredibly rare for cases to make it into the courtroom. Litigation is obviously very expensive and time consuming, not only for lawyers, but for all of the parties involved — experts, the judge and everyone else the case impacts. All at the risk of putting your fate before a jury which, even if your side "wins," may not do what you feel is right. Opting to avoid the courtroom saves costs, but also provides parties with more control over the outcome. Ultimately, this can lead to a more desirable result, or maybe just a result that does not feel quite as bad as it could have if it came from a jury.
These practices have many advantages. First, it creates a place outside of the courts for parties to meet, discuss their issues and come to a productive resolution. Not only is this beneficial in regard to cost, but it is also helpful to the judicial system overall. This is because it frees up the already overburdened court to hear cases that are more complicated and need greater scrutiny from the courts. Another benefit is that it allows the parties to have a greater role in the resolution of their issues. This will enable the parties to feel empowered about the outcome of their negotiations and heighten their sense of justice associated with the results.
Through our classroom experiences that have taken us beyond the world of litigating in a courtroom, we have learned that as we start our careers, we need to be equipped to handle legal issues outside of the traditional route of a case. Moreover, we have learned that we actually enjoy the challenges and unique aspects of the different types of alternative dispute resolution that are available to our future clients. While we know that we have only seen the tip of the iceberg at this point, we are both excited to gain more practical experience and knowledge in these areas as we begin our legal careers.•
• Francesca Campione and Amanda Vaughn are third-year law students at Indiana University Maurer School of Law. Opinions expressed are those of the authors.
Please enable JavaScript to view this content.