In the early morning hours of June 8, a 26-year-old man with a gun and knife was detained by law enforcement outside of the Maryland home of U.S. Supreme Court Justice Brett Kavanaugh.
Nicholas John Roske, of California, called police around 2 a.m. saying he was having suicidal thoughts and wanted to kill the justice after reading a leaked version of the Supreme Court majority opinion in Dobbs v. Jackson Women's Health Organization.
While troublesome, the incident wasn't an outlier — it fell in line with a national trend.
The U.S. Marshals Service released a report in February revealing that more than 4,500 threats were made toward federal judges during the 2021 fiscal year – an increase of about 300 from 2020. There were 926 such incidents in 2015, and from 2016 to 2019, the U.S. Department of Justice reported an 89% increase in judicial security incidents involving USMS-protected individuals.
In June, the U.S. Department of Homeland Security announced the U.S. was in "a heightened threat environment" due to several factors, and specifically noted safety concerns for Supreme Court justices.
Following the recent threats made toward Kavanaugh, some federal judges are once again calling for increased security measures.
Judges in Indiana at both the federal and state levels say the number of threats doesn't seem to have increased in recent years, but judicial safety is always a concern.
Needing more funds
The U.S. Marshals Service is tasked with protecting the country's 94 district courts and 12 U.S. courts of appeals. In total, they protect roughly 2,700 sitting judges and roughly 30,300 federal prosecutors and court officials along with members of the public who visit federal courthouses.
While threats against federal judges are increasing, requests for additional security funding aren't being met by Congress.
The DOJ in June 2021 released an audit of USMS' judicial security activities and concluded that "USMS does not have the resources or proactive threat detection capabilities that the USMS has determined it needs to meet its protective services obligations for USMS-protected persons, including judges."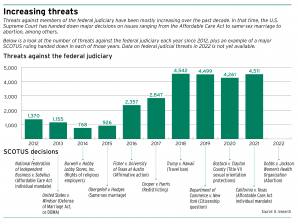 The report detailed a significant staffing shortage across several areas for judicial security and concluded there's also a need to improve protective intelligence and identification capabilities, among other issues.
"While the USMS has identified weaknesses in its judicial security capabilities, competing agency priorities have impeded the USMS's ability to fund the judicial security enhancements that it has identified," the report states.
Multiple bills have been presented since 2020 to address the lack of funds.
In 2020, the Daniel Anderl Judicial Security and Privacy Act was introduced following the murder of U.S. District Judge Esther Salas' son, for whom the bill is named. The legislation would provide money for more privacy and protections for federal judges, including scrubbing personal information from the internet.
The New Jersey judge's son was shot and killed in 2020 by 72-year-old Roy Den Hollander, a self-described anti-feminist and attorney who dressed as a FedEx delivery driver and found their home. Salas' husband was also injured by the gunman during the shooting.
While the bill has received bipartisan support, U.S. Sen. Rand Paul, R-Kentucky, blocked it both in 2020 and 2022 because he wants it to extend to members of Congress and their families.
Another plea for funds came following the Jan. 6, 2021, attack on the U.S. Capitol, when federal judges requested more than $113 million to protect their buildings.
Outside of the courtroom, since 2006, judges have had the ability install home alarm systems in their primary residence sat government cost. Additional funding was provided in late 2020 to modernize the judges' systems, and judges also receive training on how to avoid dangerous situations, a spokesperson for the U.S. Courts said.
Soon after the 2021 report by the DOJ was released, judiciary leaders again renewed their requests for increased security.
Last month, the U.S. House of Representatives passed a $492.6 billion spending package for 2023, which would include $751 million — an increase of $46 million — for court security. While an increase, that number falls below the $786 million requested.
Judges say threats not increasing statewide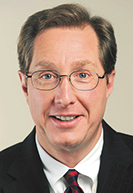 Northern Indiana District Court Chief Judge Jon DeGuilio said he doesn't believe there has been an increased number of threats in his district, unlike the national trend.
DeGuilio said he is in contact with the U.S. Marshals weekly and said USMS does "an amazing job" at keeping judges safe inside and out of courthouses.
One area DeGuilio said he would like to see improved, however, is the scrubbing of online records, as judges are largely expected regulate those issues on their own.
DeGuilio noted there have been more demonstrations outside of the courthouse since Dobbs, but they have been of a peaceful nature.
In Indiana's trial courts, Marion Superior Court Magistrate Judge Jason Reyome, who is the chair of the Indiana Office of Court Services' Court Security Committee, said anecdotally he doesn't believe there has been any increases in threats made toward Hoosier judges in recent years. Reyome said individual counties typically handle their own security and apply for grants to help with costs.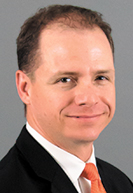 Delaware County, however, could be an outlier, as multiple threats have been made toward judges in recent months.
In June, a Muncie man was charged with five counts of intimidation for threatening to "pick off" multiple Delaware Circuit Court judges with a firearm. Days later, a different Munice man was sentenced to four years in prison for threatening to blow up a juvenile magistrate judge's home.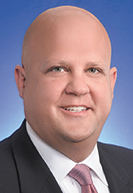 Delaware County Prosecutor Eric Hoffman said he hopes all prosecutors take threats seriously.
"… At the end of the day, it's an attack at the very heart of our justice system and has to be taken seriously. (Threats) cannot be tolerated," Hoffman said. "… We must protect our institutions, particularly that of the judiciary and the courts. And if you don't, then what do you have? We have nothing, we have anarchy."
When it comes to security, judges are often hesitant to speak out for fear of compromising the well-being of themselves and their family members.
A spokesperson for the Indiana Southern District Court told Indiana Lawyer none of the judges wished to comment generally on court security.
The Court of Appeals of Indiana likewise didn't wish to discuss specific security measures but offered IL a statement from Chief Judge Cale Bradford saying, "The Court of Appeals is deeply committed to prioritizing the safety of our judges and employees while remaining accessible to the public."
A request for data and comment from the Indiana Supreme Court on threats made toward judges and justices was not returned.•
Please enable JavaScript to view this content.