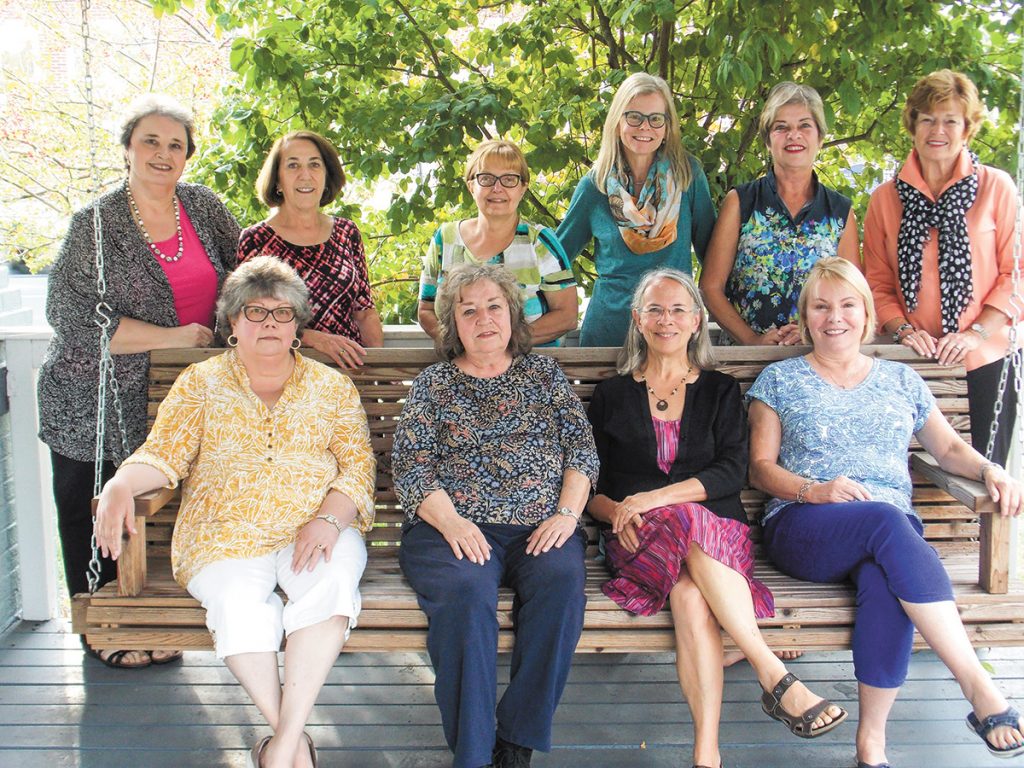 They all arrived at Indiana University Robert H. McKinney School of Law in the fall of 1976, part of the growing wave of women pursuing J.D. degrees during the 1970s.
Mostly, they met in class or in the library. The 11 women learned one another's names, then they learned one another's histories — where they were from, why they were in law school and what their home lives were like. The bond they formed was forged in their unease of going to law school and entering what was still very much a man's domain, but their connection was also strengthened by their genuine mutual affection.
They became friends. And in the 40 years since graduation, they have remained friends, celebrating marriages and births, comforting in divorces and deaths, and providing encouragement as they built their careers. They have also picked a weekend, packed their bags and gotten together once a year since 1980.
Paulette Stagg remembered crying at the party where everyone gathered following the bar exam. The Terre Haute married mother of two boys had driven to Indianapolis every day for class then returned home every night to make dinner. With the completion of her studies, she thought she would never see her friends again.
"They were a huge boost to me," Stagg said. "I was commuting, so I didn't get to see them as much, but when I did see them, that impact was very important to me because otherwise I would have felt all alone."
However, thanks to the annual reunions, she has been able to see her friends again and again. Recently, Stagg sat at a large dining room table with them to talk about being women, being friends and being lawyers.
"Can anyone here imagine being where you are today without the others?" Stagg asked her friends.
They responded in unison, "no."
Wanting equal treatment
Having friends who willingly offered a shoulder to lean on or readily gave a pep talk was invaluable not only in the pressure cooker of law school, but also in a world that was changing for women. In 1972, four years before the women started at IU McKinney, Congress had passed both Title IX, giving women more access, and the Equal Rights Amendment, setting off a national push for ratification that ultimately failed.
Pamela Jones Davidson had to overcome obstacles, personal and professional, during her transformation from being the "wimp" her husband had married to being the household's primary breadwinner. Indeed, her anger flashed as she recalled the devastation that came with being told she was hired for her first lawyer job only because her employer had to meet a quota of women employees.
"Son of a b—-," she exclaimed.
Arriving at law school, the women were sometimes greeted with blatant sexism as well as hidden, more subtle opposition to their presence. A small group of male classmates accused them of getting admitted solely because of their gender, and a male professor gave an exam that was rife with questions where women were presented as being stupid, irresponsible, ugly or slutty.
Laura Hansen Dean still displayed the calm, measured, diplomatic skills she had used as president of the women's caucus to enlighten and adjust attitudes. The women had earned their place in the law school, she said, and they were not feeling particularly mousey or submissive. She would take concerns to then-Dean William Harvey and, in a conversation with the professor, she watched him gulp when he was confronted with the exam.
"All we wanted was a level playing field," Dean said. "We didn't want anything special. We didn't want any favors, but we also liked not being beat up while we were trying to make it through."
One area where they had to push hard for an equal chance was the placement office. The director saw no need to help female lawyers find jobs because he believed they would just stay at home and depend on their husbands. Eventually, after all the women law students complained, the director had to look for a new job.
Diving in with friends
Still, the employment options for the women when they received their J.D. degrees were largely limited to solo practice, clerkships or government positions.
The friends embarked on careers and worked hard to compile resumes that reflect their personalities as well as their skills.
Janet Corson might have been fodder for the placement director when she decided to focus on her family after law school. But she still used her legal skills, clerking for a judge and working as a deputy prosecutor. When she did turn to working fulltime, she led the Division of Mental Health and Addiction at the Indiana Family and Social Services Administration.
"The key to all that is you feel supported in the choices that you make for your family and your situation," she said. "… It's difficult. I don't think women want to be judged or forced to feel like there's only one path. There're different paths for different times in our lives."
Dean and Davidson carved successful careers in charitable gift planning. Stagg and Sheila Corcoran became magistrate judges in Vigo and Vanderburgh counties, respectively. Sue Ann Hartig led the Legal Aid Society of Evansville.
Kathelene "Kathi" Williams found her niche with the U.S. Department of Housing and Urban Development, rising from staff attorney to director of the Fair Housing and Equal Opportunity Program for the southeastern region. Likewise, Jo Angela "Jodie" Woods found she liked the public sector and is currently general counsel for Accelerate Indiana Municipalities. Christina Kunz entered academia and is now professor emerita at Mitchell Hamline School of Law in Minnesota.
Lisa Stone was the only one among the group to spend her entire career at a big law firm. From the age of 18, she had to financially support herself because she had decided to pursue her dream of getting an education rather than following her parents' wishes that she get married and raise a family. She practiced estate and tax planning at Ice Miller for 29 years, becoming the fourth woman to make partner.
Kelley Beckes Huebner was a solo practitioner for many years then served one term as Martin Circuit Court Judge. Several of the women traveled to see her sworn in on a cold January day. And when she died, they journeyed to her celebration of life service in Loogootee.
Davidson compared their collective experience to standing on a diving platform. She and her law school friends jumped into the deep abyss and treaded water but could always depend on one another.
"If you're going to take the plunge," she said, "go with friends."•
Please enable JavaScript to view this content.