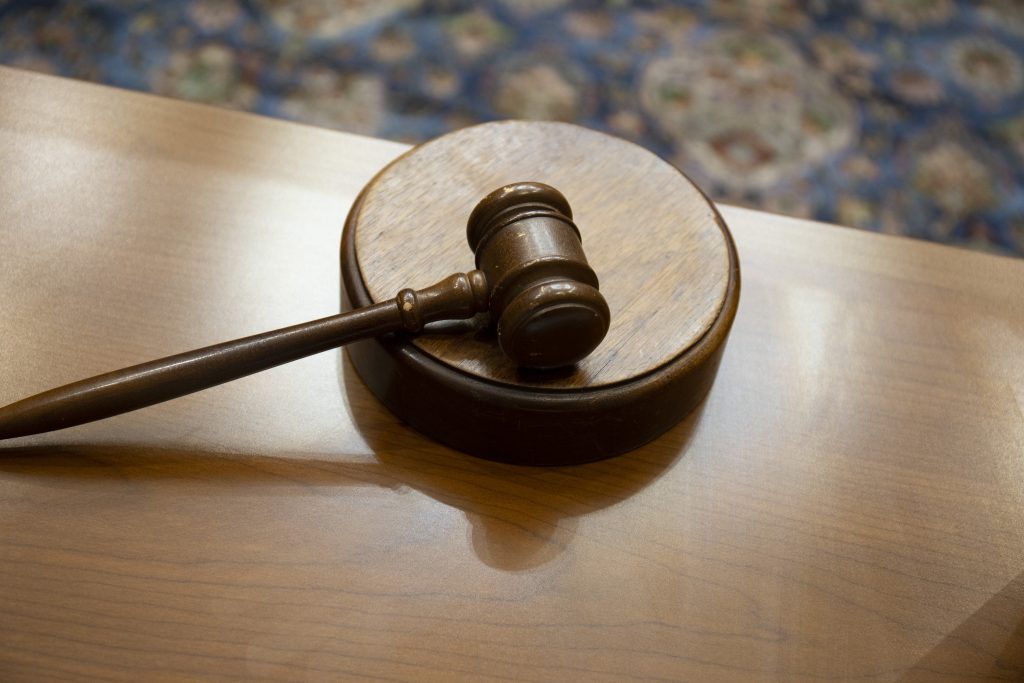 Evidence that led to a man being convicted of dealing in methamphetamine and other charges did not come as part of an impermissibly prolonged traffic stop, the Court of Appeals of Indiana has ruled in affirming a lower court's judgment.
Adam Kenny was being investigated by the Tippecanoe County Drug Task Force in October 2021 for dealing meth and illegally carrying firearms. The task force also received information that Heather Boruff was using her taxi to facilitate meth deals.
Officers conducted surveillance of Kenny and Boruff at a hotel in Lafayette, then followed Kenny when he left and drove to a Taco Bell, where he parked his car in the parking lot. Shortly after that, officers saw Boruff arrive at the Taco Bell in her taxi, and Kenny got out of his car and into Boruff's.
Later that day, an officer initiated a traffic stop on the taxi after Boruff was observed driving 55 mph in a 35 mph zone and failing to stop at a traffic signal.
The detective saw Kenny had two "massive bulges" in his front pants pockets, and Kenny pulled his hands in and out of his pockets while the detective was at the vehicle.
The detective decided to remove Kenny from the taxi before proceeding with the traffic stop. The detective had been warned that Kenny was "extremely violent" and had been physically combative with law enforcement in the past, so he called for backup.
The officers grabbed Kenny's arms to place him in handcuffs, and he briefly resisted. Kenny said he had two firearms, which were the bulges in his pockets.
Boruff admitted she had kits for using intravenous drugs in her taxi, and officers found a black bag containing 110.08 grams of meth. A search also turned up a set of scales, baggies with suspected meth residue and suspected Alprazolam, as well as another firearm, syringes and a pipe.
Kenny was charged with Level 2 felony conspiracy to commit dealing in meth; Level 2 felony dealing in meth; Level 3 felony possession of meth; Level 6 felony possession of a controlled substance; Level 6 felony unlawful possession of a syringe; Class C misdemeanor possession of paraphernalia; Class A misdemeanor carrying a handgun without a license; and three counts of Class A misdemeanor unlawful possession of a firearm by a dangerous person.
In June 2022, Kenny filed a motion to suppress evidence from the traffic stop, arguing that he had independent standing to challenge the search of the interior of the taxi and that the stop was impermissibly prolonged.
The Tippecanoe Superior Court denied the motion, ruling that as a passenger, Kenny had no standing to challenge the search because, in light of the fact that there was no evidence he hired or paid Boruff, he was a normal passenger.
The trial court also ruled the stop was valid, Kenny's detention and pat-down were valid and the traffic stop was not unreasonably prolonged because, during the 13 minutes between the initial stop and a dog sniff, the officers were dealing with "legitimate safety concerns presented by Kenny," and because Boruff had admitted that she had paraphernalia.
A jury trial was bifurcated, so the three misdemeanor charges of unlawful possession of a firearm by a dangerous person were not initially submitted to the jury.
The jury found Kenny not guilty of Level 6 felony possession of a controlled substance but guilty of the remaining charges. Kenny waived his right to a jury trial on the remaining charges, and after further evidence was heard, the court also found him guilty of the three counts of unlawful possession of a firearm by a dangerous person.
The court then vacated the convictions for conspiracy to deal in meth and possession of meth. He was sentenced to an aggregate of 20 years, with five years suspended to probation.
On appeal, Kenny argued that as a passenger "who expected to pay for the ride," he had a probable Fourth Amendment privacy interest in the taxi that provided him with standing to challenge the search. He cited only nonbinding authority from other jurisdictions and made no separate argument on state constitutional grounds.
"We observe, however, that it is established in Indiana that a passenger in a vehicle that is stopped may challenge 'any part of a vehicle stop … because they are essentially seized when the driver is seized,'" the opinion states, citing Marshall v. State, 117 N.E.3d 1254 (Ind. 2019).
Kenny argued all evidence obtained following the stop was the product of an impermissibly prolonged traffic stop.
The appellate court also cited a previous COA case — Powers v. State, 190 N.E.3d (Ind. Ct. App. 2022) — as an example of the court resolving such issues without determining that the passenger had separate standing to challenge the search.
"Because Kenny's status as a passenger in the car driven by Boruff permits him to challenge the prolongation of the traffic stop, and thus to challenge the seizure of the challenged evidence, as a matter of judicial restraint, we decline to address his contentions regarding standing," the opinion states.
But the Court of Appeals didn't agree with Kenny's argument about the traffic stop being impermissibly prolonged.
"The officer's decision to remove Kenny from the vehicle, to radio for assistance, and to wait for the backup officer to arrive did not unreasonably prolong the traffic stop for purposes of the Fourth Amendment," the opinion states.
Because it ruled the traffic stop, even if pretextual, was not impermissibly prolonged, the court said it would "not disturb the jury's verdicts."
Judge Patricia Riley wrote the opinion. Chief Judge Robert Altice and Judge Rudolph Pyle concurred.
The case is Adam B. Kenny v. State of Indiana, 22A-CR-2082.
Please enable JavaScript to view this content.