Indiana Chief Justice Loretta Rush has penned a dissent to the denial of transfer to a case involving public disclosure of private health information, calling the transfer decision a missed opportunity "to clear up uncertainty" regarding whether disclosure is actionable.
Rush, joined by Justice Christopher Goff, published the dissent Tuesday in "F.B.C.," a Pseudonym v. MDWISE, Inc., d/b/a MDWISE, MDWISE Network, Inc., MDWISE Marketplace, Inc., 18A-CT-01934.
At issue in the Marion County case is F.B.C., a woman who says her attempts at reconciliation with her estranged husband were foiled when an insurer, MDwise, posted a list of her recent testing for sexually transmitted diseases on its online portal. According to F.B.C., her husband proceeded with a pending divorce after seeing the STD tests on the insurance portal, for which he was the primary policyholder.
The Marion Superior Court dismissed F.B.C.'s claims of intrusion and disclosure of private facts to a particular public against MDwise but declined to dismiss an outrage claim. A divided Indiana Court of Appeals partially reversed in April, finding all three claims should be dismissed.
Judge L. Mark Bailey dissented, arguing that if given the chance, the Supreme Court would recognize the tort of public disclosure of private facts, the sub-tort of disclosure to a particular public and intrusion into emotional solace. Rush's dissent likewise focused on the question of public disclosure of private facts.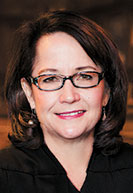 "Today, this Court passes up an important opportunity – to clear up uncertainty and declare that Indiana recognizes a claim of public disclosure of private facts," the chief wrote in the opening of her dissent. "Because our guidance on this issue is necessary, I respectfully dissent from the denial of transfer."
According to Rush, public disclosure of private facts "is a distinct wrong that falls under the broad tort of invasion of privacy." But, she said, under the trio of decisions in Doe v. Methodist Hospital, Felsher v. University of Evansville and Allstate Ins. Co. v. Dana Corp., "courts have reasonably adopted disparate, and sometimes ambivalent, positions on whether the sub-tort of public disclosure of private facts exists in Indiana."
The COA majority relied on Doe in its ruling in favor of MDwise, finding that the Indiana Supreme Court in Doe had declined to adopt disclosure as an actionable claim.
But Rush said Allstate described Doe as a "disagreement whether to recognize a claim for 'public disclosure of private facts.'" Further, she said, former Justice Brent Dickson wrote a separate opinion in Doe agreeing with its result but arguing that the sub-tort of public disclosure was established under Indiana common law and supported by the state constitution and public policy concerns.
In his dissent, Bailey argued the Supreme Court would adopt a looser definition of "publicity" that made disclosure to a "particular public" with a special relationship with the plaintiff actionable. Though she partially agreed with Bailey's dissent, Rush said she would adhere to the narrower definition of "publicity" in the Restatement (Second) of Torts.
"In other words, I would affirm dismissal of F.B.C.'s disclosure, but not for the reason the Court of Appeals majority advances," the chief wrote. "Rather, I'd hold that although Indiana recognizes a sub-tort of public disclosure of private facts, F.B.C. failed to allege the requisite 'publicity' to allow her disclosure claim to proceed, given that her medical tests were not communicated 'to the public at large, or to so many persons that the matter must be regarded as substantially certain to become one of public knowledge,' Restatement (Second) of Torts § 652D cmt. a.
"In sum, while I would likewise affirm the trial court's dismissal of F.B.C.'s public-disclosure claim, I would grant transfer to dispel any confusion surrounding the sub-tort," Rush concluded. "The sub-tort of public disclosure of private facts is cognizable, and we should say so."
Please enable JavaScript to view this content.