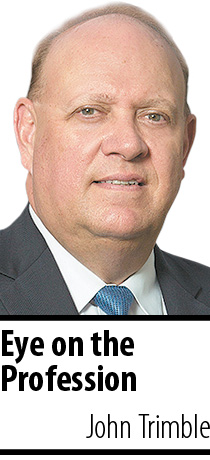 As we approach the end of 2020, many of us are contemplating our personal and business charitable contributions. The ravages of the pandemic have left many with no paycheck, no home and living in a state of hopelessness. Imagine what it has been like for people who were already in chronic need before COVID arrived. There has rarely been a time when the need for public generosity has been as great as it is this year.
Indianapolis and the state of Indiana are blessed with a number of free legal service providers available to provide assistance for those who need our help. Locally we have the Indianapolis Legal Aid Society, Indiana Legal Services Inc., Neighborhood Christian Legal Clinic and others who offer services in Marion County and throughout the state. If you ask the leadership of any of these groups, we will tell you that the phones have been ringing nonstop this year and that demand for legal assistance is overwhelming. The need for financial assistance this year is greater than ever.
So why, you ask, did I raise the question about whether legal services are a "basic human need"? The short answer is that many of the agencies and foundations that provide grants to not-for-profits prefer to support entities that serve "basic needs." Unfortunately, legal services are frequently not considered to be a "basic need."
Anyone involved with a legal aid provider will tell you that our services could not be more "basic" or more relatable to "human need." I would like to offer some examples (and these are just the tip of the iceberg):
Driver's licenses: In Indiana there are more than 400,000 people who have a suspended license. If our clients want to take their mother or child to the doctor, take a child to school, travel a vast distance through food deserts to buy groceries or simply drive to work, they need a license. The Marion County prosecutor is facilitating license reinstatement programs, but these drivers need the assistance of a lawyer in order to complete the process. All of the legal service providers are deeply involved in addressing this basic need.
Guardianships: The demand for guardianships seems to be endless. Children are getting guardianships for sick or aging parents so they can receive and manage public benefits and procure medical treatment. Grandparents are constantly seeking guardianships over grandchildren because parents are missing or in jail or addicted to drugs. These grandparents need a guardianship so they can keep kids in school, get medical treatment and receive and manage child support or public assistance money. These are just two of many examples.
Expungement: There are dozens of reasons citizens may need to seek expungement of an ancient or inaccurate criminal record. These days a criminal record can impact credit, employment, guardianships, child custody and more. There are 40-50 occupations in Indiana that require a license. If a reformed convict wants to be a plumber or an electrician, they will need a license, and their record may stand in the way. Very few people can navigate an expungement proceeding without counsel.
Child support/custody/visitation: Is there anything more basic than issues involving children? This category is a huge segment of legal service for our poorer and underrepresented fellow citizens. Many who cannot afford lawyers try to handle these matters pro se. However, having a lawyer can make the process far easier and much faster.
Housing: Is there a more basic need than a roof over our head? Thousands of citizens are living in housing that is inadequate and dangerous. They may be facing eviction because of economic circumstances. Senior citizens face the loss of their homes when they reach the point that they cannot care for their properties or pay their property taxes. Often the issue is not the ability to pay, but it is the ability to manage finances. All of the legal service providers are constantly assisting their clients with housing issues.
CHINS/family services/child abuse: This area of law has always been at the forefront for legal service providers. The impact of COVID has exacerbated the issue. Clients are facing the loss of their children; grandparents are trying to gain custody or adopt; and guardianship in these circumstances can be an emergency issue. For many, this is as basic as it gets.
The examples of how legal service providers address basic human needs are endless. If our hardworking legal aid lawyers are successful, they often can keep their clients from needing the resources of other not-for-profit providers. If a client can get a driver's license and keep a job, they can pay child support and rent. Legal services do address basic human needs.
If you are a leader or board member of a charitable agency or foundation, I hope that you will carry the message that legal service providers do address basic human needs and that they are worthy of consideration. If you are a leader of a law firm or business that wishes to support agencies that address basic human needs, please consider legal service providers in your giving. In addition, all of the legal service providers need for the general public to view us as a charitable opportunity. We cannot rely on the generosity of lawyers alone. We need you to spread the word.
One last pitch: If your firm or business or family is not having your usual holiday celebrations because of COVID, please consider donating the money you would have spent to a legal service provider. There are thousands of fellow humans with pressing need who are looking for a legal champion, and every dollar you give will make it possible for a lawyer to take up their cause. #WillYouBeThere?•
• John Trimble (@indytrims) is a senior partner at the Indianapolis firm of Lewis Wagner LLP. He is a self-described bar association "junkie" who admits he spends an inordinate amount of time on law practice management, judicial independence and legal profession issues. Opinions expressed are those of the author.
Please enable JavaScript to view this content.