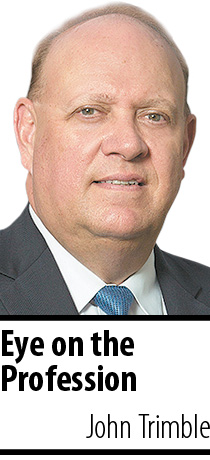 As this article was being written, Indiana Gov. Eric Holcomb was issuing a statewide "stay-at-home" order. That order exempted a variety of occupations that were deemed by the governor to be "essential." To the surprise of many lawyers, the legal profession was designated as essential. We will be allowed to continue working because the contributions we make to our communities are more necessary than ever in this time of anxiety and upheaval.
Unless you moonlight as a paramedic, a police officer, a National Guardsman, a medical professional or a social services volunteer, your role as a lawyer may not be putting your life on the line every day by exposure to COVID-19. However, to the extent that our practices require us to continue to be in close proximity to the public, we are at risk. For those of us who are not required to expose ourselves to the public and to the virus, we are hugely grateful for those of you who must.
So, you may be asking yourself, "How could I possibly be 'essential' in this battle against a virus?" I hope to be able to enlighten you.
As a starting point, all of us are essential in times of public stress. Our education, our experience and our knowledge of government enable us to objectively discern between fact and fiction. Our friends, our families, our clients and our social circles look to us for reason and calm. We are professional problem solvers, and we need to embrace that role and do what we can do to assist people in understanding how to get through this crisis. Take my word for it, you are essential.
On a more tangible level, there are many, many areas of law that have been touched by the virus. Every employer needs employment lawyers to explain the rights of employers and employees in a time of mass layoffs and furloughs. Employers are also reeling with the questions of their obligations under OSHA to maintain a safe and healthy workplace. The employment lawyers I know are all working overtime at the moment.
In the majority of households, parents and children are home and confined under one roof for days on end. Unquestionably, we are going to see an uptick in domestic violence and rancor that will result in divorce filings, restraining orders and more. It is already happening. Furthermore, for the families that are already divided by divorce, visitation and child support are critical issues. My family lawyer friends are also working overtime.
The specter of illness, disability and death from virus has created an uptick of interest in wills and guardianships. Estate lawyers are having to figure out how to meet clients and execute wills while maintaining safe social distancing. My estate planning friends are busier than usual.
Thousands of shuttered business owners are fretting about the financial toll of being closed. They are worried about their debt, their loss of revenue and their very survival. Everywhere, bankruptcy and business lawyers are responding to urgent calls. Even if this crisis ends soon, the prospect of business failures will be with us for a long time.
In the arena of health care law, lawyers are overwhelmed by the questions they are facing. Privacy interests abound; supply chain issues are confounding; and legal liability of hospitals and doctors arising from their inability to handle the onslaught of patients will be with us for years.
For we insurance lawyers, the calls are coming frantically. Does business interruption insurance apply to provide closed businesses with some form of relief? Are the government closure orders going to trigger civil authority coverage? Does force majeure apply? Does your insurance policy exclude claims for damage caused by bacteria or virus? Litigation is already being filed, insurance departments are issuing edicts, and legislatures are hurrying to pass legislation to nullify or minimize insurance exclusions.
Our friends in criminal law are going to see a huge surge in business as out-of-work people turn to crime to make ends meet. Domestic violence will skyrocket. Public rage toward the sick individuals who wander into the grocery is already producing assaults and batteries. This will become an avalanche before this is over.
So if you believed we are not essential, think again. This is a time of great need for the best of what our profession has to offer. We all must be problem solvers and do our share. If each of us steps up, we will get through this. We must get through this. Society is counting on us, and they may not even know it. We know. #WillYouBeThere?•
• John Trimble (@indytrims) is a senior partner at the Indianapolis firm of Lewis Wagner LLP. He is a self-described bar association "junkie" who admits he spends an inordinate amount of time on law practice management, judicial independence and legal profession issues. Opinions expressed are those of the author.
Please enable JavaScript to view this content.