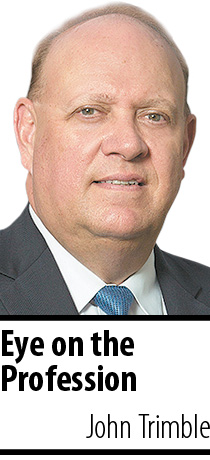 One of the unexpected bonuses of our current circumstance is that we have the time to reflect. Indeed, few of us have lived through a time that has had any greater cause to reflect than right now. None of us could ever have imagined that we would be quarantined and working from home for weeks at a time. Nor could we or would we have imagined the extent to which we have all changed as a result of this experience.
You cannot be a human being living in this world and not be moved by the profound suffering and loss of life that has been caused by COVID-19. However, unlike past events, the reality of the danger of COVID-19 has felt closer to home than ever. It seems like every day we learn of the illness or death of a family friend or an attorney friend or their family. Depending upon our age, we all have to take this danger more seriously than other dangers we have known in the past. It is inevitable that our routines and behaviors will be altered.
Throughout the eight weeks to date working at home, I have been moved again and again by the pride I feel for our profession. There have been acts of great generosity by lawyers and law firms who have supported the valiant first responders and hospital staffs who are caring for the ill. Time and again I have witnessed professional courtesies among opposing litigants as the challenges of the pandemic have interrupted our cases. I have seen plaintiff and defense lawyers working together with prosecutors and criminal defense lawyers and judges to try to devise a way to restart jury trials.
Moreover, almost every bar association has offered webinar after webinar on how lawyers and law firms can survive and thrive under the present circumstances.
The upshot of our circumstance is that we have all been transformed in how we work. Even senior lawyers like me have learned technology like we have never used it before; we have learned to be virtually paperless as we work from home without physical files; we are taking depositions and attending mediation via Zoom; and we are actually enjoying it! Working from home has allowed us to see how our quality of life is impacted by our alarm clocks, our business attire and our commutes to and from the office. Work from home is not, however, without drawbacks. Younger lawyers have had to learn to juggle busy children who are out of school or lacking available daycare. So, while some will want to continue working from home, others cannot wait to return to the office. Either way, it is almost a certainty that most in the legal profession will be working differently in the future.
Even in this time of sorrow and uncertainty, our fellow lawyers have found the time to inject humor and humility into our existence. Almost every social media platform has been the host for about every fun and funny activity that lawyers can conjure. We have seen concerts and fundraisers, multiple happy hours and social distancing 5K runs. We have inspected haircuts, gray roots, hair in rollers, manicures, pedicures and stay-at-home wardrobes. We have participated in joke telling, sharing of poetry, and daily displays of breakfast, lunch and dinner. We have remotely attended Zoom high school and college graduation celebrations, weddings, anniversaries and birthday gatherings. On a sadder note, we have also gathered to mourn with friends who have lost loved ones to COVID-19 and other causes. Again, it is safe to say that the support and engagement we have felt from social media will stay with us now for a lifetime.
If we have learned anything from this experience, we have learned that a life in law is far, far more than money, fame or success in a courtroom. It is ultimately about relationships. We have realized, once again, that the greatest gift of what we do is the friendships we have been able to acquire along the way. We have seen the many benefits of these friendships in the warmth and humor and support that everyone has shared with one another. My personal connectivity has been largely attributable to a lifetime of bar association involvement, and there is no better time than now to reconnect with bar associations. We should all hope that this environment of cooperation, friendship and mutual support can remain and bolster us all even after COVID-19 is behind us.
In closing, I would ask you to also reflect on the lawyers in our city, state and country who have been tasked with writing the civil orders that have shaped our lives for the last two months. These frontline lawyers have had to balance our civil rights with the public good in a very trying time. While some may feel that certain orders have gone too far, the majority have felt that a balance has been struck between our individual freedoms and the health of the general population. We should thank our lawyer friends in public service. They have served us well.
Please stay well. I look forward to seeing your next meal on Facebook! #WillYouBeThere?•
• John Trimble (@indytrims) is a senior partner at the Indianapolis firm of Lewis Wagner LLP. He is a self-described bar association "junkie" who admits he spends an inordinate amount of time on law practice management, judicial independence and legal profession issues. Opinions expressed are those of the author.
Please enable JavaScript to view this content.