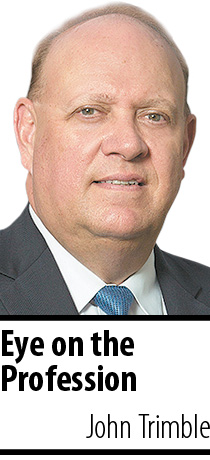 For my column this edition I have the pleasure of introducing a friend, Cordell Parvin, who is one of America's premier lawyer career coaches. Cordell practiced highway construction law for 37 years before becoming a full-time lawyer career coach. In his words, he believed he "could have a greater contribution to the legal profession by helping lawyers achieve their goals." He quit law in 2005 and has been a full-time coach ever since. In that capacity, he publishes a blog at cordellblog.com entitled "Developing the Next Generation of Rainmakers."
I will never forget the first time I heard Cordell Parvin speak. He was on the faculty of a law practice management seminar, and he was speaking about the importance of having, maintaining and touching "weak ties." According to Cordell, a "weak tie" is that person you meet while sitting next to them at a seminar or on a long plane ride and you exchange business cards. They are the person with whom you are invited to be on a seminar panel; the new friend you made at your friend's wedding reception; or the client you represented one time many years ago. They are all people who might just send you business if you can stay in touch with them and remind them of what you do and where to find you.
Cordell convinced me of the importance of weak ties when he told a story from when he was a young lawyer about meeting a young highway engineer at a seminar. Many years later, that same engineer referred a client to Cordell that fueled his career as a highway construction lawyer.
In late February, just before the pandemic, I sat down with Cordell to get his take on a number of questions that had been simmering in my mind. I share that exchange with you now.
Are firms willing to to train lawyers on business development? Has law firm and lawyer willingness to invest in business development training increased or decreased since 2008?
Cordell shared said spending by firms on lawyer business development training is not increasing and that firms have never been terribly willing to put money into this type of training. Further, he said lawyers themselves are not generally willing to commit their own money to business development training. He worries about where the next generation of rainmakers will come from when baby boomers retire. He notes that partner profits have been increasing in the last few years while associate profits have remained flat.
Cordell often hears firm leaders ask, "What if we invest in our associates and they leave?" His response, "What if you don't invest in them and they stay?"
In a perfect world, Cordell's rule of thumb is that lawyers should spend an average of 500 hours a year on their own development and client development, and firms should encourage it.
What is your sense of how well-equipped young lawyers are these days to develop business?
Cordell is reluctant to overgeneralize, but he finds that young lawyers are less likely to get up from behind their desks to meet people or attend events. They are less likely to use the phone, and likelier to text than to talk to someone. They are less adept at speaking to people in social settings.
Cordell's strategy is for lawyers to know their strengths. He suggests the Gallup online tool for assessing them. He will be the first to tell you there are client development opportunities for lawyers of all levels of social strength or weakness.
He personally likes to be the "smartest person in the room." In other words, he suggests that lawyers find avenues to showcase their substantive knowledge by choosing methods that suit their strengths. That may include the distribution of good content through writing, blogging and speaking. These all require effort, but the effort is often worth it. He urges young lawyers to do anything to get in front of people.
How do you define return on investment for lawyers who are investing time in client development?
In the early going, ROI is measured in the amount of time spent more so than money. He urges wise use of time that is focused on getting content in front of people. If you are getting content out to the right people, there will be a return on investment. Cordell urges firms and lawyers to be persistent. Good client development takes time and patience.
How effective are "old-fashioned" business tools such as personal notes, lunches and face time?
Cordell believes they are more effective now than ever because they have become so rare. They stand out and make more impact when others are no longer doing them.
How do you feel about social media?
In short, he says that if you have great content and distribute it, you will hit a home run. It has leveled the playing field, and lawyers should be doing it. It is worth your time.
If a lawyer has to choose between social media and bar association involvement or civic association involvement or trade association involvement, what should they choose?
There is no right or wrong answer. Each lawyer must assess his or her strengths and the amount of time they have to commit to client development. Ultimately, it is about getting good content in front of people. Each of these client development avenues will bear fruit with patience and persistence, so choose the one that better suits your situation.
In closing, I want to thank Cordell for the time he shared. If you want to find the best article I have ever seen for young lawyers, go to cordellblog.com and search for his article entitled "Forty Important Things I Wish Someone Had Told Me When I Was a First-Year Lawyer." It will answer a lot of questions you didn't even know you had.
We are in a period when many lawyers may not have enough business. There is no better time than now to begin a lifetime of business and client development strategies. #WillYouBeThere?•
• John Trimble (@indytrims) is a senior partner at the Indianapolis firm of Lewis Wagner LLP. He is a self-described bar association "junkie" who admits he spends an inordinate amount of time on law practice management, judicial independence and legal profession issues. Opinions expressed are those of the author.
Please enable JavaScript to view this content.