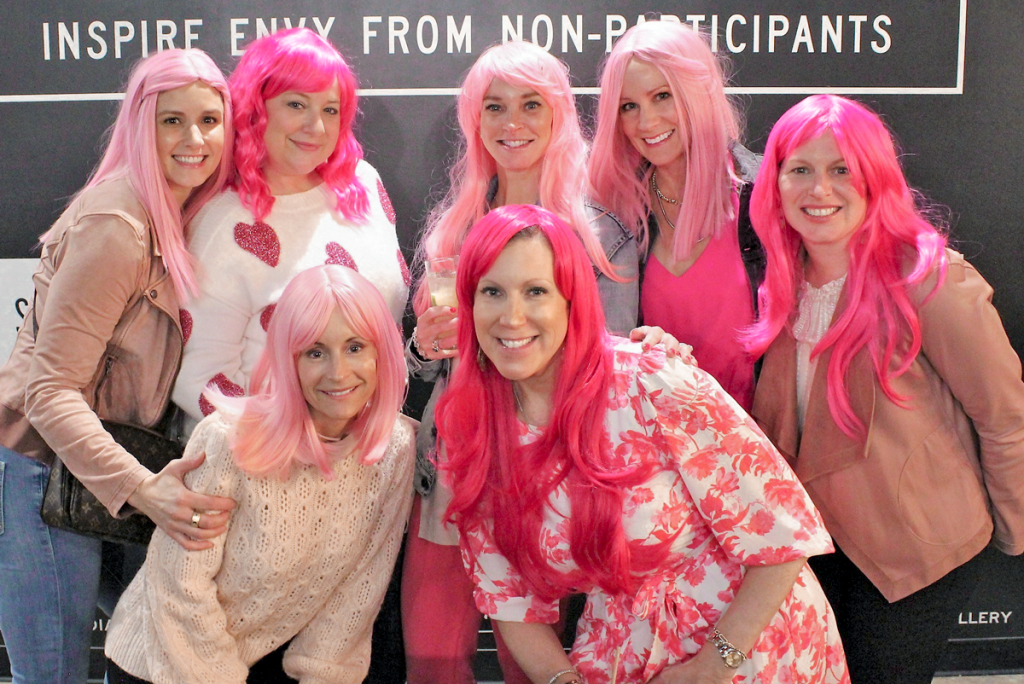 Normally, Jayna Cacioppo and Neal Brackett fit the image of picture-perfect attorneys — polished, pressed and professional. But recently they have added a splash of pink to their appearance.
Cacioppo, partner at Taft Stettinius & Hollister, and Brackett, partner at Barnes & Thornburg, are leading the Indiana inaugural Susan G. Komen BigWigs campaign. They are each sporting pink hairpieces to raise money for breast cancer education, research and prevention. Both have served on the board of the Susan G. Komen for the Cure Central Indiana affiliate and both have lost much-loved family members to breast cancer. They acknowledged donning pink wigs is counter to the staid culture of lawyers, but they've willingly stepped out of their comfort zones to help others.
Cacioppo said she was immediately excited by the campaign. She had always loved the Pink Tie Guys campaign in which her husband and son participated by knotting on pink neckties, so when she heard of the  BigWigs fundraiser, she knew she could have fun and indulge her competitive streak.
To spark the flow of dollars, Cacioppo purchased a selection of pink wigs from Amazon and offered them to friends, family and acquaintances to entice contributions. The donors were then required to wear the wigs.
"Everybody has a connection to breast cancer," Cacioppo said. "So having that commonality and being able to show that you're a supporter of both the research and prevention and also our campaign, I think it's kind of a fun thing."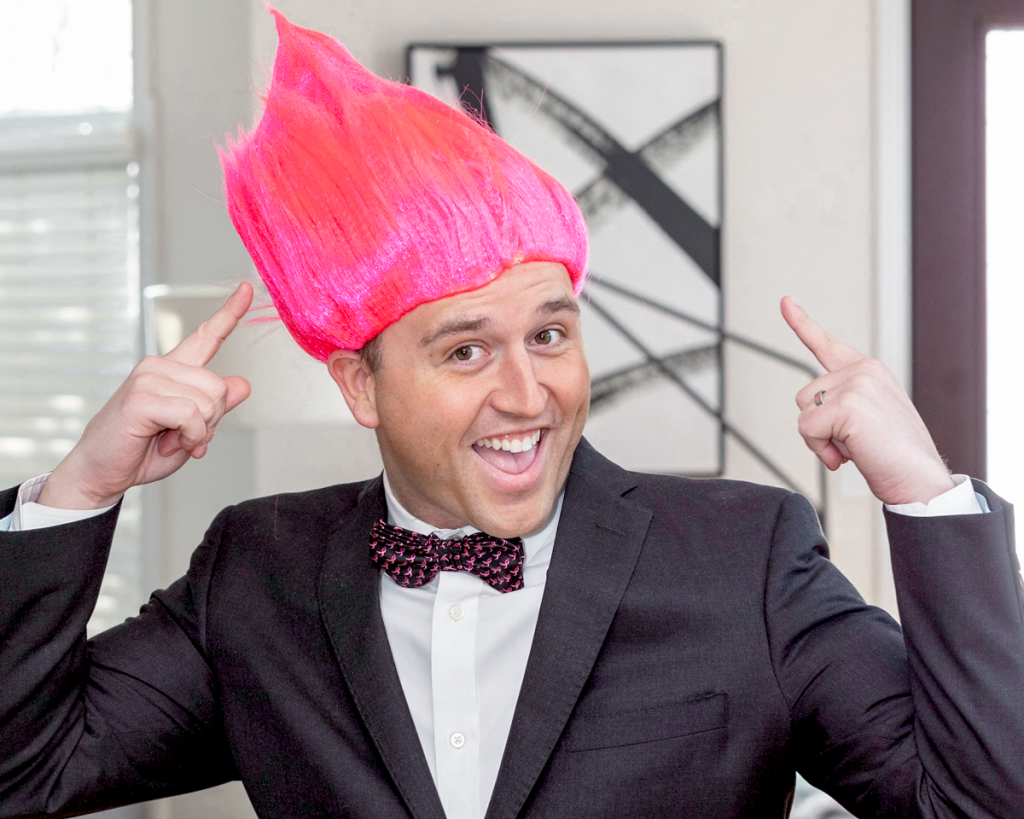 Brackett said he was a little hesitant initially. While he is comfortable looking silly at home with his young daughter, showing off his shocking pink locks to partners and associates was a different matter. His finger lingered over the send button before he beamed the email that included a photo of him in his pink wig to many of the Barnes partners, "including the top dogs," in the Indianapolis office.
"The response I got was just overwhelming support," Brackett said, adding many donors thanked him for participating in the campaign. "I think the pink silly wigs really helps us stand out because you can imagine a firm like ours, we get emails all the time from people trying to raise money for a lot of important causes, and this is one where people at least stop and say, 'What are you doing?'"
Inspired by family
Since the first BigWigs fundraiser in Savannah, Georgia, in 2014, the initiative has raised more than $3.3 million, according to the Komen organization. All the proceeds support Komen's mission to save lives by meeting critical needs in communities and investing in research to prevent and cure breast cancer.
Indiana's journey to the mane campaign started during a snowy January in 2019. Cacioppo was a member of the legal team that was defending a northwestern Indiana mayor at a public corruption trial. When the attorneys were looking for some extra help, Brackett's mentors at Barnes "voluntold" him to learn tax law, pack his bags and head to Portage.
The inclement weather forced delays in the trial and kept the defense lawyers stuck in their small hotel over a five-week period. Each night, they trudged to Longhorn Steakhouse, the only restaurant nearby, where over hearty dinners and conversations Cacioppo and Brackett learned of each other's connection to breast cancer.
Cacioppo lost her aunt to the disease. Brackett lost his grandmother.
The women continue to have an outsized, loving impact on each of their lives. Cacioppo described her aunt as a strong woman who had a big personality that captured attention whenever she walked into a room. She ended up in the hospital with metastatic breast cancer that had progressed to her brain.
From seeing the "horrifying experience" of her aunt succumb to cancer, Cacioppo is adamant about preventing more deaths. She is knowledgeable about the many facets of the disease and readily encourages women to get mammograms.
"It's important that people know early detection is everything," Cacioppo said. "It's that message that you just can't get out there enough because, gosh, what a loss. She passed shortly after I had my daughter and my daughter never got to know her."
Brackett remembered his grandma as outgoing, fun and a born fighter. She was always in the stands whenever her grandson stood on the pitcher's mound or played in any other sport and, occasionally, got kicked out of the stadium for arguing with the officials.
She died while Brackett was a freshman in college, and he sometimes reflects on what his grandmother would think of him becoming a lawyer, getting married and having a young daughter who shares her name.
"It's not just the sort of sadness in the past with my grandma but it's scary going forward," Brackett said, citing the Komen statistics that one in eight women will be diagnosed with breast cancer in their lifetimes. "So I'm jumping in and trying to do everything I can."
Coiffed for contributions
The campaign is focused on raising money to support breast cancer patients and research, but some personal pride is mixed in because no one wants to have a bad hair day.
Cacioppo's pink wig mimics her long blond locks. The dark pink tresses flow over her shoulders while the bangs sweep across her forehead.
Brackett is sporting a cone-like bob of bright pink that appears to have a hint of orange highlights. The bold fashion statement comes from an email sent by Komen to the BigWigs participants, which included photos of the styles available.
"That's a lesson in don't be the last to read your email," the Barnes attorney said with a sigh. "They had 10 options and I think I was the ninth to respond."
But no matter. The pelts have been picked and the fundraising competition is making the final dash to the March 25 finish. Cacioppo's and Brackett's BigWigs Facebook pages are still accepting donations to reach their goals: $7,500 for Brackett and $15,000 for Cacioppo.
The participant with the most dollars raised will be crowned the BigWig in the Hoosier State. However, as Brackett explained, the winning hairdo probably will not be known until the March 25 unveiling party because the participants can engage in a little gamesmanship by enlisting sponsorships to boost their final totals.
Cacioppo and Brackett are styling toward the finish line and glad to have added pink wigs to their lawyer wardrobes.
"If this is what it takes to go out and try to raise a bunch of money," Brackett said, "I'm happy to do it."•
Please enable JavaScript to view this content.