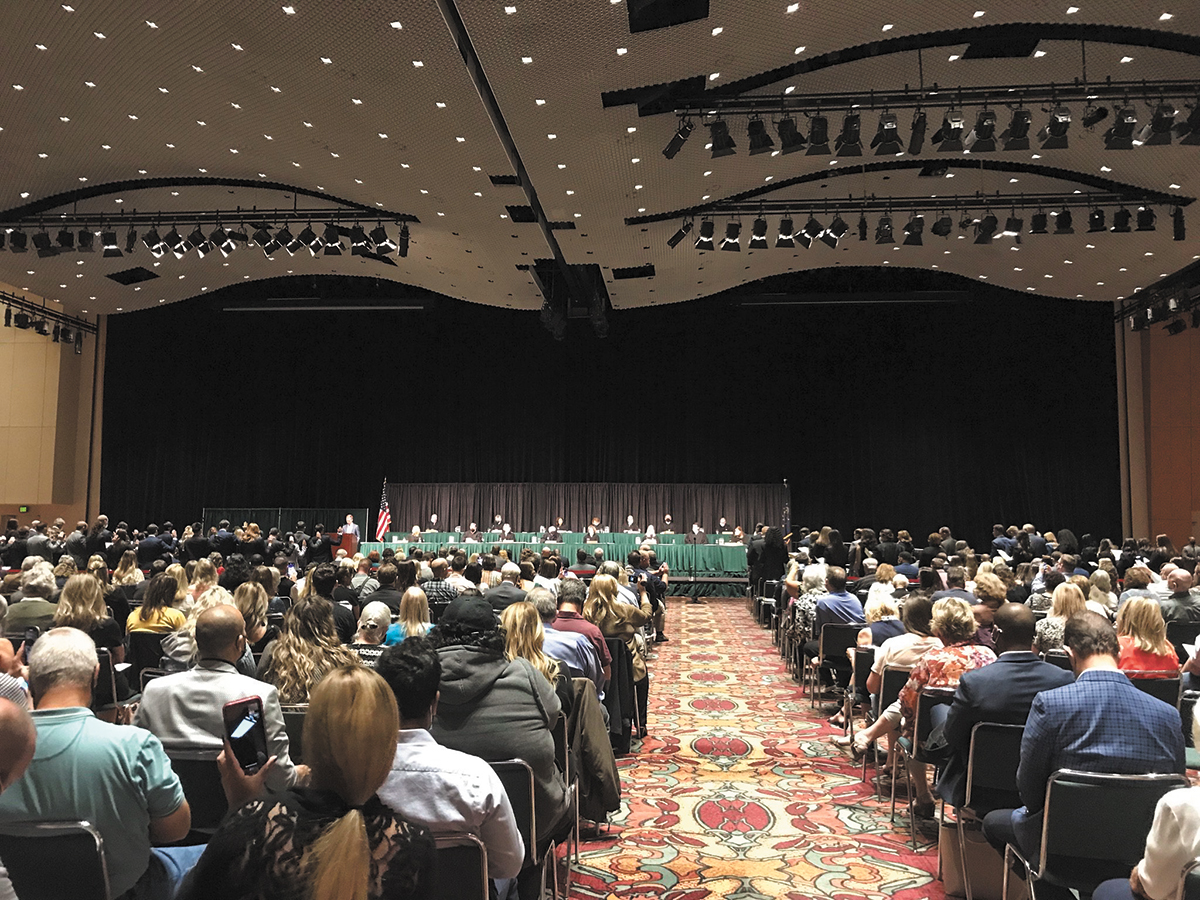 Benjamin Perry said he literally jumped for joy.
The Notre Dame Law School graduate was among the nearly 250 new lawyers who were welcomed to the Indiana bar during the Indiana Supreme Court admission ceremony on Oct. 1. Perry traveled from South Bend with his wife and baby daughter as well as his parents and in-laws to take the oath and be admitted to the practice of law.
However, the joyful jump came in November 2020, when the state Supreme Court announced Indiana would be switching to the Uniform Bar Exam starting with the July 2021 test. He no longer had to spend time deciding where he wanted to work and where he should take the bar because passing the UBE would give him the ability to potentially practice in several states.
"I think the law practice is much more national than it used to be," said Perry, now an associate at Barnes & Thornburg in South Bend who is hopeful he will be able to practice in the neighboring UBE states of Illinois and Michigan. "So I think it's very important to make it so that we can practice where our clients are as opposed to (having) artificial hurdles."
In joining the 38 other states plus the District of Columbia and the Virgin Islands, which have all adopted the UBE, Indiana has removed a hurdle to mobility. The new lawyers who took their oaths at the admission ceremony were the first class of Hoosiers to take the pseudo-national licensing test.
Applicants who pass the UBE can potentially practice in another state, but they must have at least reached the minimum passing score, which varies among the different jurisdictions. Indiana has a minimum passing score of 264, among the lowest, while a majority of the states require minimum passing scores of 266 or above.
Some UBE-takers from other states have applied to be admitted to practice in the Hoosier State, according to Bradley Skolnik, executive director of the Indiana Office of Admissions and Continuing Education. These individuals will need to pass a character and fitness review.
Also, all the new lawyers will be required to watch a series of online classes that will give an overview of Indiana law. That course is still being developed.
At the admission ceremony, the new lawyers seemed universally excited and relieved to have passed the bar, but they were mixed on whether they will exercise their professional mobility. Some were planning to seek a license outside Indiana while others were more ambivalent, wanting to see how their careers developed.
Zakariah Kulam and Kealia Hollingsworth are examples of those divergent reactions.
Kulam, a graduate of Notre Dame Law School, grew up in Munster and said he is happy to be practicing close to his family as an associate at Eichhorn & Eichhorn in Hammond. The adoption of the UBE and the prospect of more easily practicing in another state did not capture his attention as he was completing his J.D. studies.
A former banker, Kulam said he was attracted to the law by the intellectual rigor required. He is not thinking too far into the future but instead is focused on learning how to practice law and sharpening his courtroom skills.
"I think for most people, they kind of honed in on a state they want to start with and then we'll kind of think more about transferring licenses maybe two, three, four years into practice," Kulam said.
EXTRA
Click here
to read about Brad Skolnik and his new national role as chair of the Council of Bar Admission Administrators.
Conversely, Hollingsworth said she sees the UBE as helping her achieve her dream.
The Illinois native described her achievement of being admitted to the practice of law as a milestone in her family's history. However, the 2020 Indiana University Robert H. McKinney graduate purposefully delayed taking the bar until Indiana became a UBE state.
Her plans are to start practicing in Indiana then eventually move to the East Coast.
"I love the flexibility," Hollingsworth said of having to take just one bar exam. "It gives me the opportunity to reach more people. My whole purpose of becoming a lawyer is because I wanted to provide resources to communities. So it allows me, as somebody who is passionate about others, to reach more people and be more flexible when working to help others."
Sara McClammer, chair of the Young Lawyers Section of the Indiana State Bar Association, said she does not expect those who take the UBE in Indiana to leave to practice in other states. The partner at Bennett & McClammer speaks from experience, being a native of North Dakota and deciding to remain a Hoosier after finishing her law degree at IU McKinney.
Indiana has become her home, and even though she has had opportunities to practice elsewhere, she is building her practice in Indianapolis.
"If you're committed to staying here, you're going to stay here," McClammer said. "Indiana is a great place to live, work and play. I think we have a great bar here and I think people will continue to want to work here."
The UBE is allowing Nikolai Stieglitz to make South Bend his home for a longer time. He and his wife settled in the northern Indiana city about six years ago, with him attending Notre Dame Law School after she completed her graduate studies.
Now, as one of two attorneys at the school's Exoneration Justice Clinic, Stieglitz will be able to build a public interest practice in Indiana for at least a couple of years. He isn't sure what he would have done but if the UBE had not been available, he said he might've opted to skip the Indiana bar altogether and just continued working at the clinic under the supervision of a licensed attorney.
"I'm extremely happy that we switched," Seieglitz said. "… I work on exoneration cases and I think that if things go well, some of that practice might be in Michigan and Illinois, definitely in neighboring states. I'm really happy about the prospect of moving in the Midwest even from my home base in South Bend."•
Please enable JavaScript to view this content.