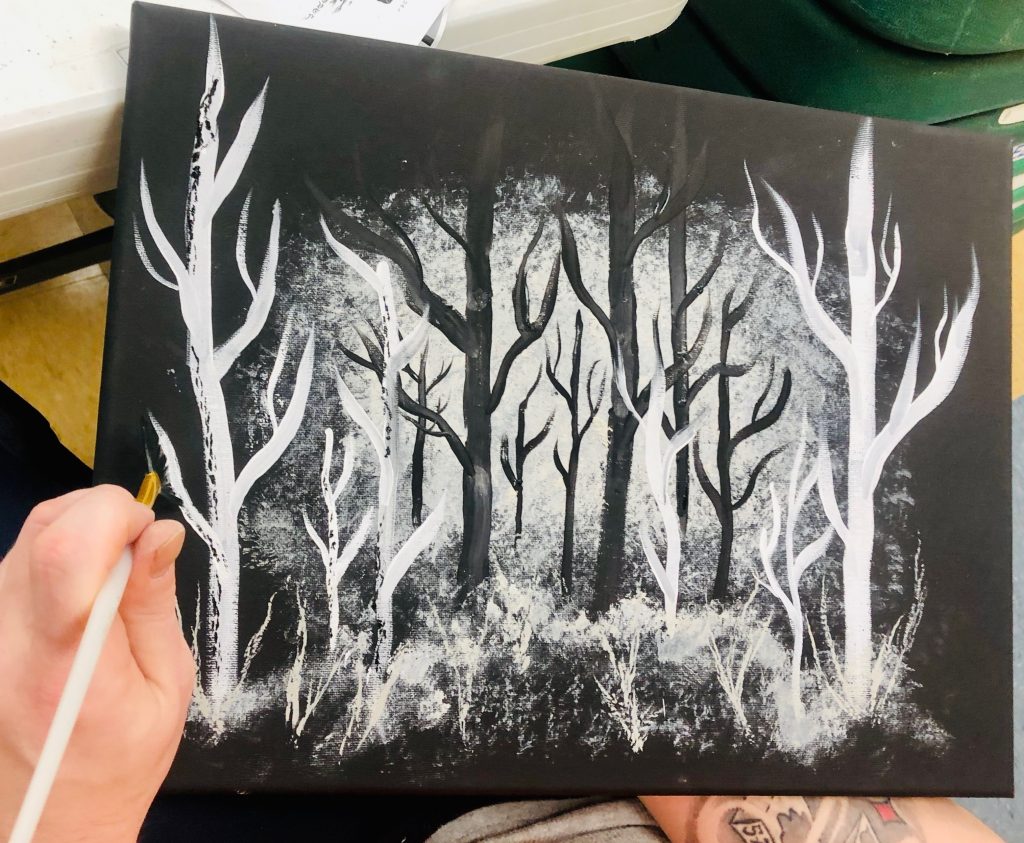 The biblical words "love is patient, love is kind," have significant meaning to close friends Lonisha Johnson and Kristy Johnson, both of whom are incarcerated at the Clark County Jail.
The two women joined more than a dozen other inmates in creating pieces of art to be displayed in a special showcase at the Jeffersonville Township Public Library during September. The goal is to shed light on National Recovery Month, recognizing and honoring individuals in recovery as well as those still battling substance use disorder.
Named by one of the artists as "Unchained: Art of Recovery from the Clark County Jail," the show is filled with at least 20 pieces of artwork ranging from intricate soap sculptures and expressive paintings to weavings, dream catchers and graffiti artwork.
Kristy and Lonisha painted a canvas together that displays the word "Love" on every side, encircling the blue and purple heart at the center. They explained that at this moment in time, they wanted to express something they want to be surrounded with.
"There is so much going on in the world. We just wish that everyone would love each other," Lonisha said.
Amanda Beam, the jail's director of programs, said she wanted to try the special art program with people she knew had artistic ability and would be interested in spending time doing something creative. Loaded up with donated supplies and paint Beam purchased herself, the program was a go.
"We would start going up to our extra classrooms and if others wanted to go up, they could go up and paint for fun as a release," she said.
Before the showcase was even considered, Beam said many of the Clark County inmates were already using art as an outlet at the jail. She would lead them in painting flowerpots to give to nurses during the pandemic, coloring canvases for nursing home residents and painting their own facemasks.   
"We do little things when we can," she said. "I found that helps folks incarcerated to do something nice for others."
Beam, who was inspired to try the program after hearing about a similar showcase from the neighboring Floyd County Jail, said having the opportunity to engage with art helps the inmates maintain their individuality and creativity.
"It also helps them work through some of their issues," she continued. "For some people that's how they can process their emotions, and there are a lot of emotions."
For individuals who have a substance abuse disorder, Beam explained that art can help process the feelings of being away from family while incarcerated.
"And some of these folks are looking at a substantial sentence," she added. "So that is a lot to deal with, too."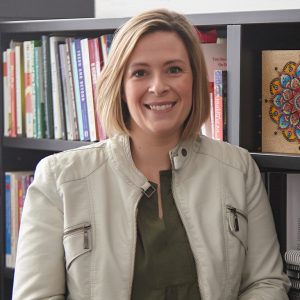 Eileen Misluk, director of art therapy and assistant professor at the Herron School of Art and Design in Indianapolis, said she has clients who struggle with a variety of addictions, including substance abuse. She explained that with her art therapy clients, the creative process doesn't rely on words to explain how someone is feeling or what they are trying to convey.
"They have a deficit for explaining our experiences," Misluk said of words. "Art materials allow us to connect to ourselves and our experiences through our visceral process as opposed to a verbal process. The creative process allows (the correctional population) a way to explore experiences, often times in a way that gives them distance from it."
Liz Wagoner, who works through art therapy with teens referred from the Department of Child Services, agreed. Wagoner said she has compassion for people behind bars and thinks art can aid in recovery.
"Sometimes people just make bad mistakes. If we want to actually help them to be successful in society and be productive and healthy, we need to help heal them," Wagoner said.
"In recovery, people need a lot of love and they need to love themselves," Kristy said.
Lonisha agreed, saying, "A lot of people who struggle with addiction is because they don't love themselves."
Painting, they said, brings happiness and peace of mind.
"It's a break from out of this place. When we are doing art and stuff it's like an escape and we are in our own little world," Lonisha said.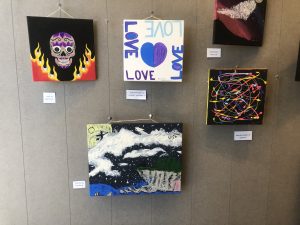 "It relieves stress from me and it takes me to another world where I can create stuff," Kristy agreed, saying that she draws and paints outside of jail. "I love to incorporate colors."
The women said they hope their painting can bring positivity to those who see it on display, and it already has to someone who sees it day in and day out.
"This exhibit touches me personally in a number of ways.  One of the artists is someone I know personally and her mother is a regular library user of mine," said public services librarian Harriet Goldberg.
The public library, which showcases a different artist every two months, has never hosted a display from artists at the Clark County Jail. Goldberg said she hopes the novel exhibit will touch many lives and make a difference in how others view individuals with a substance use disorder.
"What the exhibit is saying, in my opinion," Golberg said, "is that regardless of our circumstances, the art that is being displayed here at the library was created by human hands and is a reflection of hearts and souls.•
Please enable JavaScript to view this content.