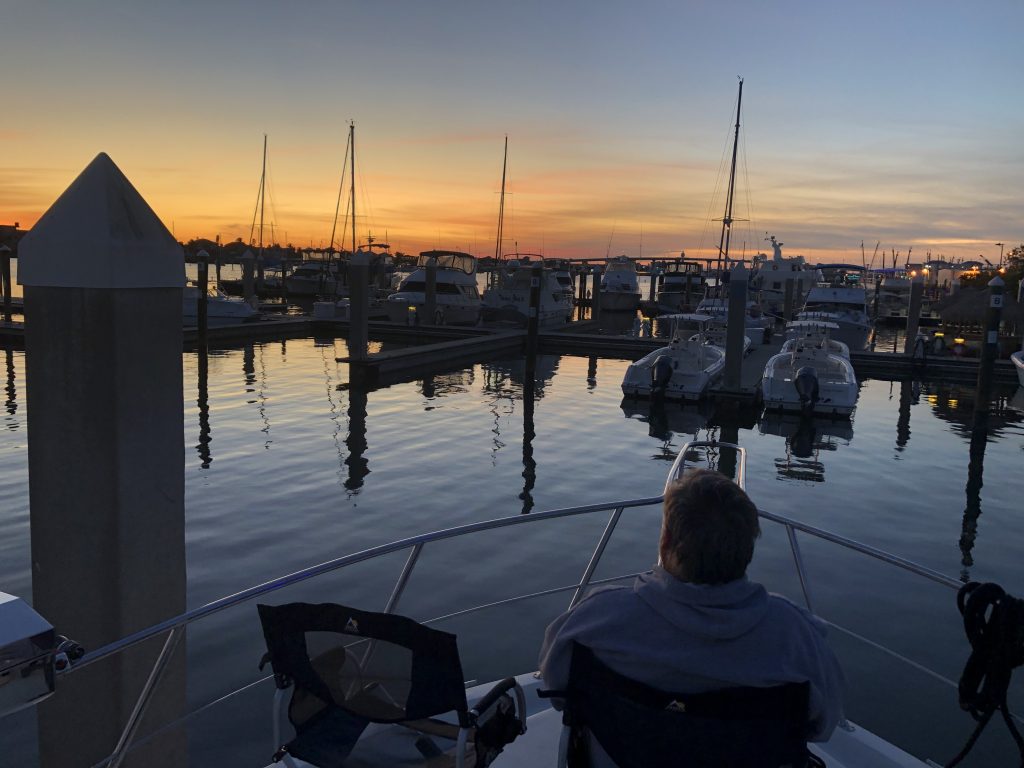 Many things have happened to seafaring attorneys Ann Marie Waldron and Mike Simmons since they first set sail on their yearslong tour of the American waterways.
The couple — who decided in early 2020 to practice law from their 45-foot-long trawler — got married on the boat, traveled through everglades and coastal cities, nearly got lost in a storm, had a close encounter with sharks and — like the rest of the world — navigated new trials posed by the COVID-19 pandemic.
But even with all that, they wouldn't have done anything differently.
"It's not a vacation. It's a lot of work every day," Simmons said. "But it is an adventure. It is a lot of fun."
On the Loop
In January 2020, Waldron and Simmons decided to live life differently by working part time on the water while traveling the Great Loop. That's 6,000 miles of waterway along the riverbanks and shorelines of eastern North America.
They purchased a seasoned trawler with twin diesel engines that they lovingly named MADMAK and set off from Bradenton, Florida. They first cruised to the Florida Keys, periodically docking to return home for scheduled depositions, trials and mediations.
As they moved along the coastline, Waldron and Simmons took in the beautiful scenery and quaint towns and watched fellow "loopers" pass them by. Each day was a new adventure, they said.
Taking dips in the water after anchoring is a must for Waldron after a day's work. But on one occasion, she took a dive not necessarily for pleasure, but because her purse fell overboard.
"I could see some credit cards down there, but they were flipped upside down, so I didn't know which ones I had lost," she said. "It looked really shallow.
"So I thought, 'I'll just jump in.' Well, I jumped in to go get it and it's deeper than I thought. I was able to get them finally, but then I couldn't get out of the water," she laughed.
Another time, the MADMAK was docked at a marina in Fort Pierce, Florida, and just before jumping into the water, Waldron saw an 8-foot bull shark swimming alongside the boat.
"We've had a really good time," Waldron said, remembering their adventures. "They can be funny, depending on how we tell them."
During another adventure, the MADMAK's anchor was lost and a local resident had to assist the couple in locating and bringing both the weight and 200-foot chain back up from the seafloor.
"We pulled it up hand over hand," Simmons said. "It was just heavy."
Rough waters
In another instance, the MADMAK was moving through the middle of the Chesapeake Bay when it got caught in an unexpected storm, which Waldron likened to that of the opening scene from "Gilligan's Island." The boat was rocking side to side and couldn't move ahead.
"We couldn't see over the front of the boat and couldn't get the boat to go where we wanted it to go for safety," Simmons said. "So, after fighting it for an hour or so and thinking it was going to flip, we went straight into the wind and then turned right around and came back about an hour at a time so that we weren't trying to go across the waves."
After about two hours, the coast was clear.
"Eventually it blew out and we went to the cove and had a drink," he said with a laugh.
Venturing below deck, all their belongings were knocked over, though relatively unharmed. But the day wasn't all bad.
"Then that night we had one of the most beautiful sunsets we'd seen," Waldron said.
As the MADMAK continued its way up the Potomac River, it traveled through New York City, steering around giant ferries and bustling boats.
But upon arriving in northern New York in October 2020, their trip was put on pause due to the closures of the Canadian border and Erie Canal.
The MADMAK was docked for nearly two years, with occasional trips to local sites like Lake Ontario and Long Island in between.
Rather than making things more complicated, Simmons said the pandemic was very helpful in getting the couple used to working remotely.
"We had never worked remotely that much. It just fell at the same time as our trip and everybody got used to us doing our mediations, our depositions, our court hearings remotely anyway, so they didn't care where we were because everybody was doing it from their homes," he said. "So it really made it a lot easier."
Back on the water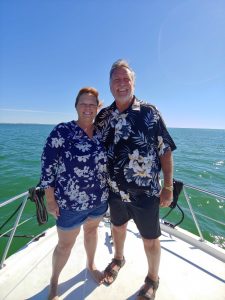 The boat finally was given the green light to continue its journey last month, and the couple set sail again after Father's Day weekend.
Simmons said the tour is almost halfway complete.
The couple still plans to sail into Canada and finish the Great Lakes by September. Then the MADMAK will travel through Chicago and south through the river system, with the goal of wrapping up the trip by January.
Waldron said she is most looking forward to traveling through the Trent-Severn Waterway in Canada.
"We've been told along the Great Lakes, it's one little town after another," she said. "They're all very cute and interesting, so a little bit different than the East Coast, where about every place you stop is a big city."
In the years since they first set sail, neither Waldron nor Simmons said the trip — or practicing law from the boat — has been monotonous.
"I'd say I'm in love with it more," Waldron said. "And I'm in love with the boat even more."
"I love it every day," Simmons added. "It's just taken longer than we thought it was going to take. It's just nice to be able to move around from place to place, and everywhere we go is interesting."
Simmons predicted the boat will become their vacation home in the future. But once this tour is complete, what comes next for the boating couple may be on land.
"I would love to get back on the boat and go to the Bahamas," Waldron said. "We had a recreational vehicle that we got rid of and we're looking to buy a new one for tailgating, but we're looking for one that we can also travel with. So we may take an RV and go out West. Who knows."•
Please enable JavaScript to view this content.