Sitting in a saddle with intentionality and quiet expectation, Indianapolis attorney Brittney Yocum said being present with her horse is more than a stress reliever — it's a partnership.
"I think lawyers have extremely stressful jobs. I think we all need something to get us away from the stress," Yocum said. "Riding itself, it's just very freeing feeling, and I really like the partnership that you end up having to develop with the horse to predict what they're going to do."
The horses have to learn who you are as well, she added.
"My horse is always paying attention to what I'm going to tell him what to do," she said. "So it's almost like a dance between the horse and the rider. And I really like that part of riding."
Taking care of and riding horses has been a longtime passion for Yocum, a partner who practices mergers and acquisitions at Faegre Drinker Biddle & Reath LLP.
As a kid, Yocum begged her mom for horseback riding lessons for years, but it wasn't until she moved to LaPorte during her middle school years that she got to put her feet in the stirrups.
Relatives nearby had horses that Yocum eventually learned to ride and show in 4-H competitions. She continued riding horses through high school but couldn't convince her parents to buy her one of her own.
However, attending college and law school kept her busy, so horseback riding was grudgingly put on the back-burner. It wasn't until Yocum turned the tassel and began practicing law that she got back in the saddle and realized how much she missed it.
One trail ride with a friend in Bloomington spurred in Yocum a desire to rekindle her love of horses and get back on the trail.
Taking the reins
In 2015, Yocum bought her first horse, Bob, who is now 18 years old. Since then, she and her husband have brought home seven horses, two of which they regularly compete with. The couple also own Long Range Stables, a horse farm in Danville where they board and train horses, as well as offer riding lessons.
Yocum hops in the saddle at least five days a week, training with her show horse, Mario. The pair competes together in reining competitions — aWestern riding competition for horses where the riders guide the horses through a precise pattern of circles, spins and stops.
Likening reining competition to aspects of the TV show "Yellowstone," Yocum said her favorite part of the competition is the sliding stops.
"The horses will run really fast and then when you stop them, they stop but they kind of put their butt under them and then they'll slide," she said. "There's dirt that goes flying. It's actually really cool."
Before December, Yocum competed in a different discipline called Western Pleasure, a slower-paced performance in which horse and rider make three gaits one way in the arena, reverse and do the same three gaits the other way, as well as back up.
She switched last year to reining, which has been a learning curve for both her and her horse, a 4-year-old black quarter horse. The two compete nearly every weekend, traveling in and out of state.
WATCH: See Yocum compete in a reining competition with Mario.
"It's been challenging because it forced me to get out of my comfort zone," Yocum said. "But as a result of that, I've been really proud when I've been able to do things that I thought I wasn't able to do before; things that I was afraid of. So it's been very exciting and then rewarding."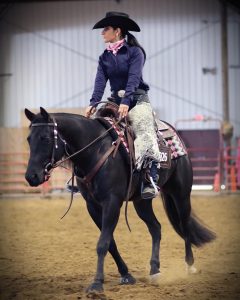 With internet and air conditioning, Yocum said she's able to catch up on work emails during the downtime of her competitions in the office portion of her horse trailer. Working a hybrid schedule due to COVID-19 has allowed her more free time to work while on the road to and from competitions in Indiana, Ohio, Illinois and Kentucky.
"Usually that horse trailer is my office for Fridays," she said with a laugh.
In July, Yocum and her husband are headed to Ocala, Florida, to compete in a weekslong western horse-riding competition. For a team to be in the best shape for competition, Yocum said there must be a balance of training, practice and days off for both the horse and rider.
Spending time together is critical, she added.
"The more trust you have in your horse and the more that the horse trusts you, the better you'll compete together," she said. "I also spend a lot of time with my horse not riding him."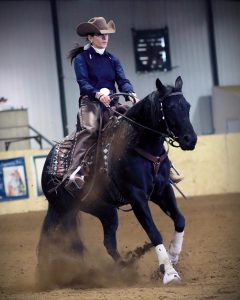 That includes grooming or simply sitting in his stall with him, she said. Mario, who acts like a puppy dog, will sometimes lie down in the stall, rest his head in Yocum's lap and fall asleep.
"He's honestly the sweetest horse I've been around," Yocum said.
Lessons learned
Practicing law and taking care of horses are two equally demanding and intensive parts of Yocum's life. In each, she said she's learned skills and lessons that can easily translate to the other.
"Both in law and with showing horses, you need to be constantly learning new things," she said. "The law is always changing and evolving. Even though I've been practicing for 8½ years and doing mergers and acquisitions that whole time, there will always be a new issue that comes up in a deal that I haven't dealt with before."
The same is true with learning a new horse-riding discipline. It's caused her to grow and stretch her showmanship.
Humans and horses can be very similar, Yocum added in reference to client relationships. Every client needs a slightly different approach "in terms of the best way that I'll be able to serve them and not only do really good legal work for them, but also make the client trust me and look to me as their adviser more so than just the lawyer that's drafting the contracts for them."
Slight changes must also be made for different horses in everyday tasks like saddling or giving them cues while riding, Yocum said.
Finally, she acknowledged the hard work put in every day is the most similar aspect of both worlds.
"Lawyers work really hard, especially at large firms. It's wired in me to work hard and overcome obstacles and things like that," she said. "It's very similar with the horses. You also have to work hard and spend a little time a lot of time. So it can be a lot to balance, sometimes."•
Please enable JavaScript to view this content.