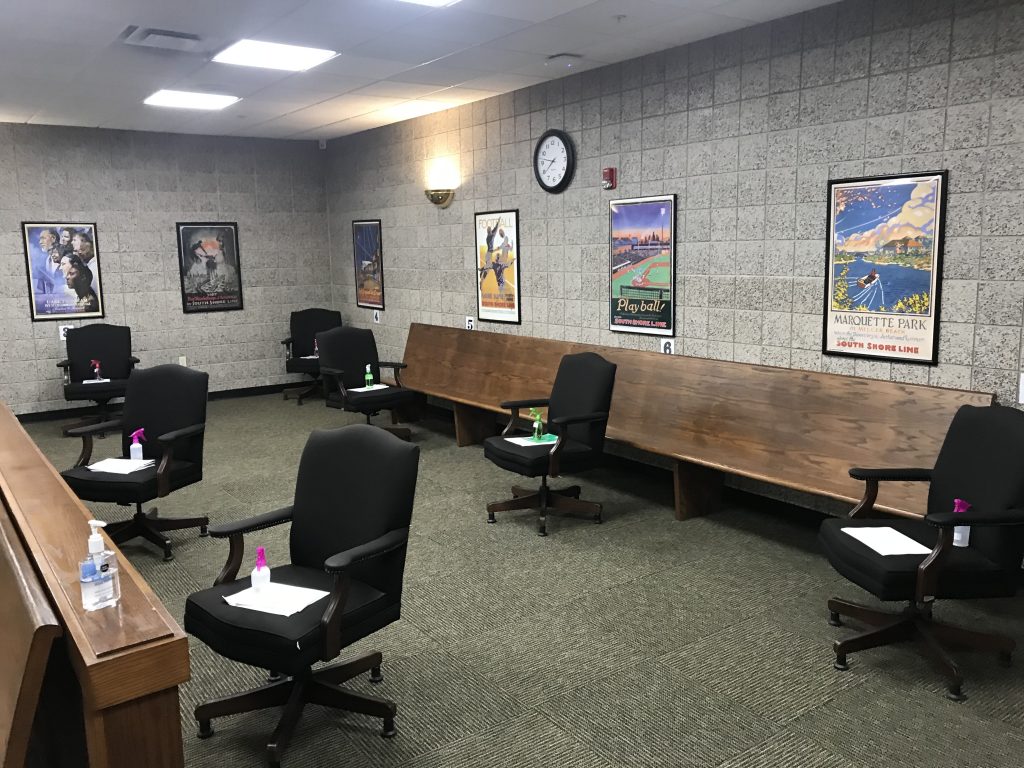 Even with at least three in-person jury trials under his belt since coronavirus-related suspensions were lifted in July, Lake Superior Civil Division Judge Bruce Parent still feels uncomfortable.
The Indiana Supreme Court permitted the first in-person jury trial to take place during the COVID-19 pandemic in Parent's Lake County courtroom last month. Indiana trial courts were instructed in mid-May not to resume jury trials until at least July 1 without prior approval from the high court.
But as state courts begin to take cautious steps toward in-person proceedings, jury trials in all divisions of the U.S. District Court for the Southern District of Indiana have once again been suspended through at least August 31. The pause is due to a recent rise in COVID-19 cases across the state and within the district following a brief resumption of jury trials.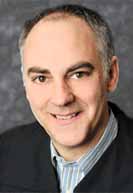 With the added responsibility of protecting jurors and his court staff on his shoulders, Parent developed a checklist to ensure every precautionary step is taken while his court hosts in-person jury trials. He says he's happy to serve as a resource for other judges who are making the transition back.
"I knew that I was the first trial and that if I screwed up, nobody else would get to go, so I wanted these people to be comfortable," Parent said. "Am I ever comfortable? No. Am I going to keep doing it? The answer to that is, unless I get notice from someone related to the trial that they have COVID and it could be associated to what we did, then I'm going to keep going until that happens."
Judge's perspective
Several physical changes were made to Parent's courtroom to accommodate social distancing requirements, including removing three 20 foot-long wooden benches to make room for seven stationary chairs spaced exactly six feet apart in every direction.
Jurors had their own hand sanitizer bottles at their assigned chairs, numbered accordingly, and a clear Plexiglas wall was installed between the court reporter and the witness stand.
As a judge, one major adjustment Parent faced was having the attorneys' backs to him as they tried the case. Another issue, he noted, was what to do about jury deliberations. The jury room was too small to use, Parent explained, so rather than have the jurors leave the room, the lawyers and judge all got up and moved to an empty courtroom while the jury stayed put to make their arguments on the record.
Throughout the trial, Parent consistently asked each individual to sanitize their hands before sitting down at the witness stand or taking the podium. While there, attorneys and witnesses would be free to take off their masks, but otherwise were required to keep them on at all times.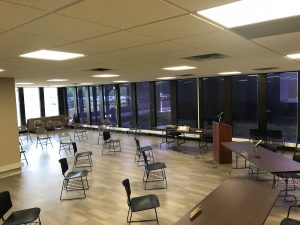 For jury selection, an entire new room was secured with enough space to socially distance nearly 40 people. Each potential juror was brought into the room one by one and sent to a specific, predetermined seat, but not before having their temperature taken and getting a squirt of hand sanitizer. When they were ready for dismissal, each potential juror was released individually.
As a result of the precautions, Parent said the jury selection took nearly twice as long as normal. But he was pleasantly surprised by the positive reaction he received from the jurors. When asked, none said they were afraid to come into the court for jury duty.
"They are thinking different things than we thought they would be thinking. Both judges and lawyers are astounded when I tell them that they are not worried about being there," Parent said. "But the best answer I got was, "I'm out in it anyway for my job. And I figure that you will take better care of me than my boss does."
Bailiff's perspective
Bailiff Dan Small made certain to take his job seriously in keeping Parent's courtroom safe during the first jury trial. And while it's not in his job description, that included cleaning every square inch of the room beforehand, earning him the nickname, "Mr. Clean."
Part of the reason Small has been so adamant about keeping things sanitized in the courtroom is because he wants jurors to feel secure enough to do their job.
"If it's clean and secure you'll sit and pay attention and actually be a participant in the process," Small said. "Let's face it — no one wants to be in jury duty, let alone in a pandemic. So how do you make them feel comfortable? You do the best you can and you make them see you are working above and beyond what they expect. It puts them a little bit at ease."
There were few hiccups during the first jury trial, Small said, but he's learned to be more measured and deliberate with his choices. For example, wearing a suit and tie was a mistake, Small said, which made him sweaty after bustling around. His perspiration alone made the jurors nervous.
As a whole, things have looked a little different for Small's role as bailiff during the pandemic. He spends extra time guiding the jurors through the courthouse, escorting them to the public restrooms and taking their temperatures. He offers extra masks when needed, carries hand sanitizer and wipes down tables used by attorneys and witnesses.
But, like Parent, what surprised Small most is how appreciative the jurors are of the extra care taken on their behalf.
"I had negative expectations. I figured jurors wouldn't respond, or come in and complain about not wanting to be exposed," Small said. "I expected that we would be hard pressed to get a jury and I was completely wrong."
Attorney's perspective
As one of the first attorneys to stand before an in-person jury following COVID-19 suspensions, Crown Point lawyer D. Eric Neff said he wasn't concerned about the return. Neff, who said he wasn't worried about his personal safety concerning COVID-19, praised Parent for his safety plan to protect everyone involved in the jury trial.
One challenge that the lawyers encountered during the trial, Neff observed, was not being able to see the jury's reaction as they questioned the witnesses.
"You had two choices, either look at the witness or look at the jury, and that was pretty difficult," Neff said. "Whereas in a normal trial, usually the jury is right off to the side of the witness so you can see the reaction there."
Another logistical hurdle the attorney faced involved the case's physical evidence. Rather than allowing the jury to collectively sift through the same evidence, the attorneys were required by the court to prepare six individual packets of evidence, documents and exhibits that both lawyers agreed would be permissible. Then each juror got his or her own packet, which Small sanitized beforehand.
Neff said that while the civil jury trial was limited in scope, cases with more evidence and where more objections are made to documents being submitted might struggle under the circumstances.
"In our case, the jury never left the courtroom, we did. So we had to go find another courtroom to make all of our objections and remarks on the record," the attorney said. "If that was a more difficult case, that would be pretty tough."
Neff suggested a good practice for attorneys to adopt during the pandemic would be to meet with opposing counsel and hash out evidentiary issues before the trial starts. The longer the delays are during the course of the trial, he said, the more at risk individual jurors are.
"We can't keep postponing everything. The backlog that it is creating is going to be a logistic nightmare to try to get caught up," Neff said. "So the better we are at streamlining these cases and getting these issues addressed prior to the actual trial itself would assist everybody, including the attorneys, in getting these cases disposed of."•   
Please enable JavaScript to view this content.