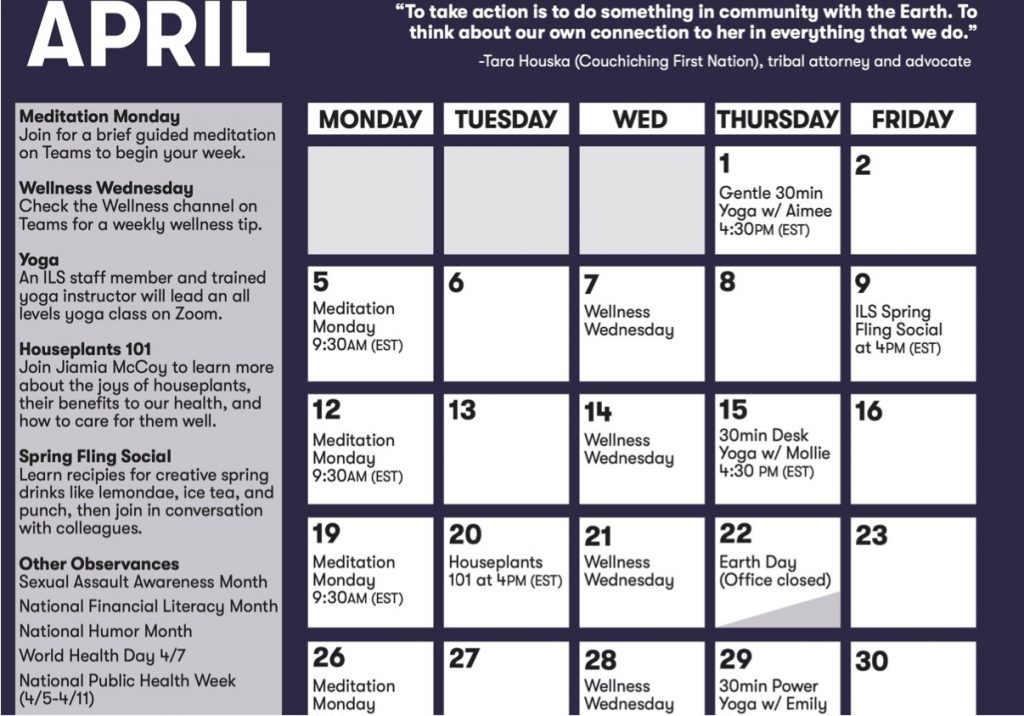 What started as a short-term solution for improving employee mental health during the COVID-19 pandemic has now turned into a full-fledged initiative at Indiana Legal Services.
In May of 2019, social work advocates at ILS distributed information to employees about collective trauma. In addition, they provided suggestions to effectively work from home and explained how employees could experience secondary trauma due to the nature of their work with low-income individuals in crisis.
As it became more apparent restrictions weren't ending any time soon, and staff expressed positive feedback on early wellness initiatives, ILS decided to expand its programming.
Creating the committee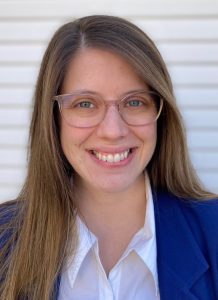 The early stages of the pandemic saw increased feelings of fear, isolation anxiety, disconnection, ambivalence and more at ILS, according to Domestic Violence Victim Advocacy Project Manager Emily Hickman, a social work advocate.
By the summer of 2020, the repeated exposure to vicarious trauma resulted in compassion fatigue and burnout among staff at all levels, she said.
In response, a half-day Resilience Workshop was held by the social work advocates and members of the administrative staff. The workshop assessed levels of stress and burnout, interest in wellness topics and areas where development was needed.
Following the workshop, employees acknowledged they appreciated the programming targeted at mental health and said they wanted more.
The planning team for the Resilience Workshop was then transformed into the organization's formal Wellness Committee. Hickman, along with fellow social work advocates Elizabeth McLaren and Aimee Patras, were at the heart of creating the coalition.
Since its inception, the Wellness Committee has stayed proactive. Each month, all staff members — including attorneys, paralegals, administrators and social work advocates — are invited to voluntarily participate in a variety of wellness activities, all offered virtually.
Each month, a new social event and educational event is added to the calendar, while permanent events like weekly meditation and biweekly yoga classes are a staple. ILS has developed a "Wellness Event Participation" time code so employees can count wellness events in weekly timekeeping.
In addition to the events, ILS has added four organizational holidays to the 2021 calendar year to facilitate taking time off.
Critical response
So far, ILS Executive Director Jon Laramore said he has seen improvements across the board, and employees are not abusing their new wellness time.
"Another thing we do, which isn't exactly programming, is we let our employees take health care leave for a mental health day. Or, if during the regular work week they feel like they need to take an hour to take a walk to clear their heads, they can charge that as wellness time as part of health care leave," Laramore said. "We track this time, and it's not being overused. Most people are using a small number of hours per month, so it hasn't had an impact on productivity that's measurable in any way."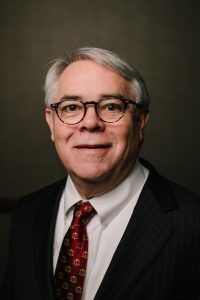 During 2021, Laramore said he has met with every person that works for ILS, and the wellness events are often a topic of discussion.
"Many of them have mentioned (wellness programming) as a particularly important thing in making them feel valued, helping them get through stressful times," he said. "The general response has been quite positive. There are folks who don't take part in the programming, and that's fine. They may have other ways to keep themselves healthy."
He added that he thinks having the program creates a more positive work culture, which has helped keep positions filled.
"It's not something we're doing to just give an impression," Laramore aid. "We know, as a business matter, turnover is costly. We have really minimized turnover during this time when large, large groups of folks have chosen to leave their employers. I have to think our wellness measures have had some effect on our retention."
The Wellness Committee now meets monthly, with more than 10 group members attending, including human resources personnel, social work advocates, administration and attorneys.
Thus far, Hickman said turnout for the programming has been strong, as 119 of ILS' 168 employees have participated. On average, she estimated 30 to 50 employees patriciate in each virtual event.
"You have a plethora of different ages and experiences in this," Hickman said. "It's interesting because we have some old school attorneys who love our programming, and others who say, 'We don't need the woo-woo stuff you guys offer.' That's OK — what's great is even the people aren't participating are saying, 'This is really great for new attorneys.' It's a place where we can process difficult things. There's very little pushback and everything is voluntary."
Tamara Wilson is one of those ILS attorneys participating in events, although she said she does skip the virtual yoga classes.
Wilson, 58, said she has worked as an attorney for 30 years, from large corporate offices to small firms, but has never been part of an organization that gives so much attention to employee mental health.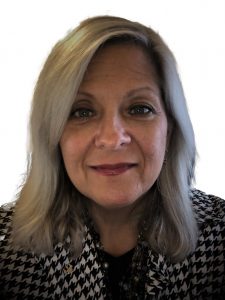 "I was feeling, a sense of disconnect," Wilson said. "I'm an in-office type person. I need to see other people. Here I'm in my little suburban house trying to connect to clients, coworkers, colleagues and supervisors to get guidance but feeling very isolated. At the time, it was difficult. The Wellness Committee quickly identified we were all feeling it."
Hickman added that not all programming is led by the social work advocates, as attorneys have also stepped up to the plate to lead the initiative. She said mental health is still a taboo subject for many organizations, from nonprofits to corporate counsel, but addressing the needs is important.
"There will be long-lasting effects of the pandemic, but they don't all have to be negative," Hickman said.
Outside acclaim
Employees at ILS aren't the only ones benefiting from the Wellness Committee — similar organizations outside the Hoosier State are taking notes.
Hickman, McLaren and Patras recently penned an article in the Management Information Exchange Journal, a nonprofit organization that supports leaders, manager, supervisors, administrators and fundraisers in legal aid programs. In addition, Hickman said the Wellness Committee was invited to speak at an MIE conference.
Following the conference, Hickman said they had other legal aid programs reach out and ask for additional information on their program.
Laramore, who said he plans on keeping the programming even when all employees return to offices, echoed that he has heard from out-of-state legal aid service providers.
"We've become a bit of a national model," he said.•
Please enable JavaScript to view this content.