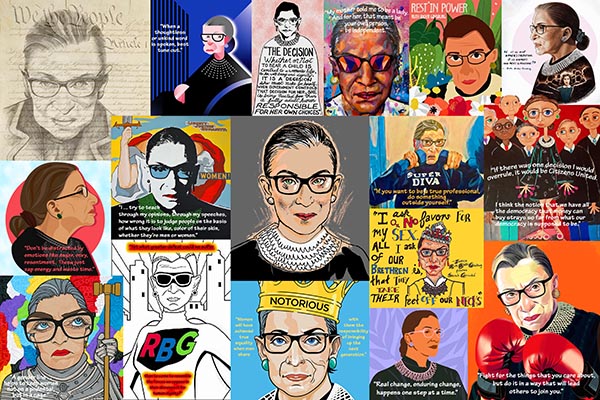 The death of U.S. Supreme Court Justice Ruth Bader Ginsburg was deeply felt by many Americans, lawyers included. Some memorialized her in lengthy social media posts, some pledged to continue her legacy of advocacy for women and some donned her signature white jabot.
Indianapolis lawyer Ron Katz responded by turning to art.
Katz is a co-founding partner of Indianapolis law firm Katz Korin Cunningham, leading the firm's tax, estate and business succession planning practices. He's also a hobbyist photographer with an interest in the arts.
Katz turned to photography to work through the emotions he felt when Ginsburg died, planning to compile caricatures of the late justice he'd found into one piece, interspersing her writings throughout. He gave his creation to his daughter, but a conversation with Julie Armstrong, executive director of the Indianapolis Bar Foundation, led him to create another.
Katz's creation would become the first installation in a member-driven art exhibit at the new downtown Indianapolis IndyBar headquarters. Katz's RBG compilation kicked off the exhibit, but the bar is hoping to engage with other lawyers in the Circle City by showcasing their after-hours work.
"That was the whole point," said Mary Kay Price, IndyBar director of marketing and communications. "Everything we did for this space was focused on our members."
Member-centric
The grand opening of IndyBar's new office was much anticipated. Throughout 2019, the bar worked to create a space that offered the convenience of being in downtown Indianapolis with more accessible amenities, such as street-level parking, that don't come with a high-rise office.
The result was the new location on Illinois Street, which was open for only a week when the coronavirus-induced lockdown set in. The facility has since reopened to members in a socially distant manner, and bar staffers have worked to make the space feel personal to the members they serve.
What the bar discovered when the moved into the new space, Price said, was that the space was big – much bigger than IndyBar's previous location in a downtown high-rise. That meant there was more wall space, so staffers began thinking about ways to fill it up.
Meanwhile, Katz was at home, working in Photoshop to compile the RBG caricatures he had collected. The lawyer has a unique connection to the late justice: He wrote his dissertation for his graduate law degree under the tutelage of Martin Ginsburg, the justice's beloved husband.
Back then, all Katz knew about his mentor's wife was that she was a federal judge. He finished his dissertation in 1985, and it would be another eight years before Ruth Bader Ginsburg ascended to the highest court in the land.
But in the last years of her life, Ginsburg went from a justice to a judicial icon, Katz said. His own daughter is preparing to start law school, and he thought the RBG compilation would be an inspiration to her.
Intersecting areas
The version of Katz's piece on display at the IndyBar headquarters is slightly different than the one he gave his daughter — he jokes it's "limited edition." He donated the work to stay in the bar's collection forever.
Price said bar staffers knew some of their members have an interest in and even a talent for the arts, so they wanted to incorporate that into the member-centric feel of the new HQ. While Katz's piece is a donation, there are options, Price said, such as allowing the bar to display a piece of art or a photograph for a limited period of time.
The response to the concept of a members' art installation has been positive, Price said. Katz's work is the only one on display right now, but Armstrong is already in talks with other lawyers who are interested in submitting their work. Members who are interested in making a submission should contact Armstrong directly, Price said.
Though the law and the arts don't always intersect, Katz sees similarities between the two.
Clients call on lawyers for their expertise in a specific area of the law, he said, while artists are called on for their expertise in their specific medium. In the same way an injured client might call a personal injury lawyer, a customer looking for art for their home might call a painter.
"I apply that to all aspects of the arts," Katz said, "whether that's a painter in terms of how an image is visualized and created in her mind, a photographer, a dancer, writers
"… As lawyers, we add value based on how we create the particular case for our clients," Katz continued. "So I've always felt that there's a great connection between the arts and the law."
Although the pandemic has slowed the initial introduction of IndyBar's new home base, members have been slowly trickling in, Price said, while others have taken virtual tours of the space. It doesn't necessarily feel like an "office," she said, but rather a place where you can work but also network and socialize.
While Katz didn't set out to contribute to the space, he's happy to share his work with others in his industry.
"I thought perhaps I would at least inspire my daughter with it," Katz said. "But if it inspires a few other people who come through the walls of the bar association, God bless them."•
Please enable JavaScript to view this content.