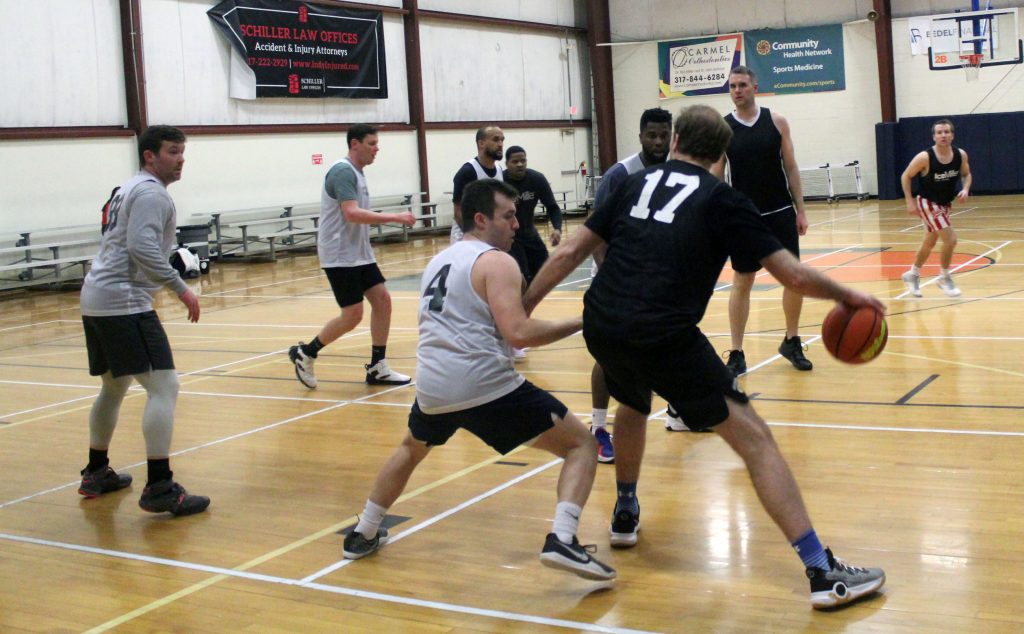 During the cold winter months, lawyers from across central Indiana return to the courts after the sun goes down.
While there are plenty of motions, occasional oral arguments and even benches, the procedures during the meetings are far different from their day jobs.
For around 13 weeks each year, dozens of attorneys trade in their suits and briefcases for jerseys and sneakers and take to the hardwood — a precedent set more than 40 years ago.
The Indianapolis Lawyers Basketball League was formed some time in the late 1970s or early 1980s. While the location of the games has changed over the years, the league was organized annually up until 2014, when then-commissioner Bob Wright died.
After a two-year hiatus, Lee Christie, partner at Christie Farrell Lee & Bell, and Ian Goodman, attorney at Paganelli Law Group, restarted the league in 2017.
Since the revival, the health of the league has remained intact. Last week, the league concluded its 2021-22 season with a single-elimination postseason tournament.
Early days
Ice Miller partner Philip Genetos was among the first group of attorneys to compete in the basketball league more than four decades ago.
Genetos recalled that when he started practicing law in 1977, there was a local lawyer softball league with huge participation from area attorneys.
Christie also remembered those days, estimating there were 35 and 36 teams in the mid-to-late-70s divided across three divisions. That softball league is still active today.
While he couldn't pinpoint the exact year, Genetos said after one of the softball seasons ended, a few of the lawyers wanted to continue competing in athletics — so they naturally went indoors to partake in the sport many Hoosiers treat like a religion.
In the beginning, games were held at The Orchard School on the north side of the city, and teams consisted of just lawyers and law students. The range of skill back in those days ranged from recreational to former NCAA Division I champion.
Phil Isenbarger, partner at Dentons Bingham Greenebaum in Indianapolis, participated in the league for 20 years on and off. Prior to law school, he was a captain on Indiana University's 1981 NCAA championship team.
After clerking during the summer of 1982 for Bamberger & Feibleman, Isenbarger, a student at the Bloomington law school, started playing in the lawyer basketball league in 1983.
"It was always very competitive," Isenbarger recalled. "Lawyers are competitive by nature, and you put them on the basketball floor and things get amped up pretty quick. "… It was just a ton of fun because of the people that I met, obviously most of them were lawyers. And so the relationships I built were … they last till this day, and probably were critical in me taking a job at Bingham Summers (Welsh & Spilman) at the time."
Christie said the league has boasted numerous high-level players in the past, including names like former Purdue and SMU player Tony Patterson and former Hoosier Jeff Oliphant, who played on the 1987 championship team at IU, among others.
The league, which grew from eight teams in the beginning to now averaging between 12 and 16, eventually moved to the Park Tudor School before finding a permanent home at the Indiana Basketball Academy more than 20 years ago.
IBA, located at 3800 Bauer Drive West off 96th Street, was opened in 1996 by Tom Abernethy, a former basketball star at IU who helped guide the Hoosiers to an undefeated national championship in 1976. The South Bend native was selected in the third round of the NBA draft by the Los Angeles Lakers and spent five years in the league with additional stints with the Golden State Warriors and Indiana Pacers.
Looking ahead
A year after resurrecting the league, it was back to full strength with 15 teams. This past season had a dozen squads.
Christie said the rules for participation have changed over the years — especially from the days when players had to sign affidavits saying they were lawyers. Now, law firms and their employees, individual attorneys, law students, law clerks and legal spouses are all invited to participate.
These days, Christie said the league has become more diverse, especially with more women lacing up to play.
This year's teams included: Christie Farrell Lee & Bell, Barnes & Thornburg, Bose McKinney & Evans, DeFur Voran, Frost Brown Todd, IU Robert H. McKinney School of Law, Ice Miller, Plews Shadley Racher & Braun, Church Church Hittle & Antrim, Taft Stettinius & Hollister, Scopelitis Law, Kopka Pinkus Dolin and an accounting firm, DOZ.
In recent years, Christie said each of the law firm teams has picked up the cost for a team from IU McKinney so students can play for free.
Jordan Oliver, an attorney at Barnes & Thornburg, was a summer associate for the firm when he was first invited to play. As a 2L, he joined the IU McKinney team. Now working full-time for Barnes, he's one of the firm's basketball captains.
Prior to becoming a lawyer, while serving in the U.S. Marine Corps, Oliver was selected as one out of 200,000-plus to represent the Marines in basketball tournaments around the world as part of the 18-member All-Marine Basketball Team.
Oliver said the networking and teamwork established via the basketball league is helpful for connecting attorneys with co-workers and lawyers from other firms — especially for law students.
This past season ended with IU McKinney defeating Frost Brown Todd in the championship on March 8.
While lawyers are competitive by nature, Christie said the purpose of the league remains: creating relationships and community.
"When I brought it back, really the objective was (to create) camaraderie and (make it) collegial," he said. "And not to take it so seriously. But as is typical, you know, everybody wants to have the best players who like playing basketball, and so there are some really good players in it."
Christie still plays in the league, and he has two teammates who are also over 60. He said he probably has a few more years left in him to play but will, at some point, turn the commissioner title over to Goodman, who is currently the assistant commissioner.
Law firms, individual attorneys or law students who are interested in joining the league next year can contact Christie or Goodman.•
Please enable JavaScript to view this content.